September is the time for the annual gathering of boat enthusiasts, the Southampton International Boat Show, and this year's event was just as spectacular as the pre-event publicity suggested. The weather wasn't kind during the weekdays, which did affect the footfall, although many exhibitors we spoke to seemed more than happy with the number of real punters they were seeing. We've picked out the best new fishing boats and products on offer from this year's show.
Boats
There were plenty of great angling boats to view – from RIBs and SIBs to aluminium hulled craft, from kayaks to 25 footers and beyond. Aluminium boats are becoming more popular in the UK amongst boat anglers and we've already reviewed a few. Aluminium boats are hard wearing and need minimal maintenance (these boats do not require constant gelcoat repair or polishing), are easy to beach and load full of gear.
The most recognisable boats – the Smart Fish 25 and Extreme Game King (featured as a prize in the recent Sea Angling Classic) – are two recent examples and both were on show at the event. But we found a new one on the market – the Norden Aluminium Fast Fisher. At £34,995 (engine and electronics excluded) the 600 model looks like a good, robust option. The complete package was on display with a forward open cabin fitted with 3D Craft seats and a 115hp Mercury on the back. It's a boat which can reach 30 knots and also boasts a 40 litre built-in live bait tank, side storage, rod holders and all the usual accessories. It's spacious and comes with non-slip flooring.
American boat builder Tracker were also showing their open aluminium deep V boats and having tested these in hostile Scandinavian waters I have experienced their durability and good handling in rough waters. UMS also had their popular aluminium boat range; these boats are great for inshore estuary fishing and the flat deck means it's easy to fit and use a trolling motor on the foredeck. All these boats are made for trailing and can take engines up to 200hp. One aluminium boat we've also fished in is the Linder range both the Arkip, and the Sportsman are great inshore angling boats too – stable, cheap to buy and run and very durable.
Centre console boats are also becoming more popular with the Smartwave 4200 from the Wolf Rock Boat Company a good example of this.  These boats are well priced starting at about £18,000 for the whole package. RBS Marine were showing the new Rodman 790 centre console model, the boat Sea Angler used successfully at the recent Sea Angling Classic. It comes highly recommended although is considerably more expensive at £100k-plus for the full package. 
RIBs and SIBs were well represented and two caught our eye: the Highfield E-propulsion Classic 340E RIB which comes with an electric outboard, a Navy 6.0 Evo Shortshaft, and the Ribcraft R350 which resembled a cross between a RIB and a jet ski but is designed for angling with built-in rod holders and takes a 40hp engine – meaning it'll be great for summer inshore bass and mackerel fishing. 
All the usual boat makers were there including Orkney, Warrior, Cheetah Cat, Highlander, Jeanneau, plus many more traditional fibreglass boats. 
Trailers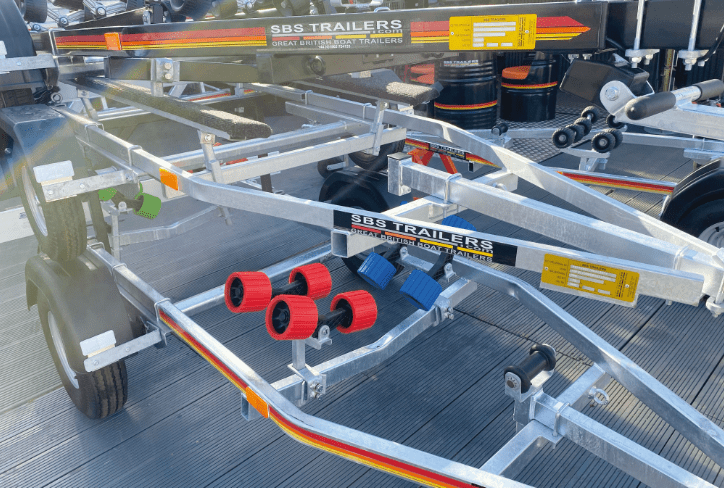 For those who keep their boats on trailers – and many do either in fishing club compounds or in their front yard – having a good, reliable trailer is essential. Two brands stuck out for me: SBS trailers and Vanclaes. We've used SBS trailers on many different sized boats and they are well made and durable and they have recently added a new trailer extension to make launching and retrieving even easier. Vanclaes had their Exelleron Wave 1800 14" trailer which takes 1435kg of payload – ideal for boats up to 3.5m.   
Engines
The "big boys" were there in force with some great new engines including the new model Suzuki 300 on show on Smart Fish and they also had a novel attraction on their stand – a fishing simulator supplied by Shimano. They ran a competition to see who could "land" the biggest fish and plenty of punters had a go (I have to confess I had a go catching a tuna and on a 50lb popping rod I could still feel the strain a couple of days later). Yamaha, Mercury, Tohatsu, Selva and other were all well represented. Lots of electric motors were on show – these are becoming more popular as battery life increases and they become more lightweight. They are great on RIBs and there is one great example we've seen regularly at shows and have reviewed in a previous issue, the RemigoOne, which is claimed to be the world's first fully integrated 1000w electric outboard including a 1085 Wh Li-lon battery. Its lightweight aluminium casing makes it easy to transport. These engines are the future and with battery technology improving these will increasingly feature    on boats. 
Electronics
Marine electronics is always the first stop for angling visitors, and Garmin had their new ECHOMAP series on show. Raymarine was showing the new Axiom HD models – recently reviewed in this magazine – and chart software company Navionics was doing great business throughout the week with their immensely popular and excellent Relief Shading. 
I always have a hunt around for new and interesting gadgets at the boat show – in recent post Covid years I've noticed a reduction in the numbers of smaller, quirkier stands; I guess the high cost and the ease of engaging through the internet has reduced the event's importance for smaller companies. However, there was plenty there for anglers who own or aspire to own their own boat. In all it was a great event and if the organisers introduce a bespoke angling section in future years then the lure for angling visitors will only increase. 
Go to www.southamptonboatshow.com for more on the exhibitors.