Here, we select our favourite catch picture sent in by our followers
CATCH OF THE WEEK
Oli Hayes from Winchester caught this rod-bending 14.5lb pollock on his first ever fishing trip. It was the best catch of the day fishing in the English Channel out of Poole Harbour on skipper Dan Cummings' boat Silver Spray 2. Great catch, Oli!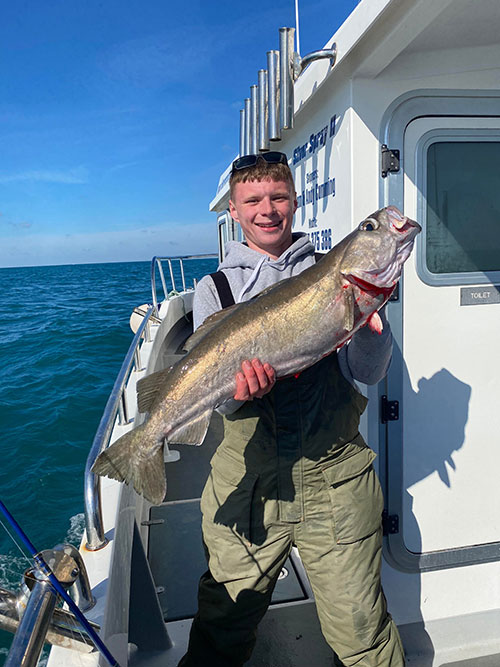 PREVIOUS CATCHES OF THE WEEK
Twelve-year-old Christopher Stokes had a great session at Burnham on Sea with a beautiful 7lb 4oz new personal best bass caught on a two-hook flapper rig with fresh lugworm. Well done, Chris!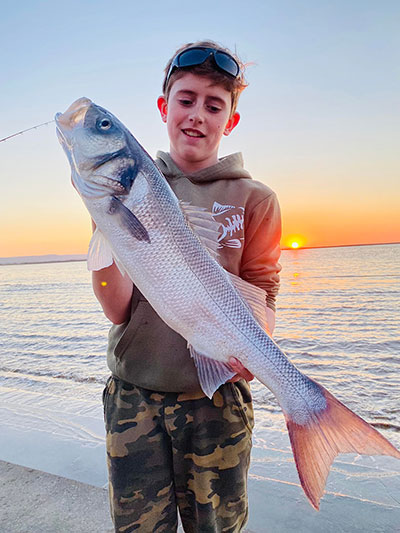 Congratulations to nine-year-old Oliver Sagar from West Yorkshire who won the junior title at last weekend's European Open Beach championships on the Yorkshire coast. Here's Oliver with a 2lb 8oz bass that helped him win. Well done, Oliver!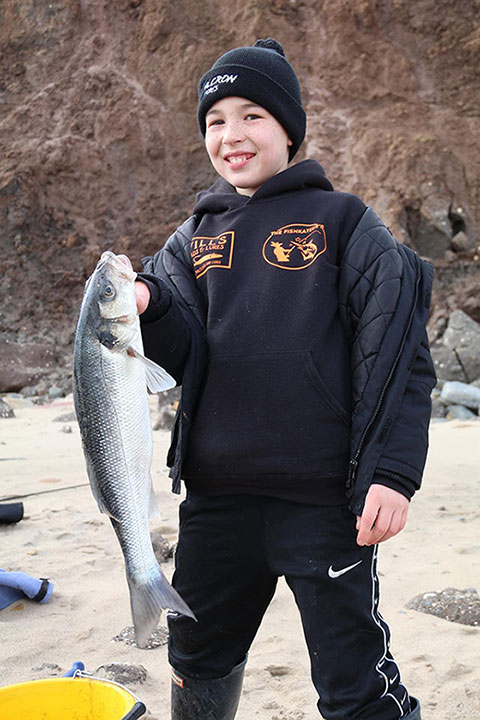 Chris Fry from Cardiff caught his fish of a lifetime with this chunky 18Lb 2oz cod from the Bristol Channel. Chris was fishing on Game On skippered by Tony Munford. The fish was caught on a whole squid and returned alive. Cracking fish, Chris!
Janet Griffiths caught this 8lb bass from Fort Perch Rock at the mouth of Liverpool Bay, New Brighton, this week using ragworm. Janet took fishing up again during lockdown. The fish was returned. Cracking fish, Janet!
Chris Kennedy battled this superb 15lb 1oz bull huss, a new PB for him, over the weekend at Maseline Harbour in the Channel Islands using cuttlefish bait.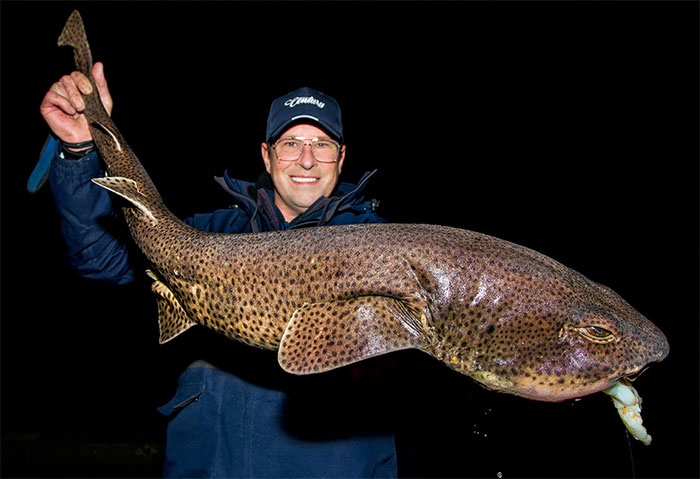 Gerald John was fishing the Spit at Lavernock, Penarth, when he caught this 10lb cod using lugworm on a Pennell rig.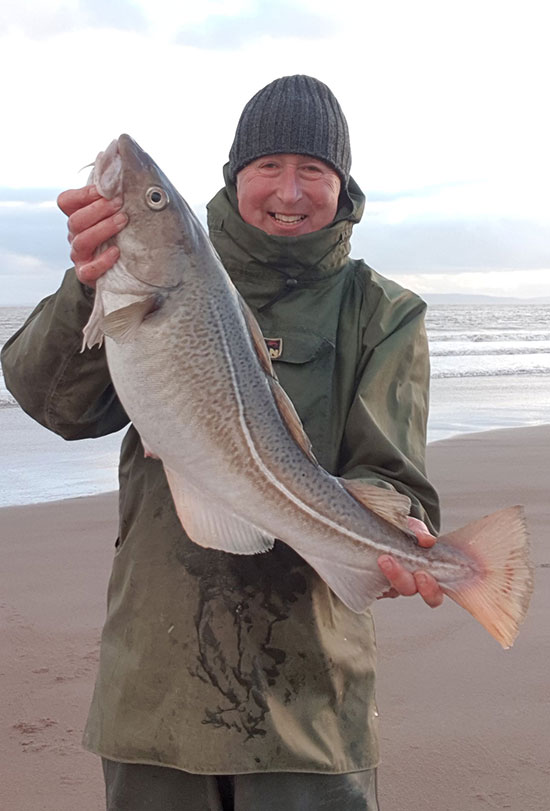 Justin Mathias caught this cracking 7.13lb bass from a mark near Newport using a two-hook clipped-down rig baited with ragworm fishing only 60 yards out. The fish was returned safely.
Steve Ace is celebrating after landing his new personal best shore caught blonde ray yesterday in South Wales. This magnificent fish tipped the scales to a whopping 19lb 7oz. An absolutely fantastic fish which was caught on a double sandeel and squid bait, fished out at distance on a long pulley rig. Congratulations Steve!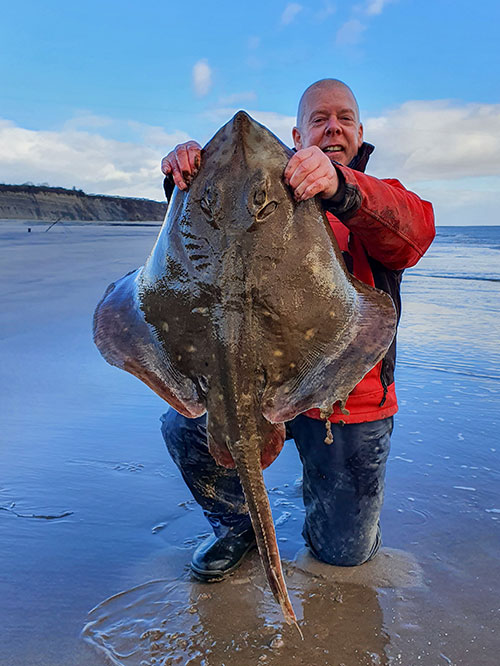 Steve Appleton from Southampton celebrated his birthday with a stonking brill of 9lb 7oz. The specimen fish was tempted using whole mackerel presented on two size 8 Cox & Rawle meat hooks. Steve was fishing out of Lymington, south of the Isle of Wight on board Squidward 3, skippered by Darren Mckell. This fish was taken home and expertly filleted, ready for the whole family to enjoy.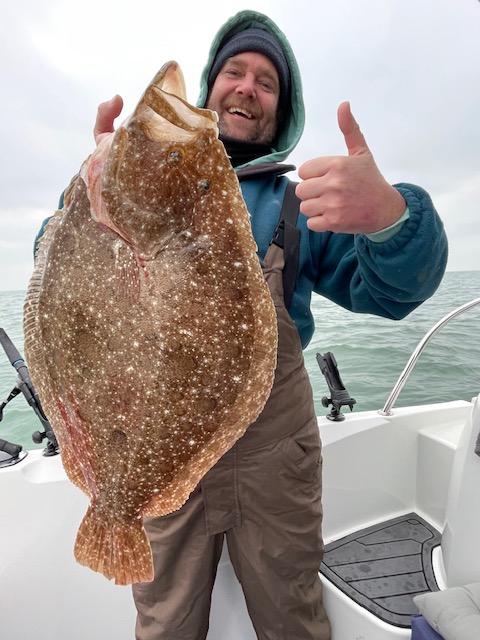 Jack Reynolds and his Dad were fishing a Somerset reef on their first trip of the year when Jack put out a bluey bait on a 2ft pulley rig and pulled in this monster cod and new BP just a touch over 15lb.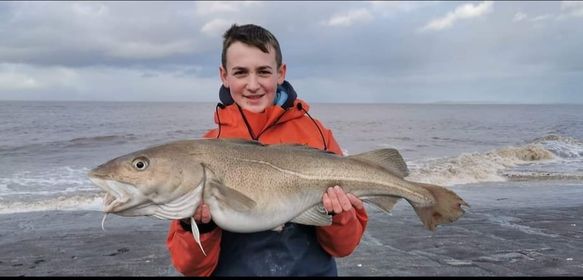 This 18lb 2oz cod was caught by Kev Wilson on a black lug and squid bait during a charter trip on Barry Goodhall's boat Alexia, out of Whitby.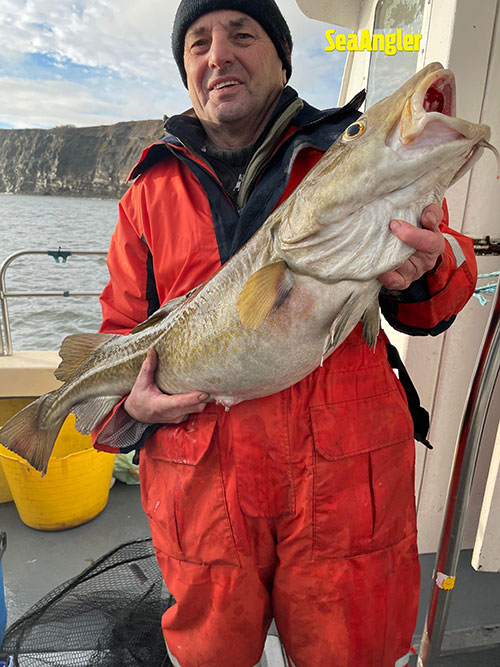 This 3lb 11oz flounder was caught and released by Maurice Shreeve, of Plymouth, during a session at the Kingsbridge Estuary. He caught it on a running leger with a size 1 hook baited with harbour rag. Maurice used a Korum Barbel rod and Penn Battle 2 reel.

Matt Werbitzkky, who lives in Minehead, caught this 13b cod on a Pennell pulley rig and lugworm while shore fishing at a local mark.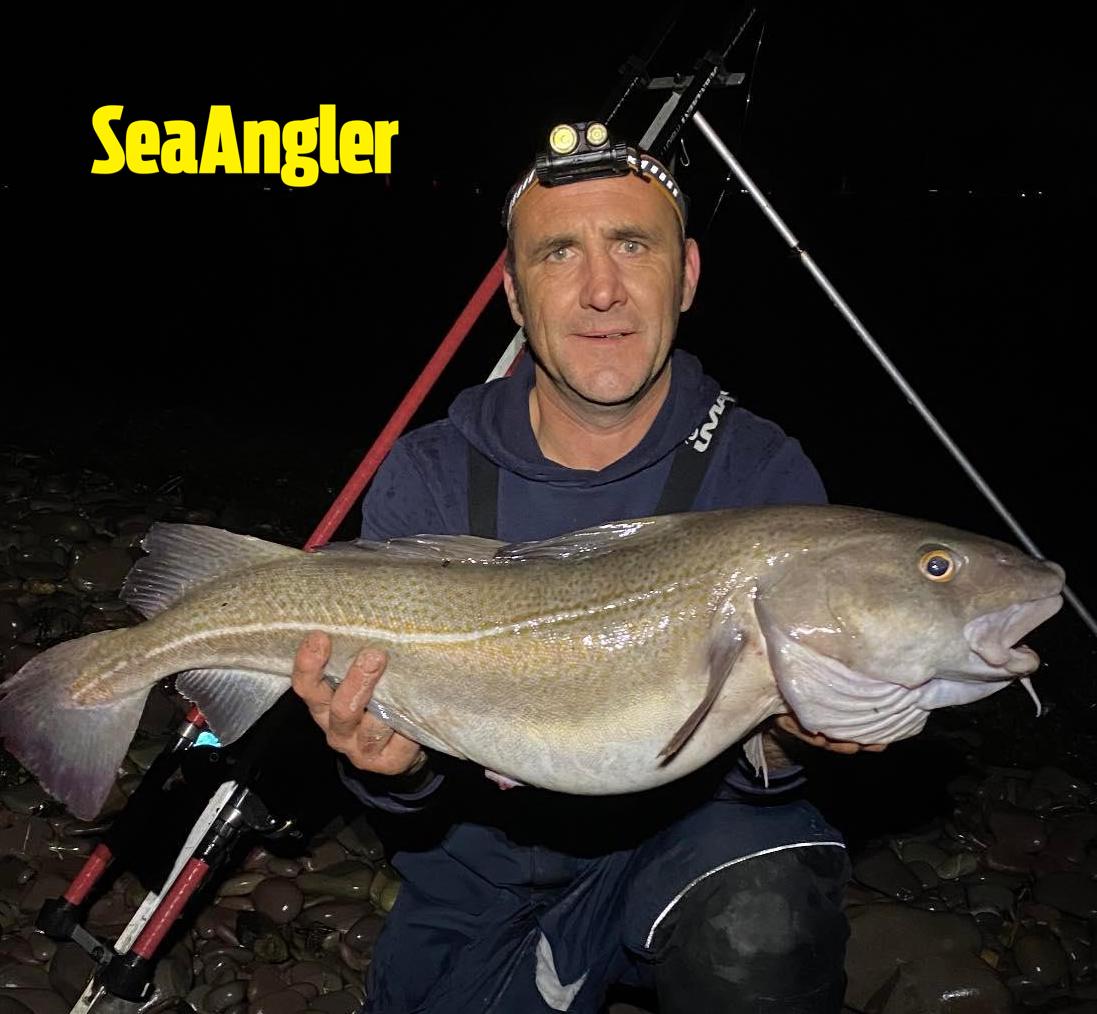 This 23lb 8oz is a UK personal best for Danny Rouse and perhaps the best from the Bristol Channel so far this winter. The angler from Essex was fishing on Michael Webber's Teddie Boy, out of Minehead. The fish took a squid and frozen black lug bait.
As revealed by Sea Angler, Steve Ace hit the jackpot on the first cast of his latest shore fishing adventure in Northern Norway, landing this magnificent 159lb 8oz record-breaking shore-caught halibut and a few days later caught a massive 44lb 3oz coalfish.
This bluefin tuna, measuring 94 inches and estimated at 550lb was caught by Richard Day, from Icklefield. The tuna was tagged and released under the CHART programme on Swallow 2, skippered by Murray Collings, out of Looe.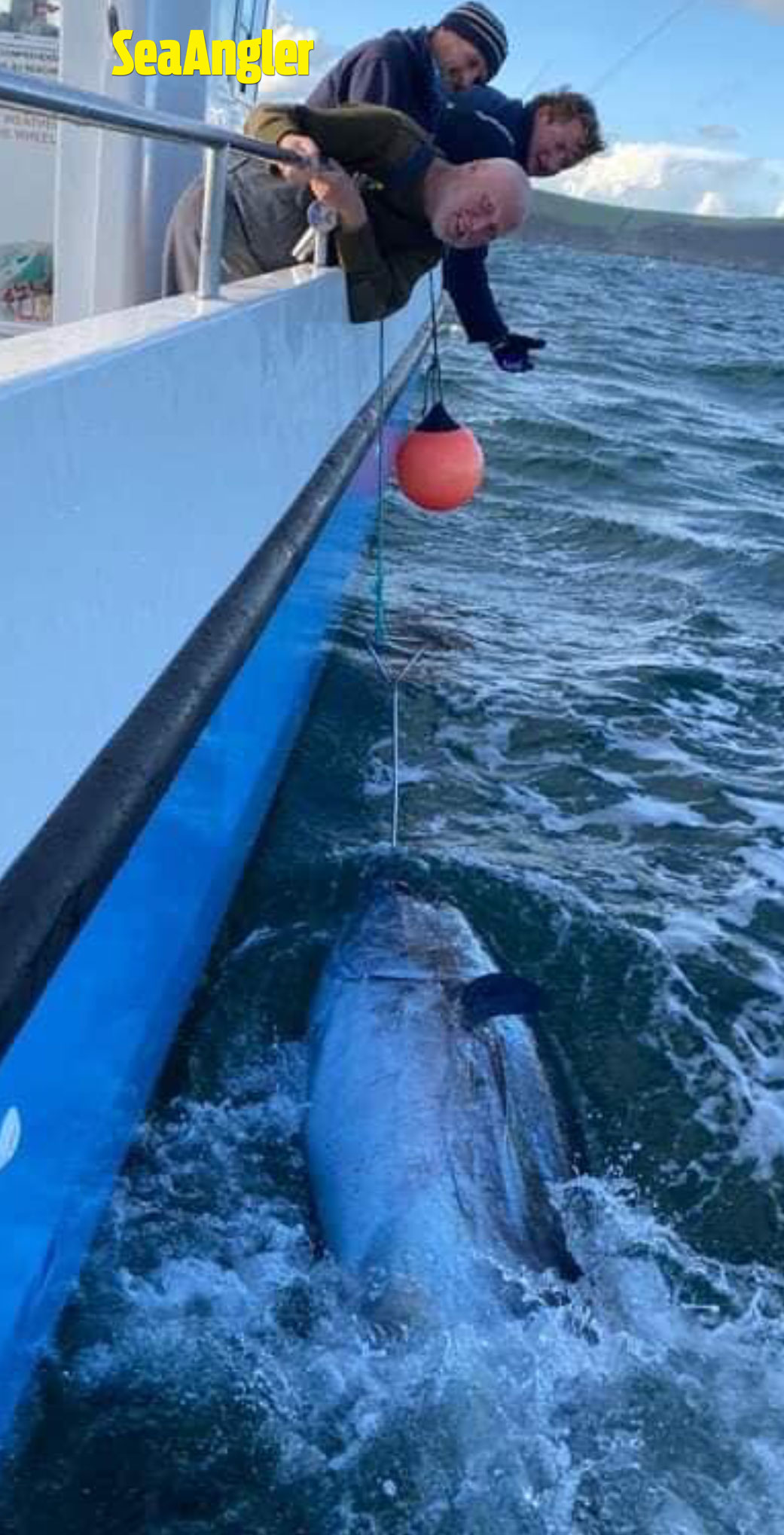 Matt Taylor caught this 11lb 8oz cod while fishing at Chesil Beach.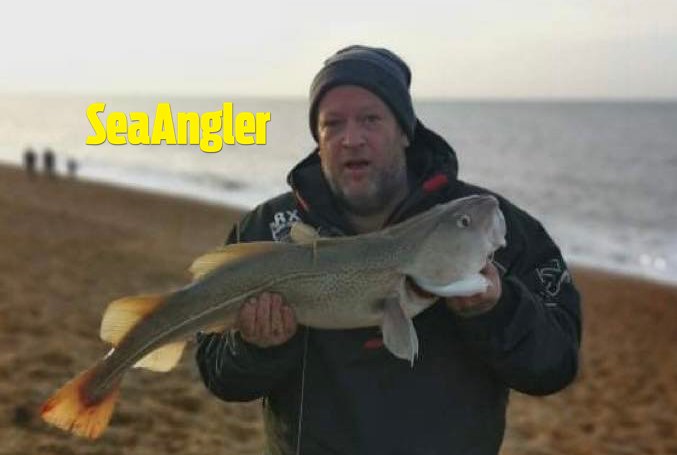 Lowrance ambassador Luke Mckell, from Holbury, smashed his personal best for a bass again with this 10lb 5oz fish. He was fishing on a private boat, out of Lymington. He caught it on a Lethal Lures soft plastic.
Adrian Smethurst and his wife Julie had a great day fishing the CHART programme aboard Sowenna, skippered by Dan Margets, out of Looe. Adrian landed two tuna, the best estimated at 290lb by the scientists due to its very large girth, although the fish's length suggested 245lb. Julie caught a tuna of 66 inches, estimated at 200lb.
Cian Driver describes this 60lb tope as his fish of a lifetime. The angler from Greystones caught the Irish specimen fish from Newcastle beach in County Wicklow. He used a pulley rig made with 200lb mono and a size 8/0 hook baited with a whole mackerel. After a 35-minute battle to land it, the tope was returned.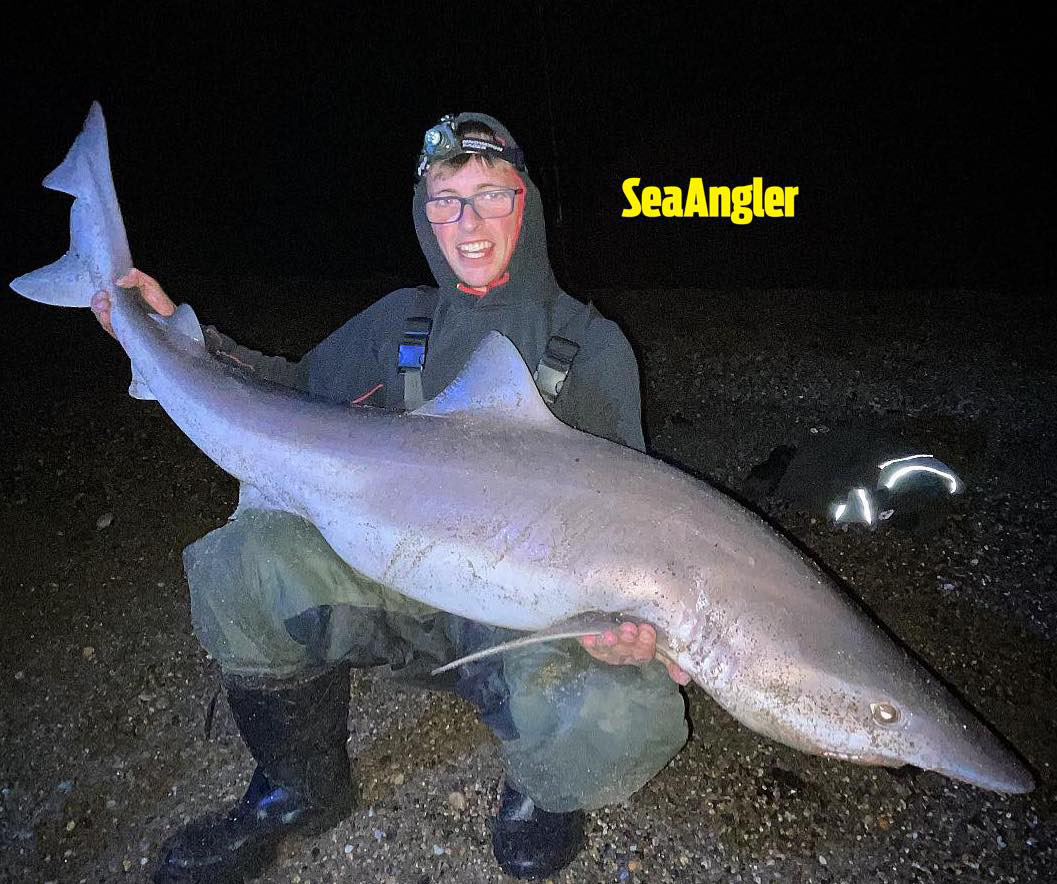 He's done it again. After catching a Welsh record thin-lipped mullet of 5lb 14oz on July 29, Neil Davies, of Swansea, has landed another of 6lb 5oz. He caught it on legered bread while fishing the local River Tawe. "To break the record once is an achievement but to do it twice in a space of seven weeks, I'm absolutely shocked."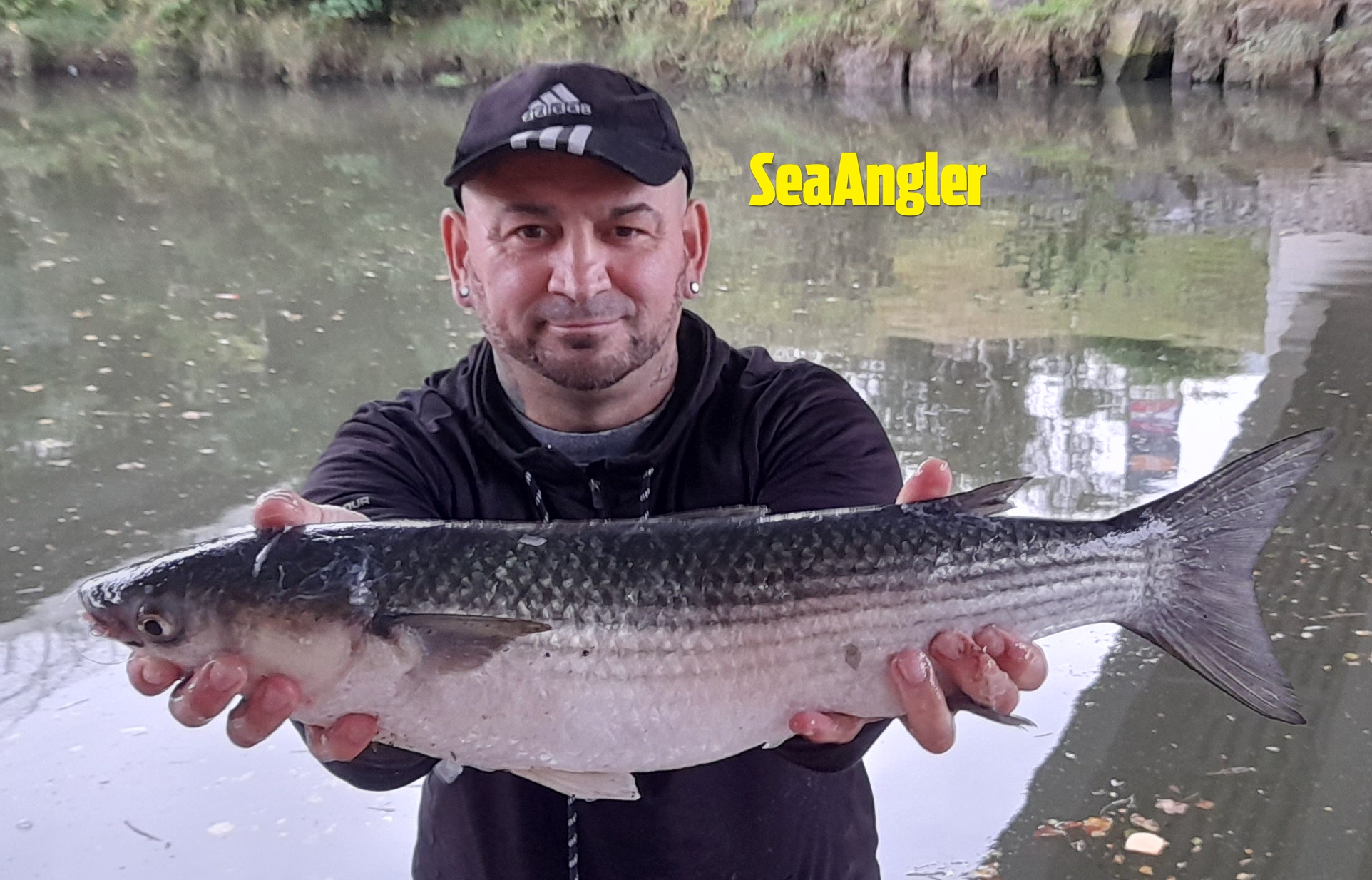 This 550lb porbeagle shark is a fish of a lifetime for Simon Davidson and beats the British record of 507lb set in 1993. He had taken a group of friends on a two-day trip aboard Reel Deal, skippered by Dan Hawkins, out of Ilfracombe. The group caught 15 porgies, including two over 400lb, three over 300lb and eight over 200lb.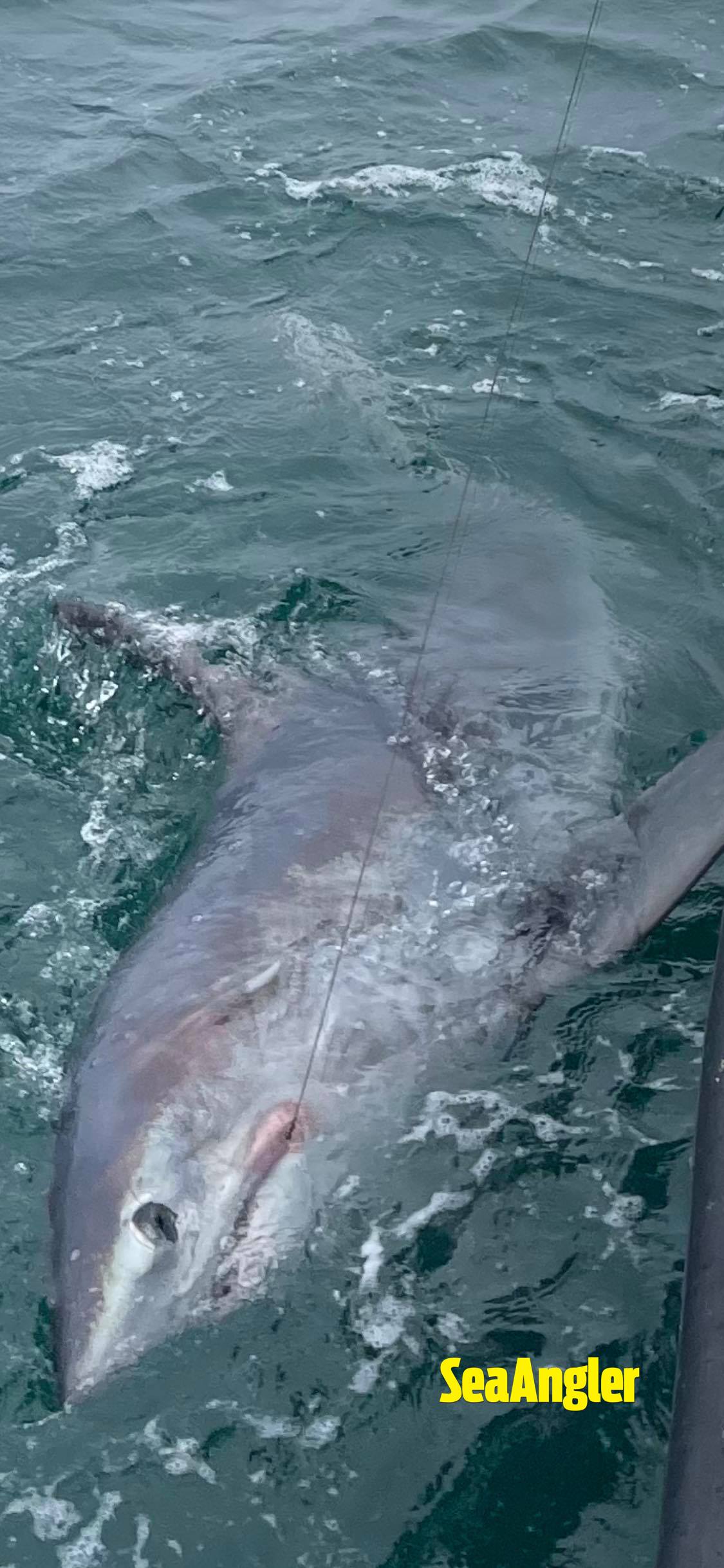 This 12lb pollack was caught on a Connemara Krill lure by Andy McQuade, while fishing at Ring Bolts, Anglesey.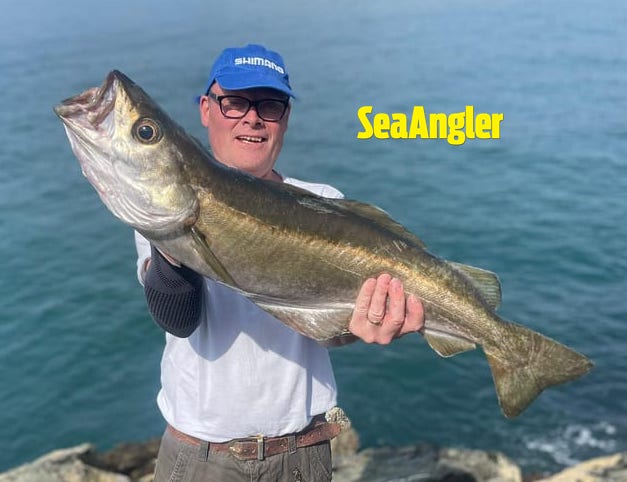 During a session at a Somerset reef mark, Ross Stewart was rewarded with this 20lb 14oz smoothhound

This 5lb 9oz 8dr gilthead bream is a new record for the Isle of Wight. The fish was caught by Brian Gourley, of Newport, while small-boat fishing in the Solent, out of Cowes. The previous record of 5lb 8dr was caught by Willy Merwood in 2017.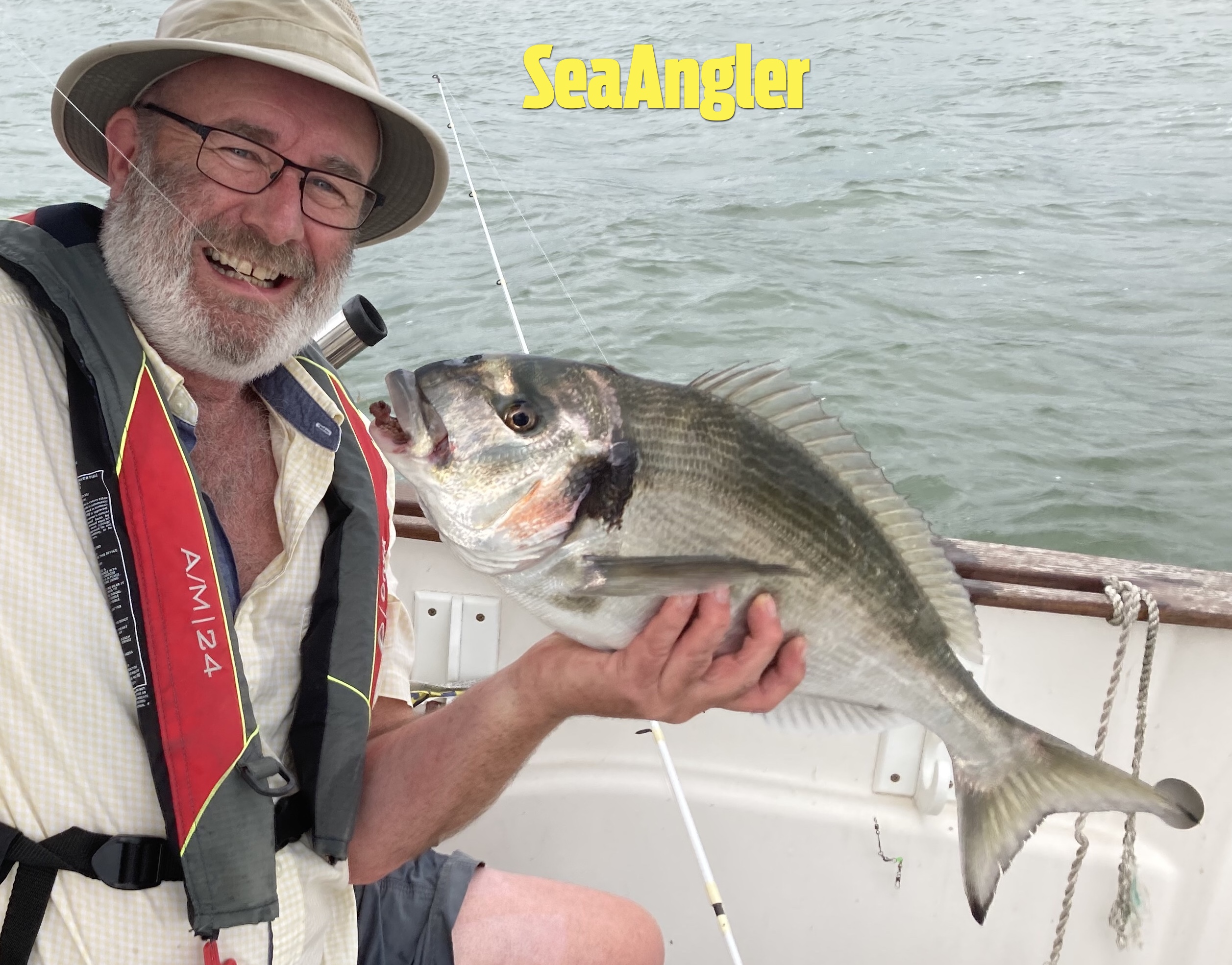 This 5lb trigger fish was caught on a worm bait by Gordon Bains, of Tredegar, while boat fishing out of Swansea.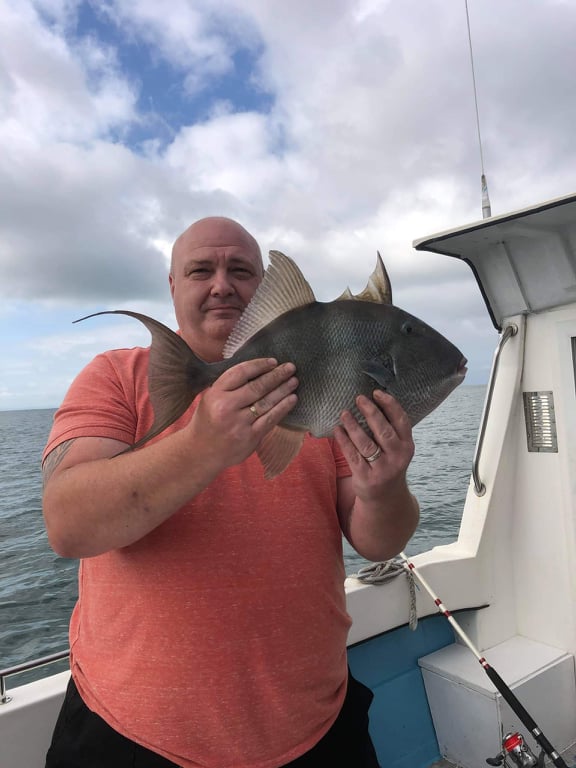 This superb 76lb tope was caught by Duane Lockwood, of Hemsby, while fishing on Ben Richie's charter boat Whitby Crest, out of Wells-next-the-Sea. The fish, which was returned, took a fresh mackerel bait on a running leger with a wire trace.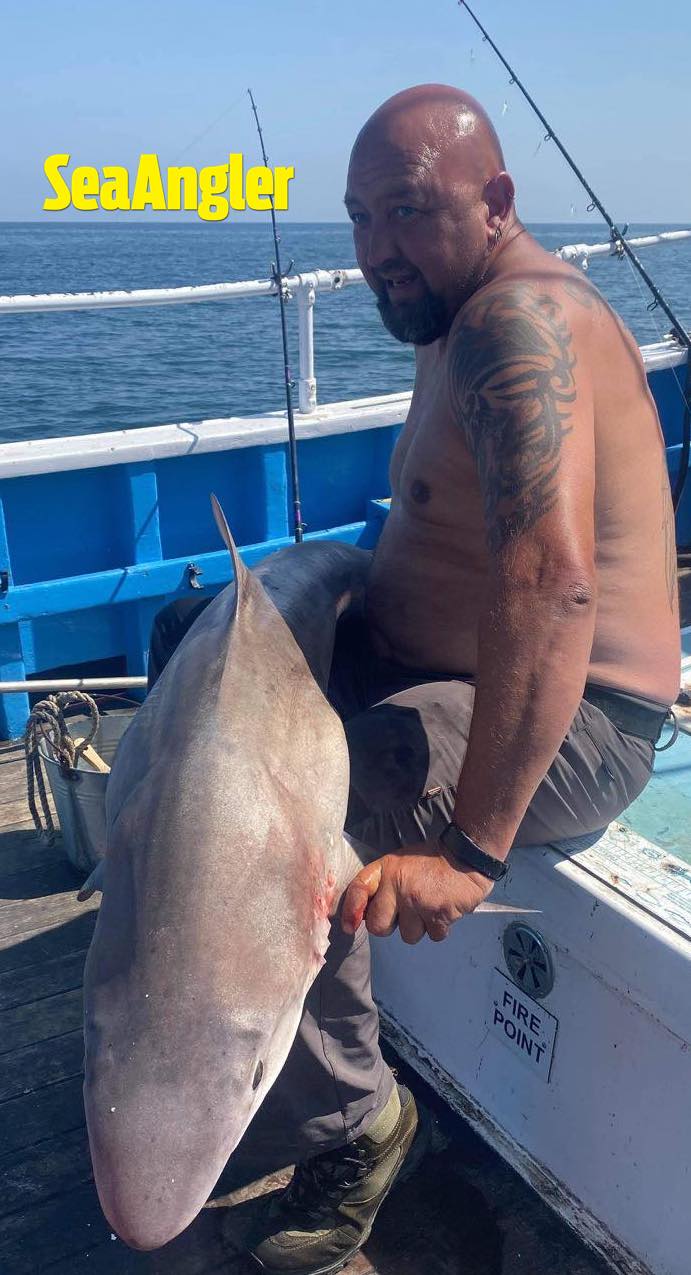 On her first trip to the Shetland Islands, Mia Foxcroft, from Preston, caught double-figure cod and this superb coalfish. She was fishing on Compass Rose, skippered by Kevin Tullock, out of Culivoe. Mia also caught some haddock.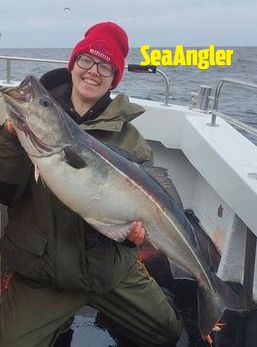 Stephen Doherty caught this 5lb 8oz ballan wrasse, a personal best, while fishing the west coast of Ireland. He used a green and silver glitter paddletail lure Texas rigged ona size 1/0 weedless hook.
While kayak fishing for tope with a whole mackerel bait in Cardigan Bay, Garry Willis had his bait taken by this angel shark, which was released. The species is considered critically endangered and is protected from deliberate fishing in England and Wales.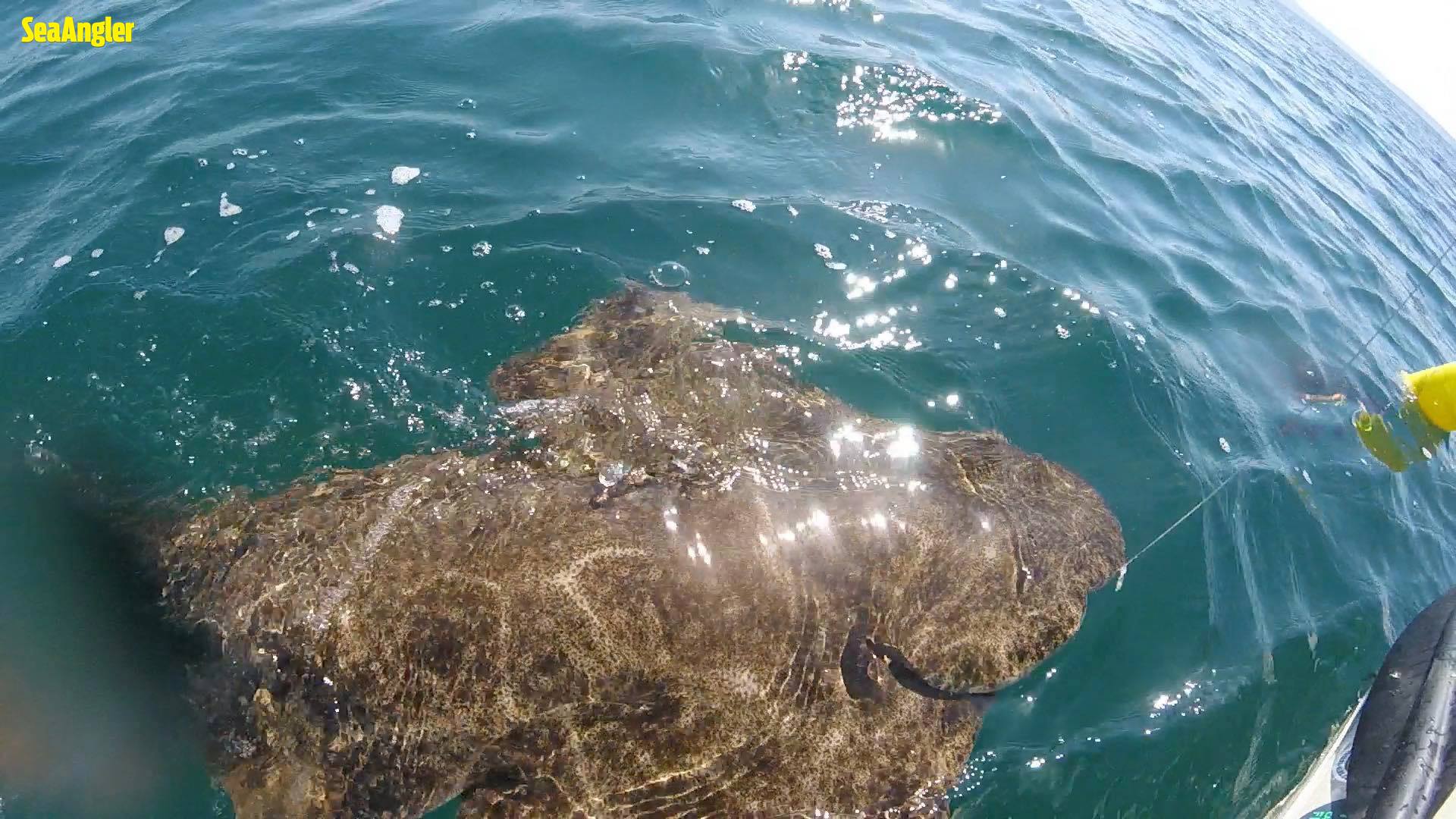 Would you like to be our Catch of the Week? Send your photos to Sea Angler on Facebook Messenger and include the name of angler(s), where they live, type of fish and weight, where caught, date caught, bait and rig, whether caught from shore or boat, if from charter boat please provide name of boat, skipper and port. Please state if the fish was retained or returned.
---
Check out our latest subscription offer to Sea Angler