Andy webb and mates venture out of their backyards and spend a summer targeting hard-fighting black bream over rough ground
A few years back a group of angling friends, Adam, Rob, Gav, and I decided to venture away from our same old angling surroundings for the last 12 months and put some time into an area of South West rock venues where we would target the hard-hitting black bream.
This species is one of my favourites to catch from UK waters, and, if you're lucky enough to catch one, it is also one of the tastiest as well. Cooked in tinfoil and steamed to perfection, served with runner beans and creamy mash; it really does the trick!
ROUGH GROUND TACTICS
We would be targeting the bream over rough ground with kelp and lots of objects the fish would try and dive down into once hooked. We all therefore decided to go for a reasonably strong and powerful beachcaster matched with a multiplier loaded with 20lb mainline and an 80lb shockleader.
Being able to cast is not needed for this species as they can be caught right under your nose; however, I found that by clearing the rougher ground it enabled us to hook and land more fish as we were able to lift the fish more into midwater, away from the rougher ground underneath.
Black bream will try and make their way down to the kelp throughout the fight. If you're targeting bream closer in over rough ground I would recommend going for 25lb line as one clip of 20lb against the rocks could see you lose a fish. 
RIGS
I was shown a great rig which works if you're fishing a good depth over rough ground. It's a basic paternoster rig but made up around 10ft to 12ft long with a rotten bottom system attached to the weight.
By popping your bait up with foam this enables you to fish a bait just over the kelp and on top of the rough ground where the fish will be feeding. It can be a pain to cast at times but people who use this rig tend to fish a longer rod and fixed spool method.
To be honest, I only used the rig a few times as I found that by being able to hit a lead out at distance to the cleaner ground resulted in more bites and by using a much shorter rig it helped keep the bait fixed to the seabed.
One of the key things I've noticed with black bream is the tide. When the tide is pushing the fish tend to feed. Matching the length of your trace line to this is one of the key points to success. We found ourselves changing from 2ft to 6ft rigs depending on the size and stages of the tide.
Always set your drag on your reels. I remember seeing a friend's rod being pulled over and taken clean out of the tripod. Had it not been for his quick reactions, the rod would have been taken into the sea never to be seen again. For such a small species they are very aggressive and extremely powerful.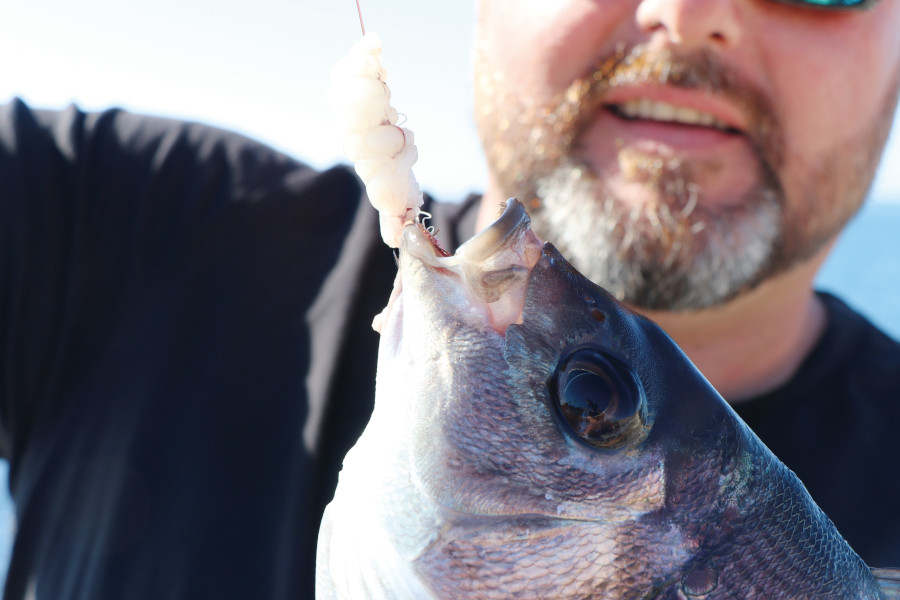 CRACKING IT
As with many things in fishing, knowledge is the number one factor in catching any species on a regular basis. Throughout the year, we started to get into more and more fish. The more sessions we put in resulted in us catching fish to the 3lb 7oz mark.
We had discovered the trick to fishing the area. This is one thing anyone can do with their angling and most species that you want to target. Trust me, there is nothing more rewarding than catching fish with friends after putting all the time and effort in and cracking the code for the mark and species you are targeting.
Out of all the sessions we had that year I recall one in particular. A friend and I headed out for a session on the rocks. The week before we had got around 18 fish between us, with the biggest going just under the magical 3lb mark.
We knew that we had the chance of getting that monster. We had left our homes at around 5am and after a short breakfast stop, we got to our chosen venue. The sea was calm and with little to no wind we started to blast our baits out to the horizon.
Hookers' baits mini squid are perfect for black bream and are full of scent. Other good baits are Bluey and fresh mackerel, which can be deadly on the day. Due to the size of the tide we would have around three and half hours fishing before the tide would pick up and become too strong to hold bottom.
MAGICAL 3lb
Now, I advise anyone to set their rachets when targeting black bream, as they can hit very hard and with my current personal best being 2lb10oz at the time I knew this from experience.  The session started off with a few smaller fish and as the tide picked up the bites started to come.
We only fished one rod each as, at times, you only had time to fish one as the fishing could be that good. I recall my rod slamming over and line being stripped from my reel. As I struck into the fish the rod locked up.
I could feel the power of the fish as it took me straight into the rough ground. As I started to apply pressure to the rotten bottom I could feel the lead give way. However, sadly, the fish was still snagged.
I decided to let some line out and hope the fish swam free from the snag enabling me to land the fish once it was out in the open water. After five minutes of waiting my reel started to scream once again and I quickly struck into the fish and lifted it up into midwater, away from the rougher ground.
I remember the power as it dived for the rocks and kelp. As we got it to the shoreline, I was greeted with a monster bream over the 3lb mark. After a couple of photos, I returned the fish to fight another day.
I will never forget watching this powerful fish speed straight back down to the depths of the ocean. For anyone who has yet to target this species you are really missing out. There are many places to catch black bream around the UK that can be found. Do some research. A little time and effort will always get you the rewards you're after.