Sea Angler readers can save up to nearly 40 per cent off the standard ticket price for the UK's biggest and best event for boat anglers looking for new products, all their favourite brands, and a great day out with the family!
The Southampton Boat Show is back for its 54th event and it promises to be another spectacular. This sprawling event held in Southampton is the major go-to events for anyone interested in boats and boat fishing in the UK.
For anglers there are four categories of stand which will prove interesting: marine electronics and charts; boats and kayaks; accessories and safety equipment; and then of course, engines. All the major companies will be in attendance. Here's a guide to some of the exhibitors and new products that you won't want to miss.
MARINE ELECTRONICS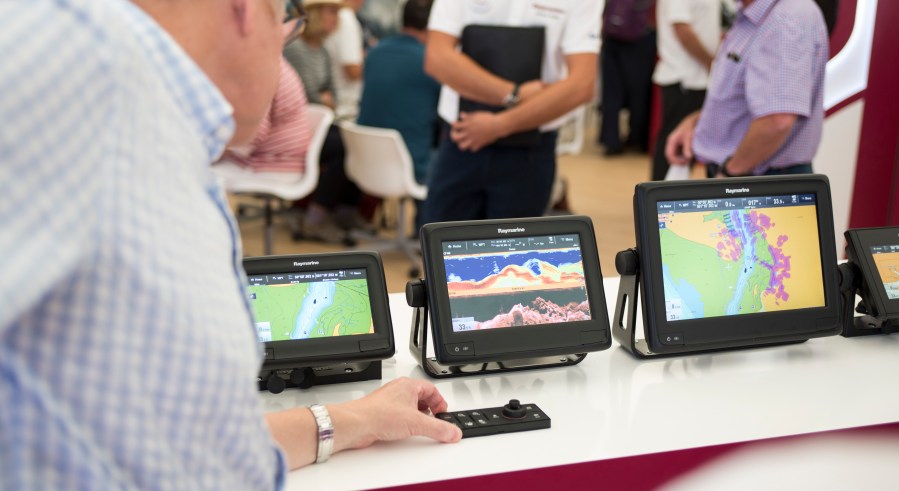 Raymarine (stand J385) will be at the show with their newest Axiom II units. Having used these while competing in the Sea Angling Classic we can vouch for the increased usability and sharper memory power offered by the unit. Garmin (stand J377) will no doubt feature their newest ECHOMAP units, LiveScope and the new Garmin Force Kraken trolling motor. Lowrance has a new generation of HDS Pro units and of course their Active Target sonar which allows anglers to see the water in live motion allowing better fish targeting. Simrad, B&G and other Navico brand s (stand J390) will also be on show.
Navionics (stand J377) will of course be there and if you want to find out more about the revolutionary Relief Shading option on their chart layers – something which has revolutionised the way we can target our fishing marks more effectively.
BOATS & KAYAKS
As for boats and kayaks all the usual suspects will be there but have a look at Bates Wharf distributor for Beneteau (stand E080). Highlander Boats (Stand C069) are always worth a visit with their great range of smallish well-built dinghies for anglers. Mini Fisher will be on stand W010 and its well worth dropping by to try out this cute little range of angling and leisure boats. One of our favourites, Orkney Boats are on M501-503 in the marina area ready for a test drive. Quicksilver boats (Stand F029) are a popular brand of angling boats, particularly the Pilot House Series which many anglers find as excellent fishing boats. Selva (standE091) models of which we have reviewed in the past are worth a visit with their outboards and Sibs. Smartwave (stand J159A) are also at the show. BHG Marine have their Linder brand on their stand, (460, 520 and 410), Rodman are there with the new 790 Ventura, which the Sea Angler team fished from at the Sea Angling Classic, is the Smartliner Fisher.
ENGINES
All the major outboard engine manufacturers are at the show as always and we would encourage a visit to the Suzuki (stand M058-66, E058) – partly to see the Smart Fish boat which will be at the Marina with some smart new toys along with the entire Suzuki pro fishing team. Suzuki are also creating an angling feature on their stand with a Shimano fishing simulator and will be running a competition for visitors with some amazing prizes – well worth visiting.  Honda E066, Tohatsu E041 and Yamaha E051, M035-M044 will all be on show as well. A range of electric motors will be there including Torqueedo (stand C081) plus many others.
Other stands worth considering are SBS Trailers (Stand EO67) who have some excellent well-built trailers, Scanstrut (stand J386) and of course all the accessories stands where you can browse a range of boat gadgets and safety equipment.
SHOW ZONES & ON THE WATER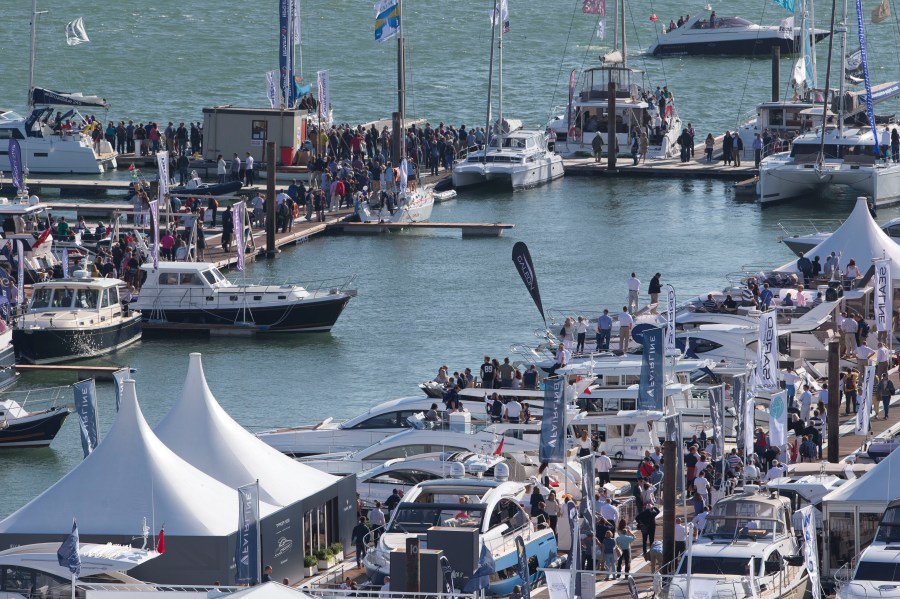 Show Zones at the event include Watersports, Dinghy, Classic & Day Boat, Mayflower Park, and Ocean Hall, home of the Foredeck Stage. The new Shipyard brings the festival vibe to the show with live music and DJ sets, plus two epic clashes from the Rugby World Cup and the Show Marina, Europe's largest purpose-built show marina (where all the boats are moored).  Also look out for The Beach Haven & Watersports Lake.
If you're looking to try something new the show provides a whole host of opportunities to get on the water and give it a go.  The 'On the Water Zone' is an action-packed area where you can give it a go for free. Try sailing or motorboating, RIBs or dinghy sailing, paddleboarding, kayaking or even a mini cruise!
For a small additional price, you also have opportunity to stay out on the water longer aboard some of the most adventurous boats at the show, including the 'Thalassa', a 47m Dutch tall ship, 50ft racing Trimaran, Motor Gunboat 81, Highspeed Launch 102, Landing Craft F8 or the Royal Navy P2000 Patrol Boat.
Sea Angler and Saltwater Boat Angling will be at the show. Come and say hello if you see us. We look forward to seeing you there.
To take advantage of this money-saving ticket offer simply visit www.southamptonboatshow.com and click on 'Buy Tickets' using the promo code SEAANGLER to claim your discount. Don't forget, two children aged 15 and under can get into the show for free with every adult ticket, so bring your family along for a great day out!