Pollack fishing is so simple and exciting that you will wonder why you haven't tried it before. All you need is a powerful 10ft-spinning rod, quality fixed-spool reel, softie lure and deep water. Henry Gilbey gets fired up as the pollack attack right at his feet
KNEE JOINTS PROTEST as you naturally brake against the steep downward slope, but way below twinkles bright blue water, swirling invitingly with white-tinged edges as it laps against the rocky platforms.
Carrying nothing more than a spinning rod, fixed-spool reel and with a small rucksack strapped to your back, you can swiftly but carefully negotiate the cliff path down to the water.
Tying on your favourite lure, you cast it out over the tumbling ocean in front of you. Allow the lure to sink a few seconds, snap the reel's bale-arm back and begin the retrieve. That's when the magic begins.
Every natural sense is actively charged in anticipation of a hit, but steal yourself to keep casting and retrieving, searching out different areas and, of course, don't ignore the water right beneath your feet.
Third cast and you can see what looks like a good pollack dart out at your lure seconds before you lift it to cast again, but in a millisecond it is gone in a flash of aggression.
Cast out again and retrieve through the same bit of water and this time you can actually see the pollack dart out and pounce upon your lure. Can I see a big smile break out across your face?
Is there anything like light-tackle, pure rock-edge spinning to heighten the senses? Roaming the rocks with minimum gear is one of the most exciting ways of fishing ever invented and, as luck would have it, we have truck loads round the British and Irish coastline.
Nothing beats fishing outside the comfort zone. While a vast army of anglers test their skills with long powerful rods, big lead weights and expensive strings of bait, there is a lighter, more nomadic way of fishing.
Granted, not everyone has easy access to the mobile rock-edge fishing I am talking about, but there is growing interest in travelling the coast looking for new places to fish. Holidays obviously open new doors and new challenges, and with no fresh bait supply worries you can fish where and when you like.
The type of sport I am talking about doesn't have to be all about big fish either. I am trying to put across to you the chance to get among some high-adrenaline, heartpumping, light-tackle fishing where the rod bends over alarmingly as a wild fish tries to break it!
Treat pollack as a prize
THE pollack is a humble fish, overshadowed by more illustrious species like bass and cod, but to my mind it deserves more credit as a sporting adversary.
While cold weather cod fishing is part of our shore fishing heritage, with bass adding that fillip when they strike out of the blue like a bully mugging an old lady for her purse, the pollack is always there for you and the fireworks are guaranteed.
Time they are a-changing, of course, and anglers who have got the T-shirt for the biggest and most of everything are looking for new avenues to explore.
That's why more anglers are going down the light-tackle road and finding that while the fish they hook often aren't monsters, boy do they fight on more delicate gear.
Granted, it is not subtle fishing. The only thing to remember is to open the bale-arm of the reel before you cast and wind in at varying speeds. That's all you need to remember. The rest is free fun.
Sometimes I think we can forget that going fishing is all about having fun. While fishing seems to become more and more technical, it really needs to become simpler. The lighter I travel and the further I can fish from the well-trodden paths the better.
Rock-edge, light-tackle fishing is more about a state of mind than concerning yourself with endless rigs and competitions. If the idea of walking miles and miles in search of good marks fills you with dread, then this fishing is not for you.
If you like to fish with lots of people in a competitive environment and want no change from that, no problem, but if you are beginning to take in interest in what I am talking about here, then have a go.
It is incredible to watch anglers finding out for the first time that rods can actually bend when fish are on, that some species can actually demand line from the reel and that there is a whole new world outside the traditional beach fishing scene that is waiting to be explored and enjoyed.
Where and tackle
THINK hard about where you will be fishing and that will be a clue to the type of tackle you should be using.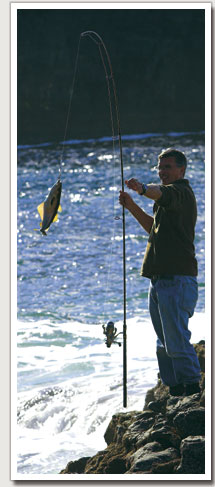 Forget about the need to fish seriously deep water and don't be afraid to cast and fish right beneath your feet at times. You will be surprised how close to the rocks a pollack will smack into your lure.
Everyone has heard about the legendary pollack fishing to be had around the Irish coastline, but you don't have to cross the water to enjoy the sort of sport I am talking about here.
A lot of west-facing coastlines hold pollack, including Devon, Cornwall, Wales and Scotland, plus numerous other rocky areas where there is some run of tide and life to the water.
The pollack lives and hunts around rocky ground where there is good weed cover, and they can be perfectly happy to run up gullies and inlets to hunt their prey. While summer is generally the most prolific time to hunt these fish, in fact the really big pollack tend to be caught in late spring and early autumn.
Every area fishes slightly differently, but you can't go far wrong if you chose to fish a flooding medium-sized tide when the sea is relatively calm and there's safe to access to the marks. Whatever the state of the tide, pollack often go on a feeding frenzy during the last hour of daylight, when the sun is not shining directly on the water.
I have yet to see it, but some anglers tell me of late season pollack being willing to hit surface lures. The sight of a good fish charging from nowhere and hitting your lure has got to be an angling high.
There's no need to carry more than one rod and reel; this is all about travelling light and staying mobile.
Leave those rod bags, tripods and shelters at home, and enjoy the fishing. I tend to favour powerful 9ft to 10ft spinning rods rated to cast up to about 100g. While I'm not going to cast a lure that weighs around 4oz, I am after a rod with backbone that can deal with a crash-diving fish.
Long carp rods don't find favour with me and I'm currently playing around with the Greys G-Series Spin 9ft 60-100g and their GRXi Spin 9ft 30-100g, which seem to do the job perfectly.
Fixed-spools work perfectly and I look to a 5000-size reel to give me line capacity and overall strength. I am only interested in very good line-lay, ultra-smoothness and a powerful, non-sticking drag.
Shimano make top end reels and models like their Baitrunners and Technium FA are just about perfect and will provide many years of trouble-free service.
I'm not entirely decided on whether I prefer braid or mono mainline; I like the directness and feel of braid, but still a big part of me really wants the stretch and abrasion resistance of mono.
I tend to use 15lb red Sufix Tritanium mono or 30lb Sufix Matrix Pro braid with a 30lb clear mono leader direct to the lure.
What lure on the line?
WHATEVER I say is open to debate. Old fashioned spinners, bars and spoons are always going to work, but small Stormtype shads and all manner of jellyworms, used with a 2oz ball lead, size 3/0 hook and short 30lb trace, will work Every lure angler has a personal favourite, but do accept that you will lose lures when fishing over rough ground. Make the lure work hard and cover as much ground at as many different depths as possible and if you get hit hard, hang on for dear life… and smile.