Booking a charter trip is a straightforward enough process; or is it? It's been many years since I actually booked a charter trip for myself and a group of friends, but after many months of resisting the request from a bunch of mates at my local pub, this year I finally conceded and set about organising a trip for what essentially was a group of novice boat anglers. Of course, I have a fair amount of experience fishing aboard charter boats the length and breadth of the British Isles, so I had a good idea of exactly what I wanted to arrange. Even so, I had to deal with the inevitable spanners in the works while attempting to choose a date that was A) suitable for the fishing we hoped to experience, B) the availability of a good boat on the day, and finally C) a date that suited everyone. I got there, eventually, but after all of my hard work the trip ended up being cancelled due to bad weather! I'm currently in the process of arranging an alternate date.
In this article I talk to several charter skipper friends and I ask them what advice they have for anyone looking to book their boat, either as a full charter (that is, booking the whole boat) or as an individual after a single place aboard an existing charter. Here's what they had to say.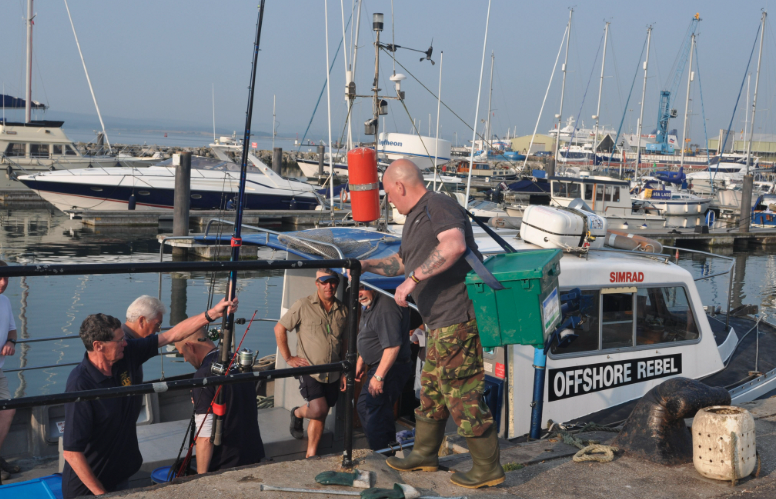 Colin Penny: Weymouth
First up, my old friend Colin Penny, skipper of Weymouth-based Flamer IV. "Plan and book well in advance. Look at the boat's website for information then contact the skipper for advice and any further information on the type and length of trip suitable for you or your group. Ask about the species likely to be caught as some species are seasonal in different areas.
"You should be prepared to pay a deposit or the full fee in advance. If you are booking for a group my advice is to get the money off them all in advance. All too often people don't turn up and leave it to the others to pay for the trip. Check to see if the skipper can supply you with rods, reels and the necessary end tackle, plus bait. Confirm how much this costs.
"Always confirm the departure time and be at the boat in good time. It is important that you contact the skipper the day or evening before your trip to confirm the weather and that the trip is on or off. Often the skipper will not make a call on the trip until the evening before, when he has looked at the latest weather forecast. I often get people ringing me the morning before the trip saying the weather is OK, but as we all know this can change. It is completely down to the skipper whether the trip goes ahead or not. Safety will always be my first priority. If you want to drink lots of alcohol then book a booze cruise, not a fishing trip. Pubs are for drinking, charter boats are for fishing."
Rob Rennie: Milford Haven
My next port of call, if you'll pardon the pun, was Milford Haven Marina in West Wales, and Rob Rennie, owner skipper of Shimano sponsored 'Lady Jen', who said told me, "This is a subject that I could go on and on about! Once you've done your homework choose your skipper, the type of trip you want and the time of year. Ideally your first trips will be during the summer, there's nothing worse than struggling in the wet and cold.
"Are you looking to book your own trip, or join another group as an individual? If you have a group of friends that have limited experience and are keen to book the whole boat the skipper can possibly get crew and can spend the time to tutor you all. If you turn up with 12 novice anglers, then often you will have three or four who are just there for the day out and aren't really interested in learning how to fish.
"You need to bear in mind that a good skipper could well be booked 12 months in advance, but he may be able to fit you in as an individual angler. When you first talk with your skipper be honest and explain your previous experience. Tell him what you would like to achieve from the day. Don't be afraid to tell the truth. If you have never fished off a boat or used a multiplier reel before then say so. I love having novice anglers aboard that are keen, and I try to slot them in with an experienced crew so they get to see good anglers in action, and hopefully plenty of fish on the deck.
"You will probably be asked to pay a deposit and you must be prepared to pay the balance if you can't make the trip and cancel at short notice. Confirm what happens if the trip is cancelled in the event of bad weather. Will your deposit be returned, or will it be moved forward to another mutually agreed date? If after booking a trip something comes up and you can't make it, ring the organiser or the skipper as soon as possible. Given sufficient notice they may be able to fill your space. In 30 years I have only taken the balance off one angler, and that was because he just didn't turn up."
Sam Narbett: St Ives
Finally we move to the north Cornish coast and St Ives, home port of 'Bluefin', owned and skippered by Sam Narbett. Sam's crews consist of both hugely experienced sea anglers and complete novice holiday makers, so I was particularly keen to hear what he had to say.
"Take some time to find the right boat and the right duration trip, for you and your level of fishing experience. Do your homework as some charter boats are more beginner friendly than others! The skipper takes a different view when planning a trip when he has beginners or inexperienced anglers aboard. This could mean that the trip is more likely to be cancelled if the weather is not good enough to take beginners out, as the last thing the skipper wants is give everyone a bad experience.
"Manage your expectations and explain to the skipper what you would like to catch. The skipper is most likely to choose a type of fishing that suits all of the day's crew, not just an individual. This may mean a more basic or easier style of fishing, with greater rewards for all. With this in mind wreck and reef trips are a good choice, as this is most likely to involve fishing on the drift using some form of lure or soft plastics. It's an active style of fishing that can be very productive for cod, pollock, bass, ling and the various wrasse species."
As an alternative you could book a trip fishing at anchor, bait fishing. This is very easy for the skipper to get everyone set up and fishing and is more suitable for species like tope, bull huss, conger eel and rays. Just remember to check what tackle or bait you need and ask what's included in the cost of the trip. There might be an additional cost for lost tackle or rod hire.
As the trip approaches please don't send the skipper loads of messages asking about information as he will be very busy. Read the website for all the information you can. You'll most likely find answers to your questions there. If not, then make a list of any questions you want to ask so you can just send one email or text. Finally, if the skipper cancels the trip due to weather do not question his decision, as that never goes down well. Trust me, charter skippers don't like losing money!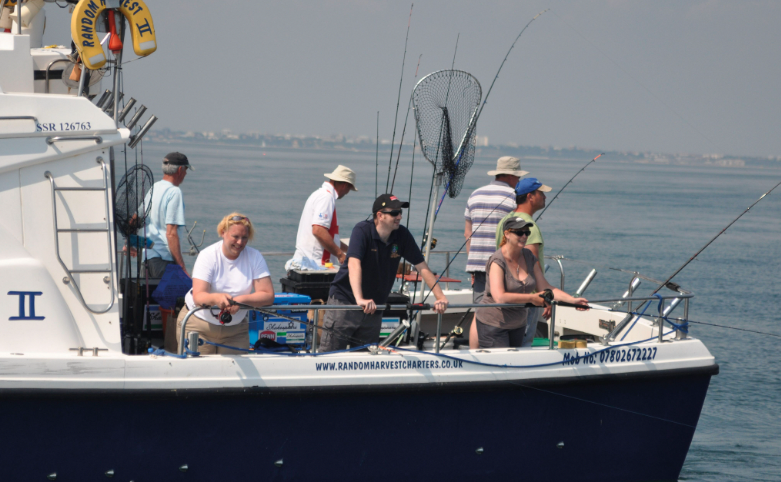 Dave's Do's & Dont's
I have summarised what I perceive as being the most important points to consider when booking a charter boat. Good luck, and remember there is absolutely nothing anybody can do about the weather!
The first step in booking a charter trip should be to decide which species you would like to target. Next contact a few skippers at the port you intend fishing from in order to determine the optimum time of year to fish, along with suitable tides. Remember the best charter boats always get booked first, often as much as a year in advance for peak season, so early enquiries are recommended.

If you have a specific date in mind for your trip once again contact the skipper as early as possible, only this time ask his advice for the best fishing options available on that specific day.
When you speak to a skipper establish the duration and the full cost of the trip at the earliest opportunity. Obtaining a copy of this in writing, such as a brief email, is always a good idea.
You will probably need to pay a deposit for the trip. Establish how much the skipper requires, and exactly what happens in the event of the trip being cancelled due to bad weather. Will the deposit be returned, or will it be carried over to an alternate date? You need to discuss this at the time of booking.
Remember it will be the skipper's call to cancel the trip due to weather, not yours. If you cancel a charter trip at short notice then you will probably lose your deposit, unless the skipper can fill the date.
Be absolutely clear as to whether you are booking the whole boat for the sole use of your crew, or are you booking individual places with the skipper filling the remainder? In the latter case if you book four places and turn up with a crew of three, you will probably have to make up the shortfall for the fourth angler.
If you require bait who will be providing it: you or the skipper? If it is your crew ask the skipper exactly what type and quantity of bait he recommends and be sure to turn up for the day equipped accordingly. If the skipper is providing the bait, establish the cost.
Will you require the use of hire tackle? If you do confirm the skipper has sufficient tackle for your group on board. You will usually be required to pay for tackle losses and any breakages, so confirm the costs for these.
If you are supplying tackle and are not certain as to exactly what you need, confirm these requirements with the skipper. As with bait, follow the skipper's advice and turn up for the day with tackle suitable for what he has recommended you need.
You will probably be asked to ring the skipper the day before your trip to confirm final details and the weather forecast, along with any adjustments to the originally advised bait and tackle requirements based on how the fishing has been. Make sure you ring at a sensible time, not late in the evening.
If the skipper gives a sailing time of say 07:00, you need to be parked, dressed and on the boat at least 10 or 15 minutes before. His sailing time might well have been chosen to coincide with optimum tide times for fishing, or at certain ports' locking out times. Turning up late is not the best start of the day.
Finally, ask about parking. Parking is becoming more of a problem at many ports, and the skipper will advise the best place to park your car. Increasingly this will be a pay and display car park, so make sure you have the means to pay for a full day's parking.