How do you stay warm when sea fishing? Well the main thing to do is make sure that you layer up by following the three layer principle. What is the three layer principle and how will it keep you warm when sea fishing?
The Three-layer principle
Dressing incorrectly in cold weather can cause dampness to occur inside your clothing. This may in turn lead you to being even colder and worse, lead to hypothermia which goes from being a bit uncomfortable to a potentially life-threatening condition.
The three-layer principle is a simple and functional system, where the combination of the various clothing layers ensures optimal comfort. For instance, a breathable jacket provides very little effect if the layers used below are not breathable. There is no point in spending hundreds of pounds on buying a good jacket if you omit to buy the corresponding functional base and middle layers. The objective with the three-layer principle is to create a system that keeps you warm and dry, even under the most demanding weather conditions.
The three essential layers are:
Tight-fitting perspiration base layer.
Middle layer determined by activity and requirements for insulation
Waterproof outer layer. Protects from wind and rain.
1) Base Layer (Underwear)
The most important function of your base layer is to facilitate the wicking of excess moisture away from your body, ensuring that you don't get wet and cold. Merino-wool is the most popular material used for this as it has a natural ability to regulate temperature, making sure that your skin doesn't get cold.
The wool warms and releases energy regardless of whether it is moist or dry. The ability to regulate body heat makes merino wool the obvious choice for year-round use: it's warm in winter yet cool in the summer.
When using merino wool, it's wise to wash it as little as possible, this preserves the natural lanolin in the wool and extends the lifetime of the fabric greatly. Instead hang the clothes out in fresh air, especially if the temperatures are below zero.
Merino wool is a natural fibre and being thinner and softer than regular wool makes it easy to wear against the skin. Its fibres are inherently porous being composed of little plates that moisture vapour can get in between to wick away from your skin.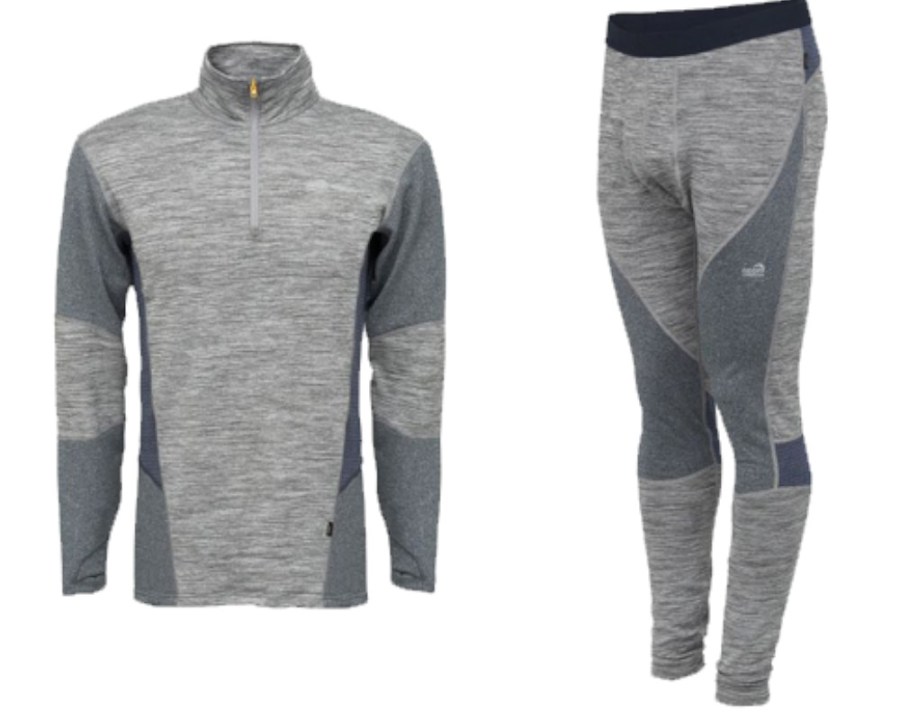 2) Middle Layer (Insulation)
The function of the middle layer is to ensure that you keep warm. The middle layers can be changed depending on your activity level and requirements for insulation; so it fits your demands. Fleece is the most commonly used material as the structure of the fabric traps a lot of air between the fibres – and it is this air that creates the heat. Fleece has that ability to soak up and transport excess perspiration and dries very fast.
Fleeces are mostly manufactured of polyester, often produced from reused plastic packaging. The difference between a good fleece and a bad fleece is first and foremost how much air it can bind within the material, and thereby how warm it is. On top of this a good quality fleece has much higher abrasion resistance than those of lesser quality.
Polartec® is the leading manufacturer of fleece material on the market, well known for its high quality, ensuring maximum heat retention and breathability.
3) Outer Layer (waterproofing)
The outer layer's function is to protect you against the elements – be it wind, rain, hail or snow. It's very important to understand that a breathable fabric is only capable of "breathing" vapour – not perspiration in fluid form. If you experience condensation on the inner side of the outer layer, it can feel like the outer layer is not waterproof – but the problem can often be solved with the right base and middle layers. Cotton is not suitable to use in any of the layers because it retains moisture, especially when used in combination with fleece. Correct use of base and middle layers is crucial to optimize the full functionality of the outer layer.
Follow this advice by sticking to the three-layer principle and you'll soon appreciate the importance of layering and wearing the correct fabrics and materials. Not only will it keep you warm and dry but it will keep you happier and more focused on fishing for longer, and in comfort. Check out the range of layers available from manufacturers such as Geoff Anderson, Vass, Titan, IMAX, Guy Cotten and Shimano, amongst others.