WHEN YOU REALLY want to learn something, talk to people in the know. I don't mean those who have giant egos, but anglers who don't court publicity and don't make a fuss. Cornishman Dave Dunstan is an angler from the no-fuss mould, who fishes the stunning peninsular riddled with masses of hidden rock, estuary and beach marks where the county's top anglers ply their trade.
Dave runs Premier Floats with wife Sandra and chances are that the floats you have bought recently have been made in Redruth.
They only sell to the wholesale trade, but with 22 kinds of floats and thousands upon thousands made each year, there's a good chance you have watched one of his floats bobbing about in the briny. Dave has been fishing for nearly 45 years, almost all his life, and the business of fishing has been in his blood for sometime as well. He ran the County Angler shop in Camborne for 16 years, so what does he think is the golden rule of running a fishing tackle shop?
"Decent bait," he said, "that's what I felt would draw people to the shop. We were known for the best bait around and I am sure this helped us succeed."
To hear stories of the vast amount of time he spent sorting and preparing bait for his customers is amazing.
"We felt bait was so important to our business we had a cold room to keep it in perfect condition," said Dave. "Good bait that lasts well keeps people coming back and they also spend on tackle.
Good word of mouth spreads very fast in fishing," he added.
Eventually Dave and Sandra sold the shop and bought a float making business. I wanted to know more about hanging a bait under a float, so it made sense to team up with him.
A float for every job
DAVE has used a float to catch mackerel, garfish, pollack and wrasse, so what better than a day out with him somewhere way down west, in fact almost off the map.
People who are naturals do things so smoothly and quickly that it can be hard for the apprentice to follow. I had to ask Dave to slow down at times and show me step by step what he was doing.
"The first thing I do is get a rough depth of the water, but I don't get too hung up on it as it can never be as accurate as coarse fishing," he said.
"I then cut a length of leader the depth I want to fish, the bead stopping against that knot preventing the float riding up. Many anglers use beads and purpose-tied stop knots to prevent the float riding up the main reel line but this works for me."
When it gets down to technicalities, Dave is a stickler for getting it right. Showing me his rig, he explained: "If the baited hook can get above the float during the cast it will tangle around the leader and won't fish properly.
"It's vital to stop the float above the hooklength swivel. I do this by pushing a length of doubled leader line through a lower stop bead so the distance between the bottom of the float and swivel is longer than your hooklength."
For garfish Dave will fish up to 10 feet deep with a size 1 or 1/0 hook, often with a light 1oz or 2oz float. When targeting mackerel he may set the bait deeper, around mid-water, with perhaps a 3oz float. Favourite bait is a small sandeel.
Dave does make a specialist gar float that is self-weighted, with a three-way swivel at the top for specifically offering baits near to the surface, but it is not cost effective to make it in any great quantity. Great looking bit of kit though.
Big 4oz floats come out for pollack and wrasse fishing because Dave prefers the heavier weight to get the bait down fast and keep it near the bottom.
Larger size 3/0 or 4/0 hooks are used for both species, with a bigger sandeel favoured for pollack and either a crab or ragworm getting the thumbs up for the often-obliging ballans.
Getting serious about float fishing
"The most important thing is to choose the right type of float for the job," advised Dave. "For example, a heavier float can help in breezy conditions. "I like some movement to the sea, it helps the bait move around and makes it look lively. Always look for tide to work the gear properly.
"Really concentrate hard for big wrasse, they hit and run and can snag you up in no time. Night fishing with a float can be really good for big pollack; put a Starlight on top of the float and strike when you can't see it," he added.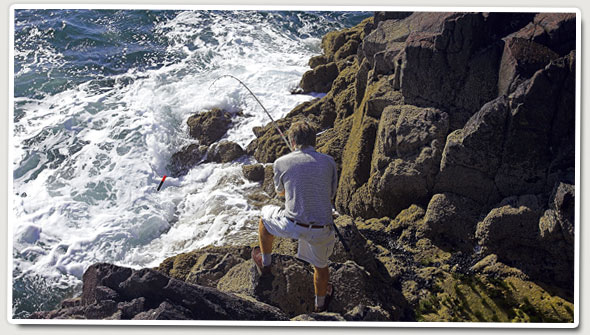 Fishing is full of surprises
A steady succession of small mackerel and garfish came to a shallow-fished bait. Hot sunshine, no other people for miles around, a bit of chop on the sea, a few fish coming in; it was a perfect day.
Dave switched tactics to deeper-fished baits and found a few small pollack and wrasse. It seemed to me that float fishing wasn't a sedentary sport; Dave was constantly on the move to new spots, changing depth and switching baits And then the small float rocketed under and disappeared in a flash. A small sandeel fished ten feet under the surface has been nailed hard and Dave set the hook with a sweep of the rod and a quick few turns on the reel handle.
The fish worked hard to get free, it even took line and repeatedly darted around and crash-dived for the bottom. Both of us waited eagerly to see what surely must be a 6lb-plus pollack.
We both peered over the edge of the rocks as the fish charged for the base of the cliffs. Then, suddenly, a big triggerfish hit the surface.
This fully illustrated the excitement of fishing, the fact that none of us quite know what we might catch next.
This was a big trigger and Dave managed to steer it into a rock pool ready for its moment of fame in front of my camera. Dave weighed the fish and it scaled nearly 4lb, then it was returned.
It was only afterwards that Dave told me that the triggerfish would have smashed the Cornish record. Respect to the man, far too many anglers kill specimen fish in an attempt at a bit of glory or a bit of silverware.
The most important thing to Dave is enjoying his sport and watching one of his own floats shoot down under the surface of an inviting Cornish sea.
DAVE DUNSTAN'S FLOAT RIG