Of the best laid plans of mice and men often turn to rubbish, to paraphrase poet Robbie Burns, it is fair to say the process can work just as unerringly in reverse.
For all the planning we put into life's landmark moments, how often does the tension of arranging the perfect wedding or surprise birthday party dilute our enjoyment of them? And, on the flip-side, how often do some of our fondest memories involve those unscheduled humdinger social occasions that grew out of nothing?
If you've ever popped into the pub for a quick half and five hours later found yourself part of a 12-man chorus singing 'You're just too good to be true' to the landlord's wife, you know where I'm coming from.
Fishing can be like that. What began in despair, as weed threatened to strangle a day's codding at birth and continued with this writer rushing to Lowestoft at the last minute in anything but an angling frame of mind, ended in resounding success.
From bad to better
Paul Kerry's dejection 24 hours earlier had been understandable. By his reckoning, the last time the fishing at Pakefield was this good, Bill Clinton's furniture was still being moved into the White House.
Think codling off Pakefield beach any time during the last ten years and you're thinking 2lb. Five years ago, that figure doubled, and then a 8-10lb fish was attainable on a good day, and the beach is buzzing with anglers.
No wonder Kerry had sounded a broken man on the phone. With everything set for Sea Angler's visit, two friends had gone down to the beach for a dress-rehearsal, only to find the sea thick with weed and the cod conspicuous by their absence.
Paul was determined to give it another try. He would fish Pakefield early next morning and call me if there was any chance the day could be saved after all.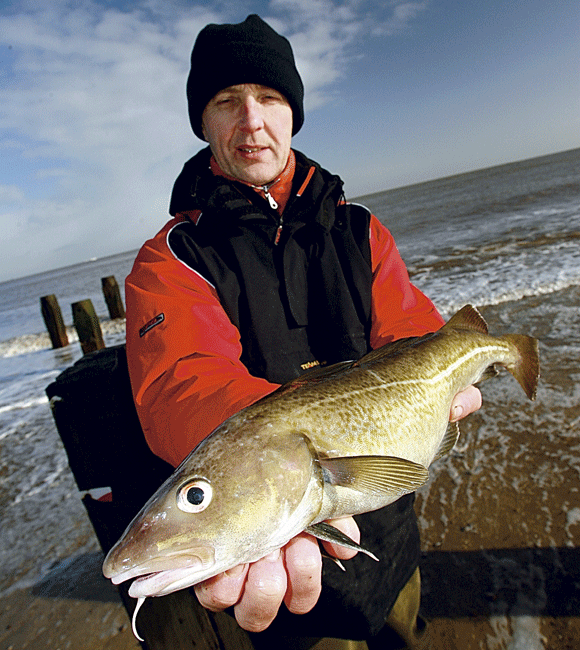 Now maybe it's my age but just as ocean liners need a mile or two in which to change direction, I don't exactly hop like a mountain goat from one mindset to another. Paul sounded desolate, the weed sounded here to stay, the day sounded very much off. I was halfway to work the following morning before it occurred to me that I had brought no waterproofs or thick coat with me, should a miracle occur.
By 10am, however, my oversight was looking purely academic and no bad thing, judging by the way a minor gale was making the tree branches dance outside my window.
That Pakefield weed may have done us a favour, I reflected, just as my telephone rang.
It was Paul, and to someone underdressed for the occasion, his voice was alarmingly enthusiastic. The weed was gone, he and Gravesend angler Shane Pullen had several cod between them and could I get there by lunchtime?
So what brought all this on in the first place? Paul Kerry has no doubts.
"It's because the sprats are in," he says, once I have composed myself as best I can on a bracing afternoon on the Suffolk coast.
"Some people say that kills the fishing because the cod are too busy with the sprats to see your bait but I think it works the other way round – the sprats get the cod's mind on feeding and it will go for anything. Whenever I've caught several cod in a short space of time down here, they've all had sprats in their mouths.
"I've tried wrapping sprats with lugworms to improve my catch rate but I've found it doesn't lead to any more catches than lug on their own."
The feeding frenzy has made for a welcome infusion of promise into a region that has not exactly been fishing its head off of late.
"Norfolk has been quiet but between Pakefield, Kessingland and Southwold, there's been a concentration of cod this year," Kerry confirms.
Although Pakefield's shingle-and-sand beach is shallow, a cast of 100 yards gets you into an adequate 15ft of water. Paul and Shane were both working at 180yd range, however, to get their bait in the vicinity of a sand bar.
While both men take precautions against any weed that may still be around, standing their rods as steeply as possible against the rod-rest so as to keep the tip high and as much line as possible clear of the water, it turns out that they have indeed been spared; a fortunate break, as the stuff can sometimes hang around for a day or two.
"I've caught one or two fish in weed but generally, I don't think fish like having it around them," Kerry reflects.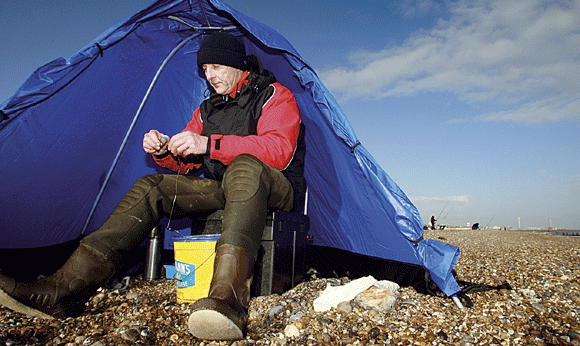 The best tactics
He uses lug exclusively for bait, with razorfish an optional extra, depending what decade we happen to be in.
"I used to tip the lug with razorfish but the razors have gone off round here. I think it's because the ground has shifted.
It's a cyclical thing with razorfish; 30 years ago there were none to be found here, ten years ago we had them but now they've gone again."
He uses a single clipped-down metal boom, as casting distance is not at a premium here and the boom allows him to try a different bait presentation.
"I'd recommend a 170g grip lead because the extra weight lets you make a slower, smoother cast and improve your chances of getting your bait further out," Paul points out.
"I like to fish two rods, casting to different distances with each one so I can find the fish. If the tide is humming through, you need to fish closer in, while if there's a slack tide or there's weed about, you have to fish further out.
Night fishing can be a little better for fishing, although the difference is not critical and both the ebb and flood tide fish well. The limited casters among you should note that two of Shane's friends subsequently tried the venue and found that their shorter casting range made less difference under cover of darkness.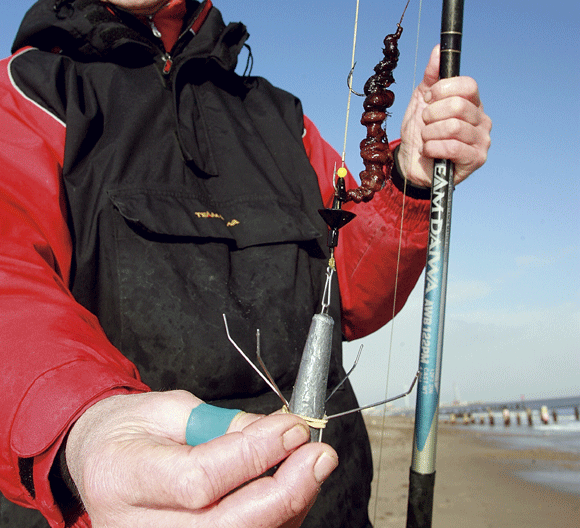 Dawn raid
Shane Pullen cuts no corners where his bait is concerned. He made a 90-mile round journey from Gravesend to Deal to collect his yellowtail lug the night before, before rising at 4am and heading to Suffolk not long afterwards, for a day that could easily have come to nothing.
Eight hours fishing and 25 cod later, his gamble had paid off.
"It's a very shallow beach, compared to what I'm used to in Kent and after the solid shingle beaches and muddy banks of the Thames that I fish, the sand up here has got my eyes red raw when the wind blows. On the plus side, I haven't lost any gear all day!"
After Paul enjoyed some great fishing in the Thames at Shane's invitation, this was Paul's chance to return the favour.
Shane has opted for a clipped-down two-hook rig, size 2/0 Viking Pennell hooks and a 5oz lead weight, fished from a 80lb shockleader and 15lb mainline.
He is particularly enthusiastic about Breakaway's Imp bait clip: "It's an all-in-one bait clip and shield," he explains. "I've found traditional Impact leads can get clogged up but I've had no problem with these. They release every time."
Boom or no boom, both his approach and Paul's do their stuff on a thoroughly satisfying afternoon. You hear of pockets of resistance like this whenever fishing slips into a general lull; venues that go quietly against the grain and fish their heads off.
Usually, they are somewhere at the other end of the country, so to be able to enjoy one first hand is a rare treat. So much so that only when it's time to leave do I realise just how much I've missed a decent coat.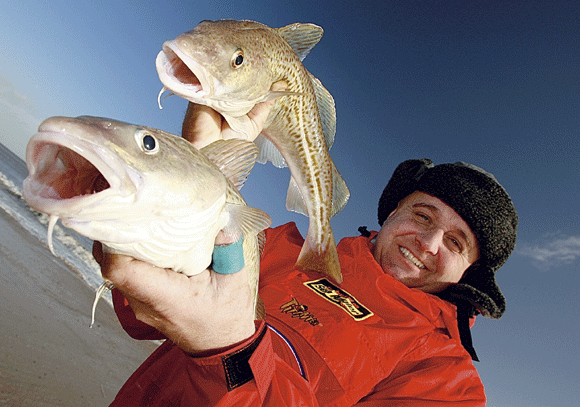 Getting there
While many people regard Pakefield as a suburb of Lowestoft, it is in fact a separate village, sat alongside its larger neighbour on a bulge in the Suffolk coast that forms the most easterly point of the UK.
Thanks to sea erosion, that bulge was disappearing at a rate of several feet a year until the Pakefield's Jubilee Wall sea defence was completed in 1944.
Park in the car park at the top of Pakefield Street. Not only does this leave you with the beach straight ahead but you also have the Jolly Sailor pub on one side of you and Pakefield Plaice fish and chip shop on the other.