Shore international Andy Young has fished the beach at Cleveleys, just north of Blackpool, for well over 20 years.
"I don't know if Cleveleys has an historical tradition for smoothhounds," he says, "but I do know that ever since the water quality in the area improved they have shown up."
The accompanying pictures were actually taken on one of the mark's quieter summer evenings. Three smoothhounds were brought in, compared to five the night before.
"You tend to get them from late May to August but you need calm weather or something close to it," explains Andy. "They can be had at any stage of the tide and in any size of tide, but you don't want it to be too rough – nothing more than a slight 'edge' on it."
Know your gullies
The stretch of beach between Cleveleys and Blackpool is a flat, shallow, sandy affair where you almost have to be cursed to lose tackle.
The shifting gullies that score its surface are of varying depths and can be a mixed blessing to anglers, providing havens for 'hounds' at any stage of the tide other than low water, but also posing a threat if you have one situated between you and your retreat to the promenade as the tide advances.
The flood can come quickly here and gullies can fill up behind you, so an inspection of the terrain at low water can be useful from both a fishing and self-preservation viewpoint.
If the sea has already begun its advance up the beach, Young suggests that you scan the water's surface to find the calmer patches that point to the presence of a gully beneath them.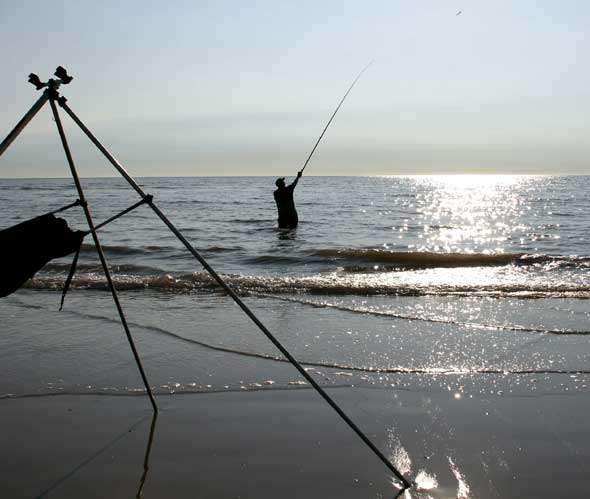 All right on the night
"It's mainly a night mark when it comes to smoothhounds," Andy explains. "If you are hoping to catch one in daylight, the water will really need a bit of colour in it."
In this respect, you are looking for a south-westerly wind, which stirs up dirty water. North-westerly and westerly winds tend to produce clean surf that doesn't churn up the sea bed quite so much.
Andy, from Lancaster, fishes a Zziplex F1 rod (although he says any good beach rod will do the job) equipped with either an Abu 6500 or Penn 525 reel, loaded with 15lb line and the 6oz Gemini lead weight he uses everywhere.
"I like to use a single hook pulley rig consisting of a size 1/0 or 2/0 hook and a 3-4ft snood of 30lb line," he says.
"Peeler crab is really the only bait. I've tried ragworms and squid as alternatives, but nothing works as well as peelers. I get mine from a tackle shop and I'd advise anyone to buy them from a dealer because there aren't many to be had on the shore at Cleveleys."
On a flooding tide and under cover of darkness, smoothhounds can be caught in two feet of water when they take refuge in the gullies. Young prefers the more sporting approach of casting as far as he can, however, so as to increase the time he is likely to spend playing a fish.
"When you get one on, the important thing is not to go mad with it," he warns.
"Smoothhounds are very powerful fish with a good turn of speed and the ability to come back to life just when you think you've got them beaten, so don't set your drag too tight or they'll snap your line. Take your time playing them."
A similar vigilance is called for even before they take your bait.
"Just leave your reel on the ratchet," Andy cautions. "They give your line a gentle tap and then they just run. If your drag is too tight they'll take your rod with them."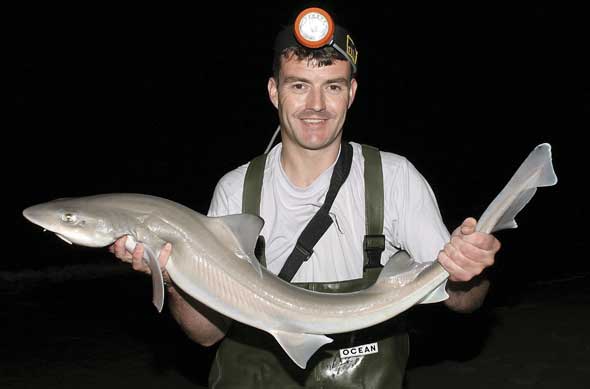 Smooth ground is the answer
You can expect the average Cleveleys smoothhound to weigh in at between six and ten pounds, with a good night's specimen breaking the 15lb barrier.
"It has to be one of the best marks for smoothhounds in Lancashire," Andy points out. "There aren't many other places round here producing 'hounds in such numbers between May and August."
They are best fished for by working your way south down the beach towards Blackpool, until your cast gets you among the fish. North of Cleveleys, heading up towards Rossall Point, the terrain is increasingly punctuated by rocks and therefore far less amenable to the smoothhounds.
Increasingly amenable, on the other hand, is the quality of Cleveleys water.
Awarded a 'basic pass' in the Marine Conservation Society's Good Beach Guide almost a decade ago, its status was upgraded to 'MCS Recommended' in 2005; an award "for the highest water quality standards".
So it's most definitely worth remembering this mark for sessions later in the year – the local population of smoothhounds will hopefully be poised to deliver their own ringing endorsement in time for another productive summer.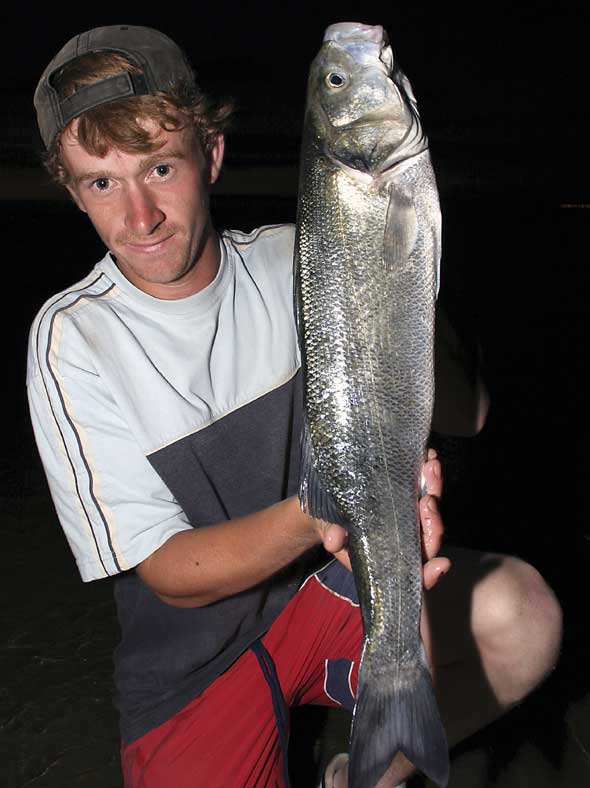 Bass and other species
Preceding the night's sport with smoothhounds was a bass caught on a spinner during daylight. It was taken near Rossall Point, which is the preferred end of the beach for bass (4-6lb), although it is possible to catch fish to 3lb from the same parts of the beach as those 'hounds.
A bit of surf is needed for bass fishing, whatever mark you try, however. They can be caught more or less year-round these days, although September and October tend to be the key months.
Locals maintain that the Heysham power plant nursery area further north is behind the increase in local bass numbers and anglers are encouraged to do their bit by returning all undersized fish.
There are occasional patrols by fishery officials to enforce size limits.
In the area between Rossall School (south of Rossall Point) and the Bull Nose, January and February see the last of the codling and whiting, while March is usually a quiet month, as the winter and summer species swap shifts.
A few thornback rays and dogfish show in April, followed by some flounders and the occasional plaice in May. From September to December, an incoming tide yields good bags of whiting and codling, especially the area around the Five Bar Gate at the north end of Cleveleys promenade.
Directions and parking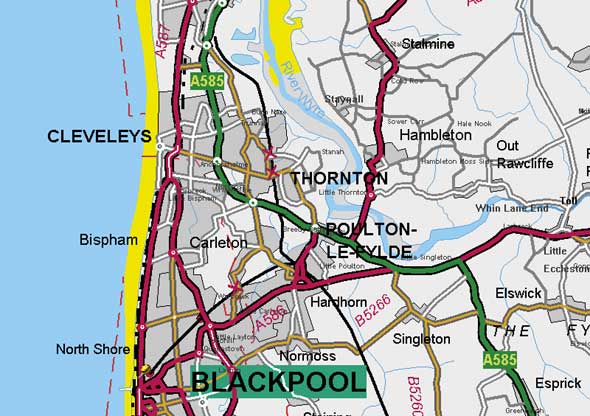 Leave the M6 at J32 onto the M55. Leave M55 at J3 heading north onto A585 for Fleetwood. After about eight miles, turn left at the roundabout onto the B5412 (Victoria Road West). Take this road to the seafront and turn left onto the Promenade. After about half a mile, you will see the Bull Nose promontory on your right and Anchorsholme Lane West on your left. Park on the promenade in the vicinity of the Bull Nose.