Tempting fate, bad karma – whatever you want to call it, I now know what you shouldn't say when your mate says Roker Pier has been producing cod to 7lb all day.
"Great, cod guaranteed then," I replied, before compounding the voodoo by setting out the terms of tomorrow's visit. "First to ten fish, and everything less than 5lb goes back."
It turned out I would not even wet my line before cracks in my confidence began to appear. Arriving at the pier at 6am, I met some anglers who were just coming off the 'night shift'.
"Nowt doing mate", they warned, as they clambered into a taxi. This was hard to believe, as the conditions seemed spot-on, with a nice lazy swell running into the pier.
Bob Surtees, whose tip-off had got me here in the first place, was already fishing into the first hole on the seaward side, about 100 metres along the pier.
Access all areas
Because of the nature of the ground, Roker is one of those venues where there is no need to make a headlong rush for the end of the pier. The best fishing can often be found just behind the breakers, where there are several inviting holes.
As the rest of the pier overlooks much the same terrain, it is a good idea when the conditions are right to start off at the bottom of the pier and work your way to the end until you find feeding fish.
We fished here for a couple of casts with single big lugworm baits tipped off with razorfish on size 4/0 Pennell rigs; a typical Roker cod set-up.
Unfortunately, only a few small rockling-type bites and lots of loose weed in the water forced us to move further up the pier, with no success.
The pier has broken ground on either side and there are areas where the bottom is very snaggy, with kelp beds and rock outcrops. The end, however, is relatively clean ground and snags are not too common, but when they do happen it is usually due to lost tackle and debris collecting on the bottom.
It was to the end that we now relocated ourselves, as it was beginning to look as if the departing anglers had been right.
Staying with the same big baits to try to pick up a cod (and hopefully deter the whiting long enough to give the cod a chance to find the bait) we swapped for grip leads and had a few hours fishing off the end while watching a bright winter sunrise.
We had bites almost straight away, but they were the short, sharp knocks of a typical whiting bite.
It doesn't matter how big your baits and hooks are; the permanently ravenous whiting will easily take a 4/0 hook right down.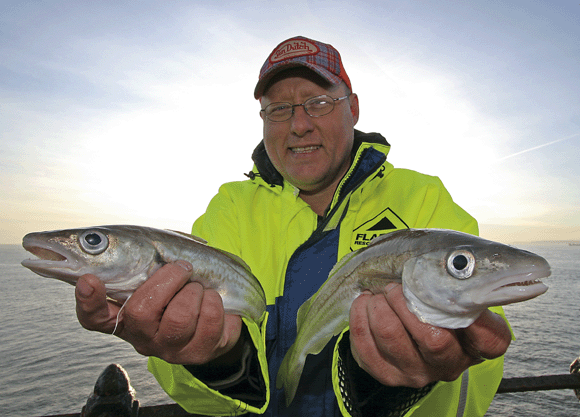 Whiting on the wall
These were not too bad, with the odd bigger ones around the 1lb mark. There were obviously a lot of them around, hitting the baits hard before any others got to it first. Survival of the fittest must make it a tough world beneath the surface when natural food is scarce.
Even after an hour or so of nothing but whiting, all of us fishing on the end were still convinced that a few cod would turn up any time now, and whenever anyone had a slightly harder, more vicious bite, he would quickly pick his rod up just in case, but it was whiting all the way.
Nevertheless Bob and I had a good session; the whiting were of a reasonable size and most were nice, fat specimens, not the skinny, parasite-infected ones that sometimes turn up.
We had around 15 'keepers' between us, but we put most of them back when possible, Bob only keeping those that had been badly hooked.
On lighter gear and multi-hook rigs, baited with the classic whiting bait of worms tipped off with mackerel, we could have had two fish at a time.
Refusing to give up on the cod, we moved back down the pier for a few more casts into the rock and kelp, which eventually resulted in a coalfish for Bob.
Resigned rather than inspired, however, he promptly announced with a shrug of the shoulders that this was not going to be the day for cod.
There is always next time, though. Just to prove the point, a few days later, local angler Micky Quayle landed a cod of 12–13lb from the pier, and other anglers had fish to 7lb.
Bob has a conspiratorial smile on his face as we pack up our gear. "Cod on Hendon Wall tonight," he promises, optimistic as ever.
I make do with a nod. I'm not going to jinx it for us this time.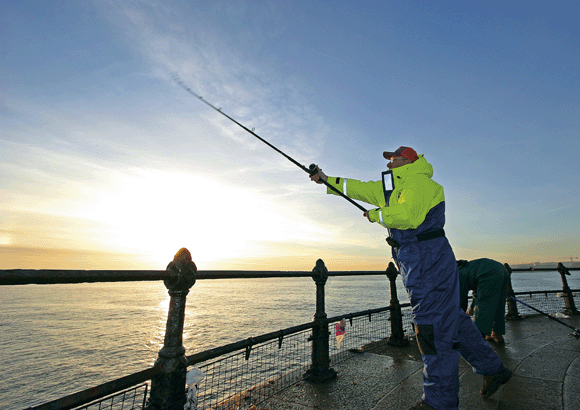 The place
Begun in the 1880s, Roker Pier took 22 years to build and the 2880 feet long breakwater, with its distinctive red and white granite lighthouse (home to the most powerful port light in the country at the time) was officially opened in 1903.
The pier guards the north side of the River Wear and is a popular year-round venue, particularly in the summer, both for match and pleasure anglers.
The fishing
The pier can produce a variety of species, including local rarities such as conger eels, turbot, pollack, shad, herring and dogfish, all of which have been caught in recent years.
Pollack seem to be increasing in number, with plenty of specimens around the 2-3lb mark now being caught in summer on mackerel gear. Shad also seem to be reasonably common then and are taken on small mackerel lures and fl oat-fi shed baits, as well as bottomfished worm bait.
There are two shad species around the British Isles – the allis shad and the twaite shad, both of them estuarine fish.
They are a protected species, so if you catch something that looks like a large herring with big scales and a deep forked tail, it is likely to be a shad and should be released.
Herring are caught on lures and float baits intended for mackerel. The Northern Federation record is just over 5oz so if you do catch something bigger than this, make sure it is not a shad.
Coalfish are still here, although nowhere near as numerous as they once were. On a good day in late summer, you can still have a good session for coalfish down the pier side with light tackle and worm, crab, or mussel baits.
All of the usual species can be caught from the pier end at some time, and it is a favourite spot for flounders, whiting, and summer mackerel.
During the summer the mackerel often stay around until early October, and when they are present in numbers the mackerel bashers tend to monopolise the end, many of them armed with heavy beachcasters, feathers, cider bottles and little consideration for others; a combination that has caused some nasty accidents in the past, so be wary.
The remainder of the pier can be excellent for spinning and fl oat-fishing tactics, with mackerel often present only 50 metres from the shore, sometimes on both sides of the pier.
A good mark is opposite the first flight of steps on the seaward side, where there is a good chance of picking up a bigger coalfish or pollack on float-fished sprat or mackerel strip.
This same area is a well-known winter cod mark when there is a slight to moderate swell running,and will often out-fish the end.
On the seaward side, there is a big kelp bed to fish into and on the inside, during a good south-easterly sea, the fi shing can be even better. At the right time, with a moderate to slight swell running, it can be a very productive cod mark.
During the summer and into September, an all-night session can be productive for cod taken on fresh crabs, while worm baits produce the whiting which move in during darkness.
The tackle
Expecting cod, I was using my Cono-flex Nemesis rod and Abu 7000 multiplier reel, loaded with 18lb Berkley Trilene and a long 50lb leader.
Even on this relatively stiff rod, however, the whiting bites still looked quite spectacular when the bait had been hit hard. I was using a standard leger rig with a size 4/0 Aberdeen plus a 4/0 Viking as the top Pennell hook, on 25lb memory-free line.
The long leader is used in case a bigger fish has to be hand-lifted up the side or taken to the beach, when the long 50lb leader can be retrieved earlier than a short one, without putting too much strain on the lighter mainline.
This isn't such a problem when fishing the inside of the pier or the round end because there are a few sets of steps here down to the water's edge.
The most important piece of gear needed – a drop net or landing net – would overcome most problems likely to arise when steering a fish to the steps.
Bob was using his favourite Zziplex Primo rod and a Daiwa SL30SH reel set up similarly to my Abu, but he preferred to use a pulley rig rather than a fixed leger rig.
If I had known that the menu would be whiting-only, I would have used an Abu Zoom beachcaster, which is a bit softer in the tip and more sporty but can still handle a big fish with a bit of care.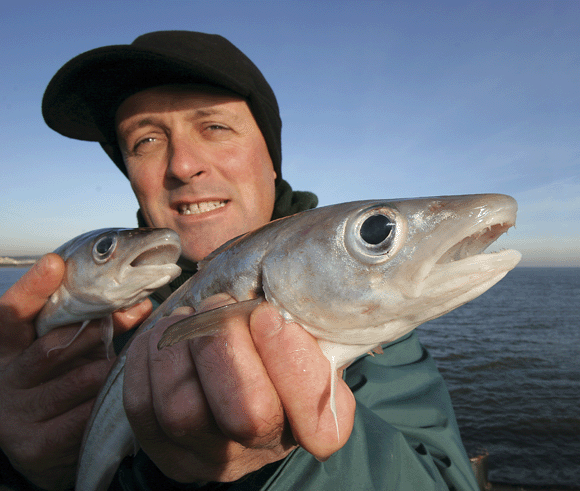 The hazards
The one thing that lets Roker pier down is that it is low in the water and unfishable in anything rougher than a moderate to slight swell.
If you are planning a winter session, you must be prepared to move to another venue if the conditions are rough.
There are plenty of marks a short distance away in the river and it is only a short journey north to the River Tyne and South Shields pier, which is much more protected in a northerly sea.
Roker Pier has a barrier across its entrance and access is via a small gate which can be closed at short notice and does not always open again straight away when any rough seas start to drop.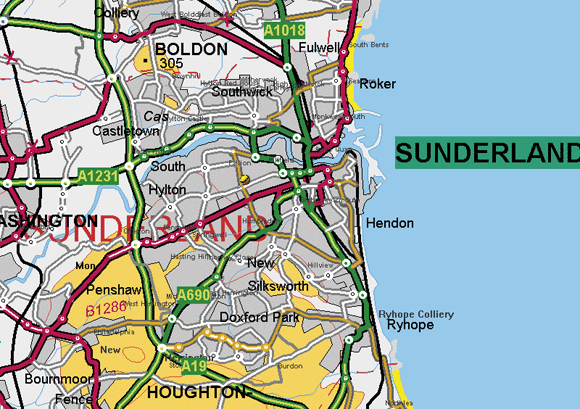 GETTING THERE
Leave the A1M at J65, heading east on the A1231 until you reach Monkwearmouth, when you join the B1289 (Queen's Road).
This road becomes Kier Hardie Way and will take you past Sunderland AFC's Stadium of Light on your right-hand side.
At the junction with the A183, turn right onto the latter and then left some 300yd later into Dame Dorothy Street, which eventually becomes Harbour View, taking you into the vicinity of the harbour, flanked to the north by Roker pier. For refreshments, there is a new café next to the pier car park.