The old saying that you don't miss something until it's gone might have been written for Scarborough's Marine Drive – a jewel in the crown for sea anglers living near and far.
In its pomp, the All England Codling Championship boasted an entry of more than 500 anglers, hundreds fishing side by side along the Drive.
This year-round mark saw action around the clock in all but the roughest seas. It was a source of easy, relaxed fishing and an eye-catching spectacle for the thousands of visitors to the town, many of whom had never seen prime cod without a coat of batter!
Alas, another saying – 'nothing lasts for ever' – now sadly applies to the revamped Drive. Once a magnet for anglers of all ages and abilities, it is now confined to those whose idea of a super-hero is half John Wilson and half Spiderman.
From the roadside, anglers are faced with a concrete wall about three feet high. This drops away vertically for about 10ft onto granite blocks and man-made acropodes.
You may have thought the acropodes belonged on a hilltop in Athens: sadly, not so. They are actually large concrete blocks that collectively resemble giant sugar lumps in a bowl.
Few of them on the Drive lie sufficiently flat to provide good fishing platforms but the real fun begins when you retrieve fish. Previously, anglers simply had to reel the fish to the foot of the Drive and then haul them up by hook or drop net.
Due to the slope of the acropodes, however, the foot of the sea defences is often as much as 20-30ft out from the base of your fishing platform, which means that smaller fish have to be swung up or dragged over these tricky obstacles.
Fish around 4-6lb can be dead-lifted at a price, but anything larger has to be physically retrieved, meaning someone has to clamber down the smooth acropodes to get the fi sh. No wonder many locals work this mark in pairs nowadays.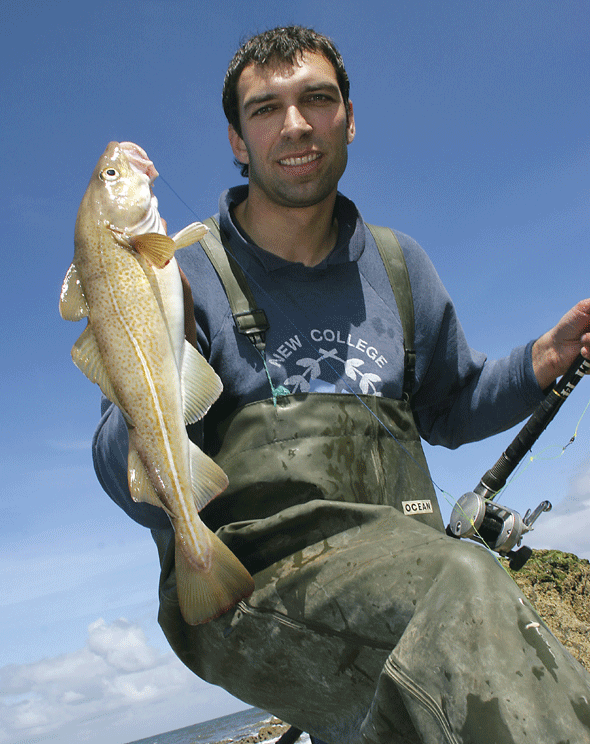 This cod was caught by Paul Medd at the Shell Hole – a mark along Scarborough's Marine Drive.
It is not ideal and, sadly, the politics behind the new-look Drive could fill a feature on their own.
Many of us believe the situation could have been improved by proper negotiation between the council and local anglers.
Although there was some consultation, we seemed to be facing a done deal and the sad reality is that the Drive has become out of reach for many of our less-able anglers, especially the kind of youngsters who would have once cut their teeth for rock angling at this very spot.
The hunter-gatherer, however, has always had to adapt to obstacles and even on the remodelled Drive, those of the same spirit are still being rewarded with some excellent catches of fish.
Anglers are now using cut-down portable ladders to descend the wall and gain access to the sea defence system. These ladders are lightweight and can be easily carried by hand should their owners want to move to another position on the Drive.
Fishing in tandem, as so many now do, means that one angler can manage the rods while the other works his way precariously down through the maze of acropodes.
The commando wannabes among them descend the slope by ropes tied round the higher acropodes, while several resourceful souls have taken the old Drive drop net to a new level, constructing landing nets that can be lowered 20 or 30ft.
Marks
Not everything about fishing Marine Drive has become harder, however. Access to the favourite low-water mark known as the Coffee Pot, is now relatively easier, allowing more time for fishing while the tide permits.
The mark gets its name from a limestone rock with a coffee pot profile that gracefully rises from the sea at low water. It was previously reached by vertical descent down the Drive by rope or an by extended walk. Fishing here is over low water in all but the roughest conditions
Other favourite marks include the grass bank, pump house, double railing and back of Corrigan's, all of which can be identified by a walk around the Drive. But then you can catch fish almost anywhere you can get a line in.
The secret to the Drive is its protrusion into the sea and the fact that you are fishing into a good depth of water with plenty of tide run.
Most marks, from the north-east corner of the Drive right round to the south side can be fished all through the tide. Most anglers prefer to fish over high water with relatively calm seas on big tides but over the years, fish have appeared at any time, although no matter how much they may be biting, fishing is not recommended when a big sea is running.
Waves often encroach onto the acropodes and come over the wall onto the road itself. Getting drenched could be the least of your worries.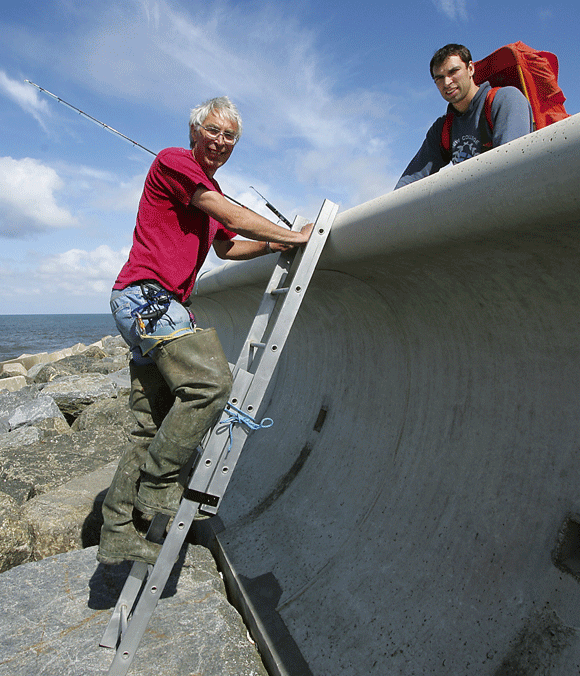 A cut-down ladder really comes in handy when fishing here.
Species
The Drive has always been a top mark on the Yorkshire coast, as a venue that will produce year-round. The predominant species is cod and every year double-figure fish are caught, as well as bags around the 20lb mark.
The Drive boasts a whole range of species, including pollack, coalfish, wrasse, whiting, pouting, mackerel and I have even seen a 14lb conger.
Winter fishing revolves mainly around cod, but summer gives the angler chance to flex some lighter tackle. There has always been a good head of pollack on the Drive and over the past few years their number has increased, with fish up to 7lb and a lot between 2-4lb. Anglers can pursue these fish with a float or light lure, along with mackerel and coalfish, which are also common at this time.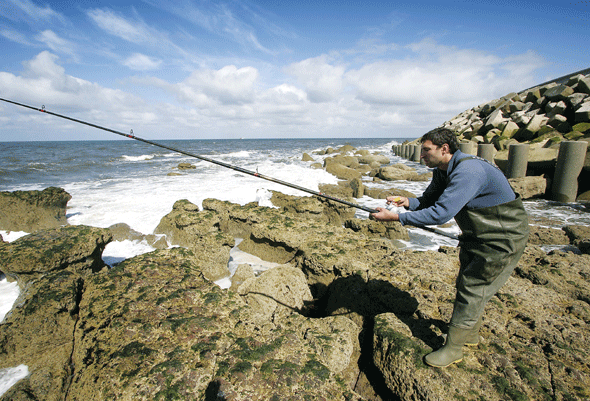 Paul Medd fishing at the Coffee Pot.
Tactics
The most consistent catches are taken at distance, putting the bait out into the tide.
If this fails, try a cast really close in, where the acropodes provide a haven of nooks and gullies in which both fish and prey hide. Good fishing has been had just 30-40 yards out.
The ground is rough though, so if you are lure fishing don't let the lure sink too far.
Big peeler crab baits, rotton-bottom rigs and plain leads are best at Marine Drive.
Tackle
Rough terrain and the need to lift big fish some way call for heavy tackle, so standard rock angling fare – 30lb line and 60lb shockleader – should be used.
Lighter lines can be employed to gain extra distance, but that need has to be balanced against the increased chance of wear and tear on the rocks.
Recommended rods are standard 12-13ft rock rods, capable of casting up to 6oz, while reels tend to be of the 7000 size.
Hooks depend on species, but for cod, size 4/0-6/0 hooks are the standard weapons on snoods of at least 30lb. Plain leads from 5-6oz on a rotten-bottom are standard.
For float fishing, an 11ft rod is ideal to control the float and lift fish, along with 15lb line or even braid. Lure fishing is best with most types of metal spinners of around 1oz, but artificial eels seem to be the best tactic for pollack, and also the least expensive, given that numerous tackle losses can occur among the kelp-festooned defences.
Extra items peculiar to this mark, as previously explained, would include a cut-down ladder, a 20ft landing net and a rope.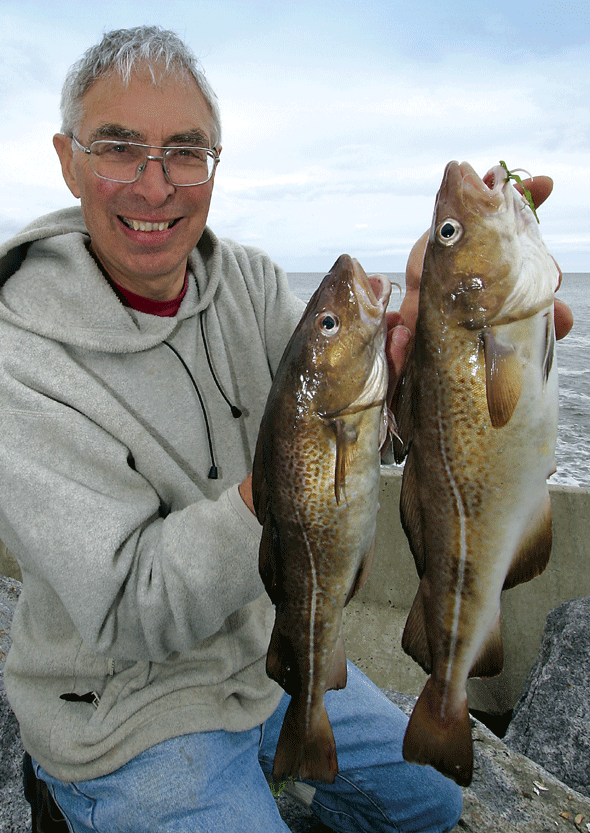 This brace of cod for Dave Medd were caught at the Shell Hole mark.
Bait
Summer fishing is best with fresh crabs, which will catch most species, but if targeting pollack with a float, mackerel or sandeel strip is best. If lure fishing,
Wedges and Kosters are ideal spinning lures, whereas artificial eels and shads work well for pollack
In winter, frozen crabs and worms are best baits, but mussels and razorfish will all catch fish
The way ahead?
If it's hardly a model venue for comfortable fishing, the new look Marine Drive at least provided a pointer to the future of sea angling when it hosted its first match.
The competition turned out to be a fish bonanza, with several bags of over 30lb, individual fish up to 9lb and countless caught in the 3-6lb range.
For several weeks afterwards, good fishing continued, but after a while the returns became normal again, prompting the theory that because it had been unfished during construction of the new sea defences, fish had moved into the area in numbers.
GETTING THERE
The main road into Scarborough is the A64. From here, head straight for the foreshore, where you can't miss Marine Drive, which runs along the foot of the famous headland on which Scarborough castle sits.
There is ample parking all the way around the Drive; although there is a charge from April to October.