DAVE BARHAM EXPLAINS WHY USING THIS SET-UP CAN PAY DIVIDENDS WHEN FISHING FOR THE LIKES OF COD AND BASS IN FAST TIDES
You may have guessed by now that I like to keep my sea fishing simple. I enjoy light-tackle fishing, basically using the lightest rod and reel (not mainline) set-up I can in any given situation to catch a half decent fish.
This can be anything from using a 7g spinning rod for targeting black bream and mackerel, to using a 15lb class rod for tope and conger eels. I really don't mind, as long as I get my 'fight fix'.
One of the rigs that has helped me catch a number of species in recent years is this Uptide/Downtide Bolt Rig. It's a variation on a simple running leger boom rig, but it has proven itself to be much more effective – especially in fast running, shallow water.
By shallow I'm talking 10-40ft, like most UK river estuaries. This is my 'go to' rig when I'm targeting winter cod in the Bristol Channel or River Mersey, where the tides can be fierce.

HOW IT WORKS
Unlike a normal running leger rig, which allows a fish to pick up your bait and swim off as far as it likes, this rig limits the process due to there being a swivel in the mix that prevents your lead weight from sliding up the mainline.
Theoretically, a fish that has picked up a bait on a running leger can move 10 feet and then spit out the bait. The mechanics of this bolt rig prevent that from happening.
Fish feeding in fast tides often take anything that flashes past. They grab it and ask questions later. If a cod finds your bait in a two-knot tide it will pick it up, but by the time it has decided whether or not to swallow it the chances are that the tide will have moved the fish a few feet away from the original pick up point. That's where the bolt rig comes in.
While the fish is moving away from your lead weight, the hook has a chance to grab hold. Unlike a running leger rig where the hook and hooklength would move with the fish, in this rig they are fixed in place with just a few inches of movement allowed. As a result the hook actually gets dragged out of the fish's mouth, which in turn gives a far better chance of finding a hold rather than if it were just sitting there in the same place.
Try it next time you fish for cod or bass in fast-running water. I think you'll be impressed with how many more fish you catch.
TYING THE RIG
STEP 1.
STEP 2.
STEP 3.
STEP 4.
STEP 5.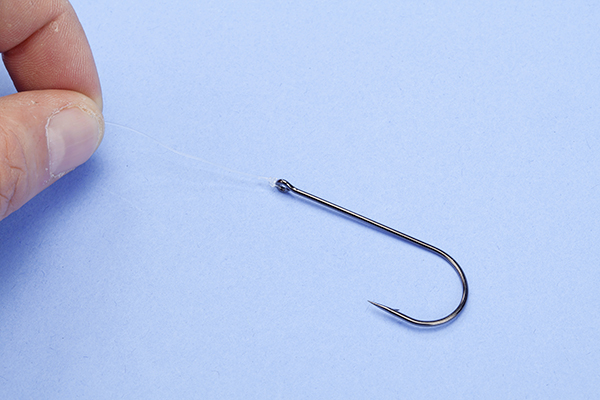 STEP 6.