Chris Kennedy goes into free spool with the Daiwa Black Widow BR, which is a high-quality, affordable baitrunner-style reel.
Baitrunner-style reels (the name Baitrunner is actually a trademark of Shimano who invented the technology) really come into their own when targeting species like bass and bream. They're also pretty indispensable when it comes to live-bait fishing. For those of you who are not familiar, the neat thing about baitrunners is that they allow you to have the reel in free-spool mode, and at the flick of a lever, you can engage the spool so it's primed to play a fish at the desired level of drag. If you're fishing two rods in a tripod and you're not using a baitrunner or a multiplier with similar functionality, species like bream and bass will drop your baits. Allowing them to take line, completely unaware that there is a rod and line attached, is very important when it comes to your success rate of hooking and landing fish. 
The other major benefit of a baitrunner is for the lazy or multi-tasking angler. If you've got a float out or a bait, you can go about your business messing about with other rods, having a coffee, making rigs or doing bait-ups while you have the baitrunner fishing. All you need to do is listen for the ratchet if a fish takes it, hop to your feet and grab the rod. Baitrunners really come into their own when live baiting; using such a method to attract fish can often mean long periods without a take. You can leave the baitrunner on the clicker and just forget about it, keeping an ear out for it. Good baitrunner reels will allow you to set the tension on the baitrunner function, meaning if you are using a slightly larger live-bait or if you are fishing in a stronger tidal current, you can have the reel set to give line at the optimum level of drag for the fish to take line. If it's set too light, the current or live bait will take line. In other words, you need to set it for the conditions and your needs.
Light & Tough
Back in mid 2021 I was on the lookout for an excellent baitrunner for my LRF and HRF work. After plenty of research, I ended up going for the Daiwa Black Widow LT BR. The reel offers the finite setting of the drag while using the baitrunner function, as well as a robust design with Daiwa's 'light & tough' gearing. The retrieve is reasonable, and the drag is pretty smooth for a reel that cost me just £55-£60 on Amazon for the 2500 size. I pair it up with 15lb J-Braid, which may be a little overkill for reel of this size, as you can certainly drop down to 4-6lb braid on an LRF rod. I like having a little extra power to get my light jigs free from weedy snags from my local harbours. Where the reel has really come into its own has been squid jigging and playing summer species like mackerel, the reel couples up nicely with my various LRF and HRF rods.
After giving the Daiwa Black Widow BR LT 2500 a good workout for a year and being entirely satisfied with its performance, I purchased two more of these reels, this time in the 5000 sizes. I wanted two larger baitrunners that could be used for bream and bass fishing; two species that love to drop a bait. This time I coupled the reels with 30lb J-Braid and the increased line capacity and size of the reels faired very well over the mixed ground that I fish. This time I used a couple of robust carp rods, which the 5000 Black Widows complemented well. From memory I paid around £60 or £65 for each 5000 sized version.
It's worth pointing out that the Black Widows are mostly designed for freshwater applications: they don't have Daiwa's superior MagSealed technology, which is on many of their premium reels.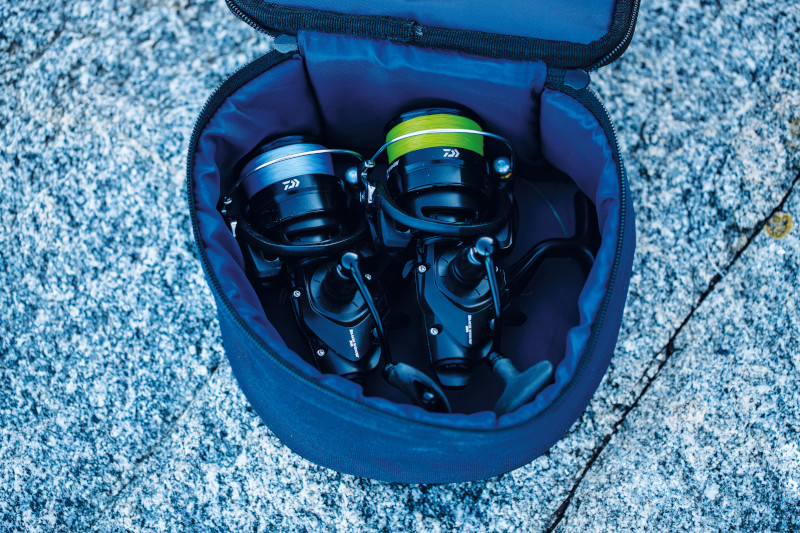 However, most reels from most brands don't have sophisticated technology, so you'll need to give them a rinse with freshwater after sessions if you wish to take the best care of the Black Widow BR LTs. The older of my three, the 2500 size, is running perfectly after a year- and-a-half of pretty intensive use, which is a testament to the quality of the reel.
The '19' Daiwa Black Widow BR LT comes in 2500, 3000-C, 4000-C and a 5000-C sizes. The smallest (2500) weighs just 295g, with the heaviest (5000-C) weighing just 315g, making the reels very light in hand. Every version boasts 10kg of drag pressure as a maximum, which is more than enough for the type of work that you'll be doing. All the versions have a retrieve ratio of 5,2:1, with the crank between 73cm (2500 version) and 87cm (5000-C version). 
The 2500 version will hold 150m of 0.20mm line, and the 5000-C size has a capacity of 150m in 0.37mm line. 
Being a braid user myself, my preference is a very thin super-braid like Daiwa's own J-Braid, as you can hold a far greater capacity than using monofilament. The 19 Black Widow BR LT gets a massive tick from me. They were exactly what I hoped for when ordering.