My first impression of this new addition to the PENN stable of boat rods was that it appeared both well-made and attractive, though modest in livery. The unique 'solid spiral' armour technology uses reinforced spiral shaped carbon fibres. This creates an extremely slim blank that delivers a boat rod which is both light and incredibly strong. The Fuji stainless steel guide frames cover the blank perfectly keeping the line from coming into contact with the blank at all times. They are smartly finished with Fuji alconite guides.
  
The screw down reel seat is of fairly heavy construction and holds the reel perfectly with no signs of unnecessary movement under pressure. The EVA handles are designed to give comfort and warmth making fishing with this rod a pleasure, especially when holding for long periods of time. The gimbal fitting on the butt end is also a valuable feature when handling   large fish.
I welcomed the new Battalion boat rod aboard my boat AlyKat for a review day. The aim of the crew onboard was to put the rod through some pretty rigorous abuse. Although the rod is aimed at the big fish market, I found it very comfortable to use. Its sensitivity was also a valuable factor especially when targeting smaller species. Under test, the rod performed impeccably, landing several large rays and conger eels. The sensitive action in the tip soon firms up as the power moves through the blank. This gives an overall fast action that coped with everything that we threw at it.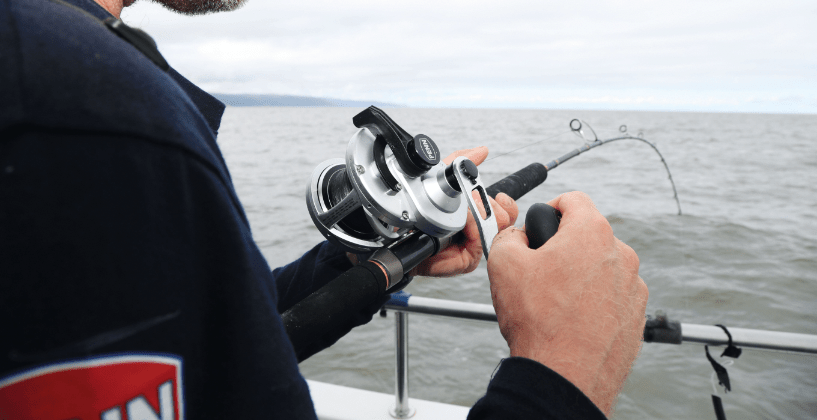 To the limit
My personal challenge was to try to break the blank under the weight of a large blonde ray. With all the weight that I could physically muster, the blank showed no weakness. Overall, I would recommend these rods to anyone looking for a 'do it all' tool for middle to heavy general fishing that will absolutely not buckle under pressure. It's forte to me, however, especially in the 30 – 50lb version, is its suitability to grace the deck of any shark or big game boat where it will prove to be as strong as any fish that cares to challenge it!
Specification:
Battalion Solid Carbon 20 – 30lb Boat
OPTIONS: 12 – 20lb, 20 – 30lb, 30 – 50lb
LENGTH: 6ft 4in
SECTIONS: 1+1
GUIDES: 8 x Fuji
BLANK CONSTRUCTION: Solid Carbon
RRP: £199.99