Most sea anglers probably started off casting small lures from the shore. I can attest to this having spent most of my youth wandering along the busy working harbours where I grew up targeting codling, coalfish and scorpion fish, and yomping over the hills to fish remote rock marks targeting specimen pollack and ling using small metal lures. Every hit is equally as exhilarating! 
I am still an avid lure angler and like a moth to light, I eagerly test out any interesting-looking metals when I come across them! Unfortunately, fish stocks are lower, and the average stamp of fish appears to be ever-decreasing. However, this does force us to think differently about things – what can we do to have the edge over other anglers? How are we going to tempt that 'special' fish? 
Seadra has crafted some very cunning (and appropriately priced) small casting jigs which I have been using to great success. Their range of Aqua-Bullet Bait Fish Casting Jigs have proved in my case to be utterly deadly in tempting a wide range of species. They are available in a range of sizes: 20, 30 and 40g. The guys at Seadra have thought long and hard about the Aqua-Bullet range – a carefully selected array of colours are available – and I can tell you from first-hand experience that they all are very effective.  
My personal favourites are the Green and Blue Mackerel. The attention to detail on these lures is second-to-none, with very realistic-looking eyes on the lures. I have always been a firm believer that this makes a big difference. Thinking back on my youth, lures from that era that I used to frequently buy had similar-looking eyes, and always worked best until these were inevitably scratched off on rocks. The Seadra jigs are clearly made of stern stuff, and I have not lost an eye on any of my lures yet.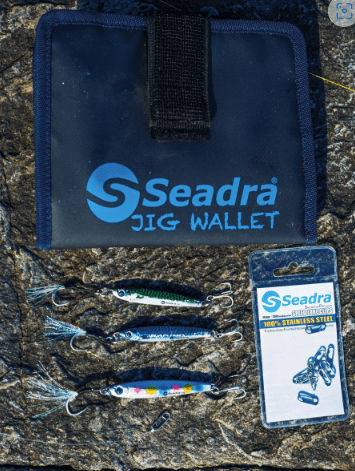 Holographic
They are possibly the most realistic-looking small metal jigs I have seen to date with a 3D holographic finish; these get hoovered up by pollack, ling, coalfish and, oddly enough, specimen mackerel. Talk about matching the hatch! The lures have an attractive fluttering motion as they fall through the water column. 
With the emphasis on these being 'casting jigs' they do just what they say on the tin – they absolutely fly out – allowing you to reach those shoals of fish from the shore where other lures may fall short. I prefer to fish these close to the bottom, slowly winding them back towards me. This imparts excellent, and very natural, action on the lures. 
All of the Aqua-Bullet range come fitted with a reliable, razor-sharp treble hook and an additional Japanese assist hook with some flash. I do believe this adds an added layer of depth to these lures making them extra-irresistible to any predatory fish! 
Codling and bass love the Cotton Candy variety; these are very effective jigged back towards you, in a 'sink and draw' fashion. Fish will normally hit you on the drop, so it pays to be alert. There is also a very appealing Live AYU Prawn colour – if you want to target some brutish Ballan Wrasse then look no further than these! Did I mention that these retail in the ballpark of £5.99 – £6.99? For such a great quality lure, this price point is nothing short of outstanding. I have paid nearly double for similar lures in the past, and in today's current economic climate saving a few quid here and there makes all the difference if you can still fish with top-quality end tackle.
My choice of lure clip these days is another offering from Seadra. They have produced some excellent "Speed Lure Clips" which are made of 100 per cent stainless steel with a saltwater-friendly coating. They are durable, reliable and are rated up to an astounding 37lb plus. I have seen some other mini clips fail when under this much pressure, so this is definitely a huge plus and fits my own personal 'robust' approach to lure fishing. The Speed Lure Clips have, as of yet, not let me down! Additionally, they have a curved radius, which allows lures to move freely through the water mimicking the real deal! 
I prefer to store my shore jigs in wallets these days; those frustrating memories of trying to untangle a compartment full of treble hooks are but a distant memory now! Seadra's Jig Wallet is a well-thought-out bit of kit. It is made of a tough waterproof material, with a Velcro tab to secure and fasten the wallet. It can hold up to eight lures and can even accommodate larger jigs up to a whopping 200gm. 
For boat anglers pitching slow jigs, or perhaps destination pelagic anglers, this might be just the wallet for you! One of the things that I find very useful is the addition of a mesh pocket on the reverse side. This allows you to fit some lure pliers, split rings, clips or perhaps some spare leader with ease.
I am really impressed with Seadra's ever-growing range of products for the UK market; I can't wait to see what comes next! n 
Seadra Aqua-Bullet Casting Jig RRP: £5.99 – £6.99
Seadra Jig Wallet RRP: £11.99
Seadra Speed Lure Clips RRP: £1.85