A collaboration between a leading retailer and top tackle company produces a shore rod not to be missed
---
Daiwa Kenzaki Two-Piece Shore Rod
RRP: £199.98
---
How often have you sat underneath your beach shelter, staring up at your rod tip thinking "I love my fishing rod, but…"?
It's a given that we've undoubtedly got our favourite rods that we use. Carbon wands that deliver our baited rigs with ease and that almost certainly have become an integral part of our daily shore fishing ritual. That said, if like me you're incredibly happy with a certain blank, but you just can't help thinking to yourself that there is something missing to ensure it would be so much better. Is there a perfect shore rod out there to suit everyone? It's a tough ask, but it's obviously something that the guys at Gerry's Fishing, located in Morecambe, Lancashire, have thought long and hard about. So much so, they decided to collect all of their own ideas on what a perfect rod should be and delivered them to the globally renowned tackle company Daiwa to get to work on.
It has to be said that the outcome is absolutely staggering, to say the least, Together, with the collective angling knowledge from the lads at Gerry's, combined with Daiwa's expertise in rod manufacture, I can reveal they have produced an absolute gem of a shore rod, in my opinion.
The rod in question is a two-piece outfit and will become part of the Daiwa Kenzaki range. Kenzaki is more known for the excellent boat rod selection from Daiwa, and these outfits will surely become their flagship shore blanks. There are two models to choose from, with a 13ft 6in rated at 4-7oz version joining a 14ft 2in rated at 4-8oz.
I was itching to get my hands on the pair to see for myself how good (or not so good) the finished product would react to my style of fishing.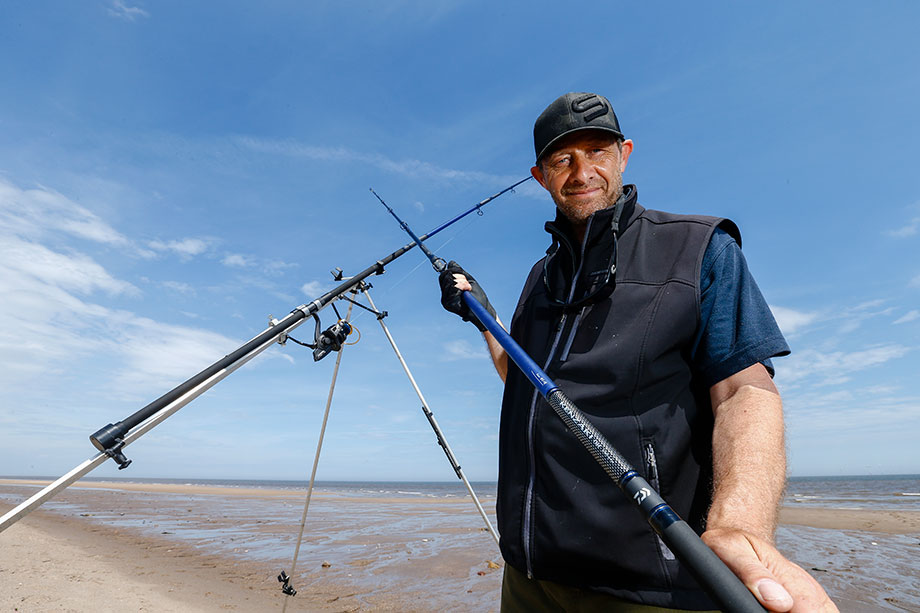 LIGHTWEIGHT
After the rods arrived, I was off to the beach. Having removed each one from their bags, I slotted them together and attached my reels.
They are equal-section blanks and are incredibly lightweight. To be fair, most modern shore rods are certainly becoming lighter, especially with materials readily available nowadays.
Hybrid 'K' style guides have been used, which allows both multiplier and fixed-spool reel users. The butt section boasts Japanese shrink wrap for grip with an adjustable screw-winch reel seat added.
I decided not to hang about and clipped a six-ounce lead weight to the 14ft 2in model and went immediately into a powerful pendulum cast. I made it my business to give this as much as I could muster because I knew if this rod was to fail at the first hurdle, this would be it.
CAST TIMING
First real aspect I noticed is the fact that total contact with the sinker is maintained throughout the cast. From my initial swing, a rising lead weight to finally turning into my powerful punch stroke, I knew exactly where the lead positioning was at all times. This is exactly what you need to keep the timing of a cast as near perfect as possible.
The load-up is simply exquisite – but incredibly fast! This rod is super-quick in the cast and the tip does comes around at such a high pace. Knowing where the lead weight is at all times means you can step on the power easily without losing touch…it really is quite remarkable.
I went again, determined to discover a flaw; there just had to be a flaw surely? Not a chance, I honestly put everything I had into each cast, every ounce of grunt I could find and each time the blank reacted to it. If I hit it harder; it sent my sinker longer, to the point I physically couldn't hit it any harder. Imagine a tennis player serving a powerful high speed serve down the baseline, body twisted in an attempt to drag every bit of energy into it…that was me! I couldn't have hit my cast any harder if I tried.
INCREDIBLE
I switched to the shorter 13ft 6in model and found there was no difference performance-wise. I was running out of options to find out what this rod couldn't do. Changing my casting styles to off-the-ground, layback, overhead thump, even one of my mini fishing pendulum casts, the rod delivered supremely each time.
When you consider the price of this rod is less than two hundred quid, I'll put my cards on the table and reveal it's a beauty. Perhaps not designed for the harshest of rough ground, but use it over mixed and clean terrain, you'll have a unique winner in your hands. In fact, I've used shore rods that cost three times as much and have been nowhere near as good in performance.
Finally, to the lads at Gerry's Fishing in Morecambe, and to the developers at Daiwa in Wishaw, I applaud you for conjuring up such an incredible shore rod. I for one am totally blown away at just how good it is. Can you improve on it? I'm not so sure, because you've set an extremely high bar.
---
SPECIFICATIONS
Daiwa Kenzaki Two-Piece Shore Rod
MODEL: Daiwa Kenzaki 1362 and 1422
SECTIONS: Two equal
LENGTH: 13ft 6in and 14ft 2in
RATING: 4-7oz and 4-8oz
GUIDES: Hybrid "K' style
REEL SEAT: Adjustable screw-winch
BAG: Yes
RRP: £199.98
AVAILABILITY
The Daiwa Kenzaki is available to purchase only from Gerry's Fishing at 52-54 Marine Road West, Morecambe, Lancashire, LA4 4EU. For more information, tel: 01524 422146 or visit: www.gerrysfishing.com
---
For more rod reviews, head to our Tackle section