Garmin have long been market leaders in developing new marine electronics products for anglers. My first fish-finder was a Garmin and I've used many different units over the years on small boats and large. The technology has changed and improved dramatically in the last few years with faster processing, easier to use, more intuitive, user-friendly controls and sharper sonar. The chart technology has also improved beyond recognition and now, of course, Garmin owns Navionics, the market leading chart software which has helped standardise the way anglers "see" the sea bed they are fishing over. 
So, what's so good about the latest UHD?
This is a sponsored article in partnership with our friends at Garmin. 
Simplicity
Firstly, it is a very simple unit to operate and has a fresh look about it and new UI graphics which increase functionality and configurability. The intuitive menu structure makes it easy to switch from one function to another – very often when fishing, time is at a premium and there are times I need to switch from one mode to another easily and quickly. The ECHOMAP UHD2 touchscreen technology speeds this up, and the data shown on the screen is clearly laid out and visually sharp.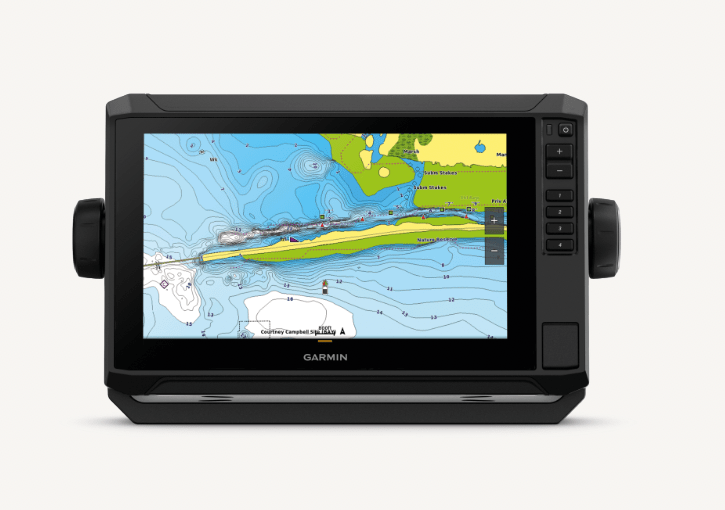 preloaded charts   
Garmin Navionics+ charts are pre-installed and the touchscreen has a quicker zooming and panning function allowing you to get yourself accurately positioned on your chosen mark as fast as possible, so you don't miss any vital fishing time. 
The built in WiFi connectivity allows sharing of sonar waypoints and routes with other ECHOPMAP UHD2 plotters. This gives excellent position accuracy with multiband GPS – especially where signals are reflected or weak. 
The charts pair with the ActiveCaptain® app on your smartphone for access to the OneChart™ feature and software updates.  The chartplotter supports the NMEA 2000® networks to connect your compatible autopilots, digital switching, music and more to view all on one screen. 
Hi Def Sonar
The ECHMAP UHD2 has crystal clear sonar imagery (transducer required) which means, paired with a display which can be viewed in bright sunlight, that your view of the water column is excellent. It shows clear, sharp fish arches on traditional sonar and for ClearVü™ and SideVü™ scanning sonar with vivid colour palettes it gives clear high contrast views all around the boat – adding to your understanding of the area you are fishing. 
And, of course the units support the LiveScope™ system, which is one of the most exciting innovations in marine electronics technology. Having used this at sea it's possible to target shoals of mackerel, individual bass moving on the mark you are fishing on and even allows a view of a fish taking lures or baits.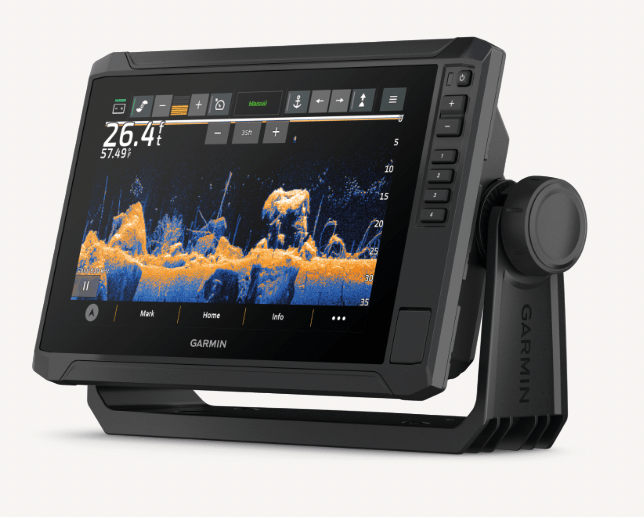 "I HAVE HAD GARMIN ELECTRONICS  ON MY LAST FOUR BOATS. The quality and reliability has assisted me in some truly incredible fishing trips and captures.''

The Fish Locker – GARMIN FISHING AMBASSADOR
Trolling functions
If you use a Garmin Force® Trolling Motor the GARMIN ECHOMAP UHD2 wirelessly connects to allow you to create and follow pre-set routes, navigate waypoints, control the speed and other functions. The ECHOMAP UHD2 is the ideal tool for inshore angling – it fits easily on boats from 3m upwards and is one of the easiest, most intuitive chartplotters/sonar devices available to anglers. 
Echomap UHD2 is available in 3 sizes and priced at: 
6 inch £829.99 
7 inch £999.99 
9 inch £1169.99
Summary of features: 
Easy-to-use touchscreen with keyed-assist chartplotter with bright, sunlight-readable screens.
See below your boat with support for Garmin traditional, ClearVü™ and SideVü™ scanning sonars* with vivid colour palettes.
Built-in Garmin Navionics+™ cartography for the UK, Ireland and the Netherlands with integrated Navionics® data which includes a 1-year subscription for daily updates, raster cartography and more.
Built-in WiFi® connectivity lets you wirelessly share sonar*, waypoints and routes with another ECHOMAP UHD2 chartplotter.
Includes multi-band GPS, which utilises multiple frequencies for improved position accuracy, particularly in areas where signals are reflected or weak.
Supports wired NMEA 2000® network connectivity. 
Pair with the free all-in-one ActiveCaptain® app on your compatible smartphone for access to the OneChart™ feature, software updates and more.
Compatible with LiveScope™ live scanning sonar*.
Wirelessly connects to your Garmin Force® Trolling Motor to create and follow routes, navigate to waypoints, control speed, check battery life and more.
ACTIVECAPTAIN® APP Built-in WiFi® connectivity pairs with the free all-in-one mobile app for access to the OneChart™ feature, smart notifications, software updates, Garmin QuickDraw Community data and more.
Pairs with Fusion Audio Marine Stereo and Signature Series 3i Marine Coaxial speakers. 
LiveScope sonar cannot be shared wirelessly between two Echomap UHD2 chartplotters. 
Requires the ActiveCaptain app on your compatible smartphone paired to the Echomap UHD2 6in, 7in and 9in chartplotters.
Auto Guidance+ is for planning purposes only and does not replace safe navigation operations
Transducer required and sold separately.