It was one of those sweltering days where the sea was flat and oily like a millpond and the haze meant the horizon was an imperceptible blur between the water and the blue sky. The only noise, a pitter patter like rain drops, were the shoals of tiny shimmering sprats feeding on the surface as they drifted past in the tide.

This is a sponsored post with our friends at Penn
I was two miles off the coast of north Kent fishing in my own boat and hoping to make the most of an early morning tide. Despite the early start it was already well over 25 degrees and the thermometer was heading only one way – north!
Many people get into boat fishing and ask me what tackle they need. It can be bewildering with so many choices to be made and options to choose from.
The best way to start, in my opinion, is with a well-matched rod and reel that offers quality at reasonable value and allows you to tackle a wide range of species without being specialist in any single area.
Once you start fishing more often you will no doubt want to specialise and acquire tackle for particular situations. However, to begin with you need something with a good all-round capability that's not going to cost you the earth or fall to pieces the moment it goes anywhere near seawater.
A great choice that ticks these boxes is the PENN Pursuit IV boat combo.
I know this because my friend Nick and I were fishing on this hot morning in question with the 20lb-30lb version of the Pursuit combo in the hope of connecting with some bass, smoothhounds or thornbacks. I'd caught my first tope from this side of the Kent coast with it the week before and was keen to see if there were any more to be found.
The Pursuit IV rod is a two-piece 7ft downtiding rod meaning it is designed to be used either on the drift or at anchor with the bait drifting down tide of the boat.
The 7ft carbon rod is an ideal length for most general types of ground fishing and is both light and sensitive with good bite detection at the tip end.
It's light enough to provide good sport with a decent fish but at the same time has enough backbone to cope with deep water, fast-running tides and heavy leads needed for many boat fishing scenarios.
The Pursuit IV also features saltwater resistant 'K-type' guides which are designed to prevent the line getting tangled around the guides – something that can be particularly frustrating when you are using braided line and the fish are biting.
PENN Pursuit IV boat combo RRP £124.99
Pursuit IV fixed spool reel
The Pursuit IV fixed spool reel comes in a 6000-size giving it plenty of line capacity whether you are using monofilament line or braid.
The reel screws in easily and securely to the reel seat on the pursuit rod. With a 5.6:1 gear ratio the reel gives you a high-speed retrieve.
Adjusting the drag is easy and the carbon fibre washers in the drag make it sensitive and powerful, allowing you put pressure on any bigger fish you hook before they take cover in rocks or kelp.
With four sealed ball-bearings the retrieve is lovely and smooth, and the overall combo certainly looks stylish and well designed.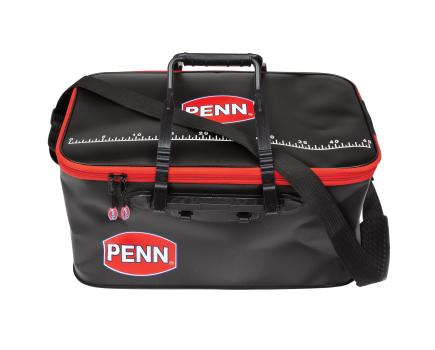 Foldable EVA bag
Any boat fishing trip involves taking a certain amount of additional gear with you: food, drink, spare clothing, camera, tackle and bait.
On this occasion I was pleased to be using PENN's new foldable EVA bag.
With an impressive internal volume the lightweight bag has more than enough room to keep your belongings safe and, more importantly, dry; trust me, I have lost countless mobile phones and cameras to the deadly effects of saltwater on electrical products!
A nice touch to the design of the bag is the measuring tape on the top allowing you to measure your catch easily and quickly without digging around for your ruler or tape measure.
Attention to detail like that is always nice to see. It proves that the product has been designed by anglers and with anglers in mind.
PENN foldable EVA bag RRP £46.99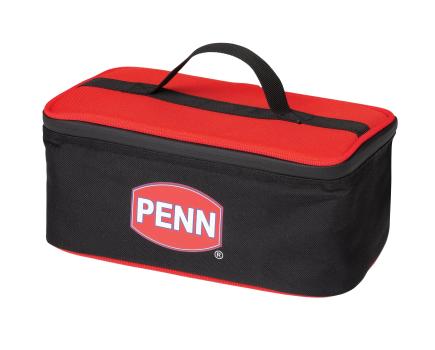 Cool bag
In addition to keeping my gear safe and dry I was keeping by bait nice and fresh by using another of PENN's luggage range, their cool bag. The bag comes in two sizes.
I was using the smaller version which was perfect for keeping my frozen bait cool and fresh, despite the searingly hot conditions on the day. Both versions are lined with isolation material helping to keep whatever you are storing cool.
The larger version of the bag would be ideal for cold drinks on a hot day, or keeping your catch fresh with the addition of a freezer block – particularly useful on a charter boat trip when you are fishing with others and want to keep your catch separate from others'.
PENN cool bag RRP £28.99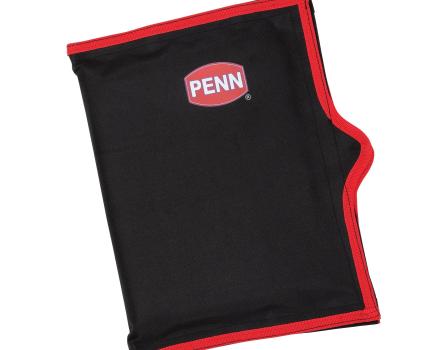 Rig wallet
Both Nick and I were using running ledger rigs which I had made at home, along with a selection of other rigs, which I was storing in the PENN rig wallet.
The neoprene wallet contains 12 removable wallets providing plenty of space for a wide range of premade rigs.
The convenience of the wallet is that it can slip easily into the foldable EVA bag where the rigs are then easily accessible to be clipped on when species or tactics change.
Pre-tying your rigs and storing them in a rig wallet such as this is a huge help when afloat.
No one wants to be faffing around tying rigs on a boat which is pitching or rolling in a rough sea, or when the fish are feeding and you are still tying the rig and wasting valuable fishing time.
PENN rig wallet RRP £41.99
With a few bass landed using the PENN Pursuit combo it was time to head home before we got caught short by the tide.
Anyone new to boat fishing would be very well prepared to tackle a wide range of UK species with the Pursuit IV 20lb-30lb combo. Going up to the 30lb-50lb version would allow you to tackle the bigger beasts including sharks, skate and conger eels.
The tackle combo and luggage range used is excellent quality and great value for money when you consider you can be on the water with all the kit for approximately £250.
So, if you are new to boat fishing, returning after a break, or simply looking for the best quality you can afford on a budget of £250 the Pursuit IV combo is an excellent option for getting a well-matched outfit that will get you out on the water and chasing some later summer and early autumn bass or smoothhounds over the coming weeks.
Get out there and enjoy it while you can!