Covering a range of casting ratings, these new three-piece surf rods have a lot to offer at an amazing price
Words: James Madsen
Photography: James Howell
---
Penn Tidal 420 Series
RRP: £109.99
---
Continental style rods are a lot of fun, particularly when fishing light, and when used in conjunction with finer mainlines you can achieve some great casting distances.
There are many types of these rods with varying styles and, of course, price. These can be great for beginners because they are usually quite forgiving when learning to cast, and some have found favour in the demanding world of match fishing too.
Anglers are seeing an influx of good continental-style surf rods in the lower price bracket meaning you can acquire a really nice rod for very little money. The new Tidal 420 series from Penn, which is a range of four slightly different rods in the lower price bracket, really caught my eye.
I liked the look of these rods, even though I wouldn't usually consider a rod at this price point, but was more than happy to put them to the test. The range is colour coded for a wide range of beach use, with grey rated to cast 50-200g, green (100-225g), blue (100-250g) and red (100-300g). There is something to cover every style, from light legering up to more powerful casting. Bearing in mind that I'd be using one of them locally in the Bristol Channel, I selected the blue grade.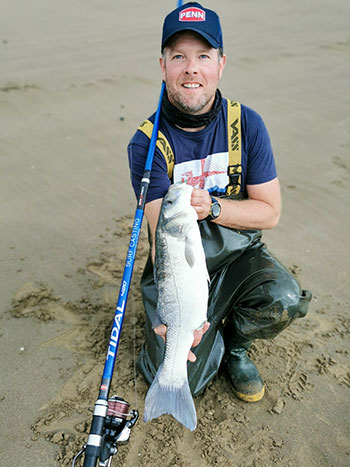 RESPONSIVE
We enjoy plenty of tide in the Channel, so being able to hurl a heavier lead weight with this rod would come in handy. My first proper session with the Tidal 420 Blue took place at Burnham-on-Sea, where the plan was to arrive early for some test casting on the sand and then a little fishing over high water.
All these three-piece rods are 4.2 metres (14ft) long and hybrids for use with either a multiplier or fixed-spool reel. I selected a multiplier reel loaded with 0.32mm Asso Ultracast and a 0.70mm Asso Ultraflex shockleader.
The rod, weighing 600g, pushed together well and had a nice finish around the female section of the joints. A perfectly adequate reel seat leads you up to the K-style guides and through Penn's new Sensitip rod tip. It's a slim responsive blank made from 30 tonne carbon, which is a remarkable quality of material when you consider the price point.
Having clipped on a 170g (6oz) lead weight, I started with a gentle lob. It immediately became clear that this rod was actually quite pokey, with plenty of power in the middle and bottom half of the blank. Using a simple off-ground casting technique, I lengthened my drop and gave it some welly. To be fair, the 170g weight really flew and I could see there was loads of scope for an even heavier one. I'm always a little wary when it comes to following the casting ratings on some continental-style rods, but I'd was more than happy casting seven ounces with this particular rod.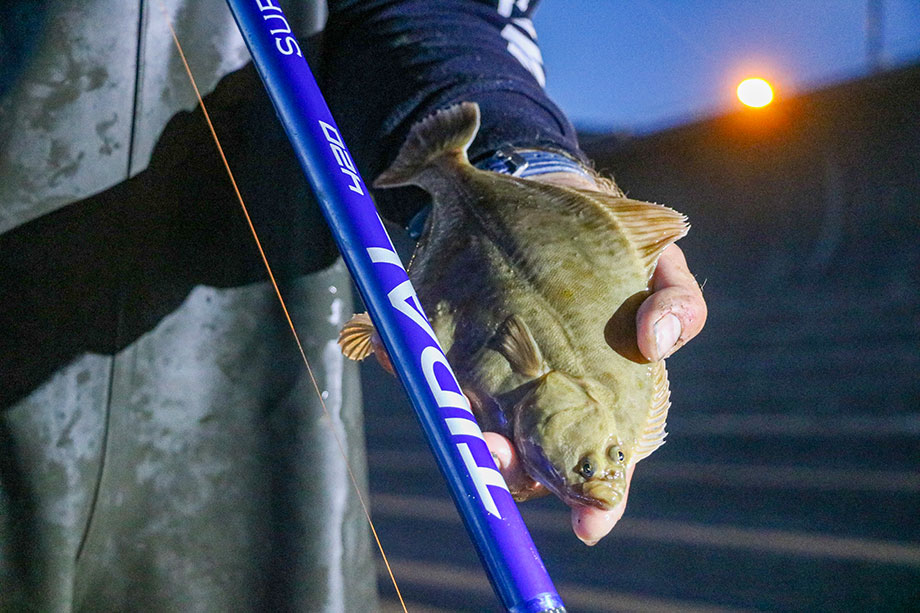 BITE DETECTION
By now I was eager to put some baits out. I love this new Sensitip. A solid glass insert with bright-white finish makes the rod tip really visible and, importantly, it offers super bite detection, even when fishing in tide. On this occasion I caught a few flounders, but the next time out I landed some bass.
For me, this rod has a nice balance with the potential to cast good distances, while offering great bite detection. While some anglers prefer a slower-tapered rod with a stiffer tip because that picks up the lead faster in the cast, I much prefer fishing with a rod like this with a sensitive tip and loads of power in the second half of the rod.
On my next session using the Tidal 420 I fitted a smaller 5000-size fixed-spool reel, this time loaded with a finer diameter Asso tapered mainline. Casting simple two-hook flapper rigs with 90g-150g (3-5oz) worked out really well. Using a lighter mainline combined with less lead weight allowed me to achieve some good casting distances too.
VERSATILITY
With prices starting a tad over £100, Penn has nailed this price point. I could never have imagined it possible to get this much rod for that sort of money. The Tidal 420 range really does give you some good versatility for both fishing and casting.
These rods are really suited for clean ground fishing and under the right conditions they are a joy to use. Aesthetically pleasing too, they have been built really nicely and look great on the rod-rest. I really could see myself using this rod for a wide variety of beach fishing. The blue version I used would be an excellent tool for flatfish and silver eels on the mud, bass and flatfish on the sand and varied fishing on the shingle of the South Coast.
There is loads of power in the blank to accommodate a variety of casting weights, while there would be no problem when landing a larger fish. In my opinion, the buyer gets a fantastic rod for the money. Highly recommended!
---
SPECIFICATIONS
Penn Tidal 420 Series
Sections:    Three
Blank:        30T carbon
Length:      4.2m/14ft
Ratings:     50-200g, 100-225g, 100-250g & 100-300g.
Guides:      K-type
Reel seat:  Screw winch
Reel type:  F/S or M
Weight:     510-630g
RRP:  from £109.99
* For more info or to locate your nearest stockist, visit: www.penn-fishing.co.uk
---
For more rod reviews, head to our Tackle section