James Madsen beach tests three new Tronixpro beachcasters in its Xenon range, the Quartz, Zero and Plasma
Tronix has just launched three new rods in the XENON range and I was given the opportunity to try them out. The price point for these rods starts at around £200 and goes up to the £300 mark for the more expensive rods in the range. There are two different rod lengths to choose from in each model, a choice between either 4.2m or 4.5m. Each one of these rods comes in a pretty decent black padded rod bag, which I thought was good. Furthermore, they are all fitted with quality Fuji K Alconite guides and a Fuji DPS reel seat as standard. All of the specifications for this new range can be found on the Tronix Fishing website.
Once on the beach, I unpacked and put each of these three rods together. The first thing that occurred to me was how incredibly lightweight they all were. Each rod is in three pieces with a fixed reel seat. They pushed together really nicely with well finished spigots, and Tronix has even added a non-slip finish to the female section of the spigot which makes pulling them apart a whole lot easier. In fact, I thought the overall cosmetic aspects of these rods were all pretty tasteful and well thought out.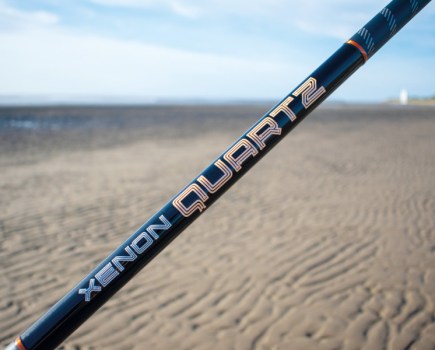 Tronix Xenon: Quartz | RRP: £199.99 - £209.99
I decided to kick-off my casting session on the beach with what I saw as the most powerful of these three rods. The Quartz has a casting rating of up to 225g of lead. It has a stiff tubular tip which can, apparently, cope with strong tides and adverse weather conditions. I decided to stick a small multiplier on this rod, fully loaded with 0.32mm monofilament. That is not to say that you couldn't use a fixed spool reel with the Quartz, I just wanted to mix it up. After having a tentative first cast with a 200g weight, it quickly became apparent that this lightweight rod was crisp and powerful with a quick recovery in the rod blank. I put a bit more effort into my second cast and the lead flew fairly nicely. Tronix advertises this model as being effortless to cast and they are not wrong. I found the optimum casting weights for distance were between 170- 200g and that was with an off the ground casting technique. Personally, I wouldn't bother pendulum casting with these rods because there is simply no need.
The Xenon Quartz is a powerful rod because it can chuck a 7oz lead with bait a pretty long way, but loading up the bottom half of the rod, the part which holds the most power, was pretty easy to do. Perhaps that is the point, this rod could almost act as a casting aid to a slightly less experienced angler who has been working on a good off the ground casting technique. This rod blank picks up the lead off the ground very quickly. It is also lightweight, which means you can move the rod pretty quickly through the cast. Altogether, that makes it a perfect tool for off the ground or overhead thump casting techniques. However, the thinner walls of carbon in all three of these rod blanks, which allows them to be so lightweight, could compromise the overall strength of the rod, particularly if it fell over and got a knock on a hard surface or rock. With that said, when you consider the price point of the Quartz at around £200, I would say you are getting a bargain. You will be getting great value for the money, especially when you consider the overall performance of the blank and build quality of the rod.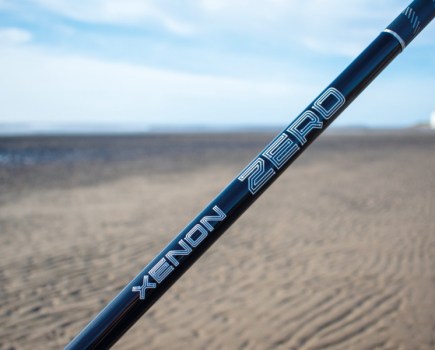 Tronix Xenon: Zero | RRP: £289.99-299.99
Without a full technical brief, you may, like me, find it difficult to work out why the Xenon Zero costs around £100 more than the other two rods. I did a bit of research online and this model has been built to cast long distances while maintaining maximum bite sensitivity. The build quality of the ZERO is brilliant, but apart from some silver whippings on the guides, looks pretty much the same as the other two rods. Obviously, there has been some sort of greater workmanship gone into the making of this particular rod blank and that has been reflected in the price tag. When casting from the beach, I screwed on a 5500 fixed spool reel, fully loaded with a 0.25mm monofilament and tapered shock leader. Now I have to say, this rod does cast really well and I did cast furthest with the Zero.
I particularly enjoyed casting weights between 125- 150g. Coupled with a lighter monofilament, those lead weights were really flying. The ZERO is equally crisp, with the quick recovery in the rod blank, the same as the Quartz. My casting technique was all off the ground and I was hitting those leads pretty hard as well. With the correct choice of lead, 150g being the optimum for casting with bait, this rod ticked a lot of boxes for me with regards to casting. Tronix has said the Zero performs best when fishing clean beaches in moderate seas.
I got the clean beach bit right but I can't control the weather. The conditions were a little bit gnarly when I fished with this rod, but hey, I'm supposed to be testing it right?! Moderate cross winds blowing right to left along the beach meant I needed to fish with 170g of lead. That's obviously above the recommended optimum casting weight, especially when combined with three baits. They weren't particularly small baits either. To be fair, the rod handled all of this pretty well. My casting distance was obviously compromised somewhat, but I did manage to cast out far enough to avoid being buried in the shingle.
I even had to swing the lead out a little with the wind in order to cast. That was all good and the rod still remains in three equal sections. I caught some fish as well, nothing monstrous but enough to put a good bend in the rod. Again, those boxes are all ticked. However, I wouldn't say that the bite indication on the Zero is anything special, but that could have been down to those fishing conditions. With a price point of around £300, unless you can realise the full casting potential of the Xenon Zero, I wouldn't say that you are getting as good value for money as you are with the other two rods. Nevertheless, in the right hands this would be a good fishing tool and the build quality is fantastic.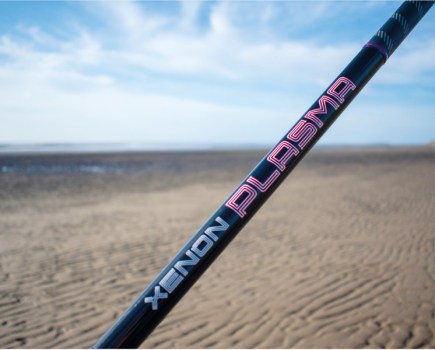 Tronix Xenon: Plasma | RRP: £194.99 - £199.99
This rod stands out from the other two. The PLASMA is more of a continental style rod because of its spliced hybrid tip and a slightly thinner blank. I enjoyed casting this one as well. This time I used a 5000 sized fixed spool reel loaded with a fairly light tapered mainline. By using a well-balanced tackle set-up, you can achieve some really good casting distances with a rod like this and that is what I did. Starting off with 80g of lead, which worked because of the lighter tapered mainline that goes down to 0.18mm in diameter, I achieved some pretty good casting distances. The rod cast even better when casting 100g with this set-up.
Tronix has advertised the optimum casting weight at 120g with bait, but as I also found out when fishing with the PLASMA, it's more than capable of chucking more lead than that, but you will compromise your casting distances. I certainly put this rod through its paces when fishing in some less-than-ideal weather conditions. This rod blank holds loads of power in the mid and butt sections. A good off the ground casting technique, along with the correct choice of tackle set-up, will allow you to realise the full casting potential of the PLASMA. Box ticking time.
The rod build and cosmetics are equal in quality when compared to the other two rods in the Tronix XENON range. Lightweight and strong, tick. A good and quick recovery in the rod blank during the final stage of the cast, tick. Personally, I wouldn't select the rod when fishing with really light snoods because I think the overall rod blank is a little bit too pokey. It would be an ideal tool for casting small baits out at distance, perhaps fishing for flatfish with 15-20lb snoods. Although it would be more than capable of landing a bigger fish if one came along. The power in the blank could also come in useful when fishing flapping rigs at a close range and I think you will then have the option of using a heavier weight when needed, especially if you are not really bothered about compromising your casting distances. For instance, a gentle lob with a 175g lead when scratch fishing in some pretty strong tidal currents. The spliced hybrid tip will give you some great bite indication, even when fishing in tide.
That is because it's a crisp tip with a fast taper and won't immediately fold over like a solid glassfibre spliced rod tip may do when fishing in tide. This is a great looking lightweight fishing rod, which offers good bite indication and the potential of casting some really good distances with lighter lead weights. Priced at around £200, I would say you are getting a great rod for the money and it would be a good value purchase.