Having a great head torch is vital to any beach angler's arsenal and there are many different brands to choose from. Here, we look at some of the best fishing head torches. Some are made specifically for anglers, some for more industrial uses, and the price varies from as little as £15 right up to an eye-watering and pocket-emptying £600 for one brand.
Features to look for in the best head torches for fishing
Durability 
One of the most important is durability: there is no point in buying a headlamp which has been made with a cheap housing and flimsy head strapping; it'll probably fall apart on first contact with the elements.
Battery
Batteries come in two categories, you've got battery operated and rechargeable, some even come with both. There are pros and cons for both types. You can of course change batteries when they run out (which in some cases can be very quickly) – although doing this in the dark, on a stormy beach, can be quite a challenge.
Rechargeable batteries are better – as long as you remember to fully charge them before going fishing – make sure the battery life is sufficient for a long night session on the beach. I would usually take two anyway in case one gave up half-way through a session.
Brightness
The best fishing head torches have really strong beams which is why beam brightness (measured in lumens) is crucial – particularly for re-tackling, re baiting and seeing into the surf to locate your fish.
Comfort
Comfort is next – think about the headgear you normally wear and how a headlamp band will work with it; difficult if you are buying mail order but most companies will accept returns; so if you can buy a selection and try them out (or go to your local tackle shop). Versions with bulky packs on the back of the strapping can be uncomfortable to wear.
Bearing all these factors in mind here are eight we have found which should do the job. We've selected a price range between £50 and £150 – it's always worth going for better quality: there are a lot of cheap headlamps but you pay for what you get.
---
Sonik XP4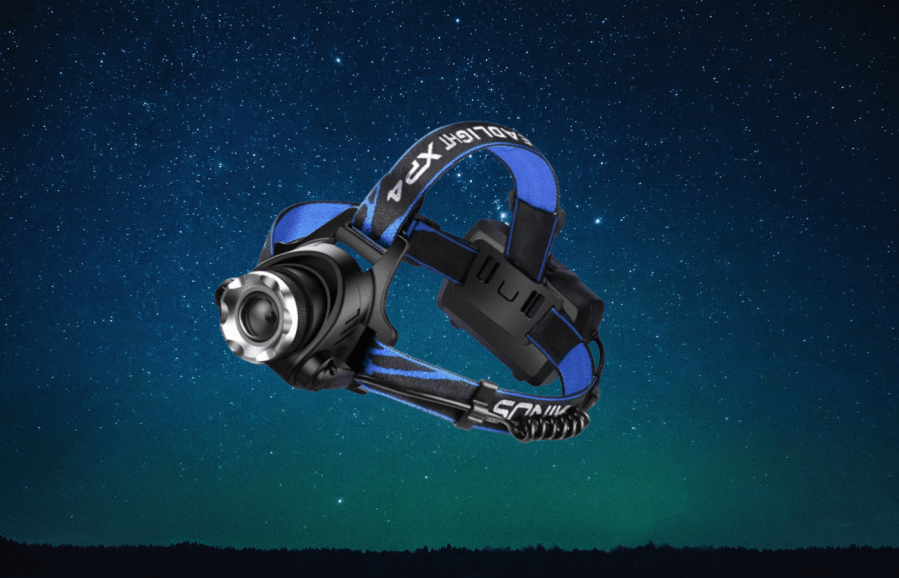 The Sonik XP4 headtorch is excellent value for money and very much at the entry-level or budget price range of the headtorch market. This high-powered headlight is perfect for professionals and outdoor enthusiasts. The torch has 10 watts of power emitting 300 lumens of brightness and has a recharge time of just four to five hours. Additionally, the XP4 features 90-degree rotary beam adjustment to help you find what's best for your fishing needs in close quarters.
Features:
LED 10W 
Constructed from ABS and aluminium
300 lumens
Rechargeable lithium batteries (included)
Weight: 178G
Function high-low-flash
Usage time 4-5 hours
1m USB charging cable
90-degree rotary head
RRP £14.99
Damimax Sandman Headlamp 600 Lumens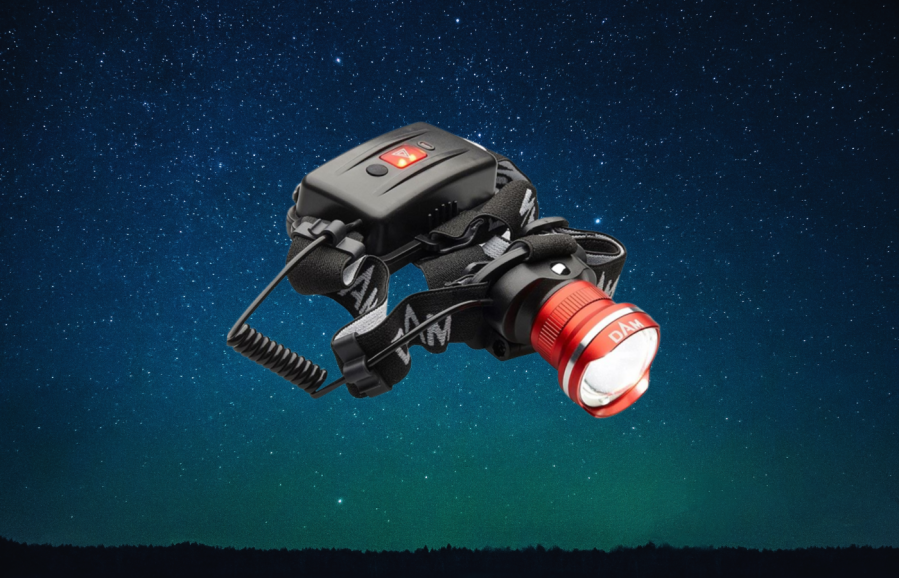 A very technical and powerful headlamp, it will be your best partner when fishing at night on the sea thanks to the 600 lumens power and the adjustable focus beam. This dual battery version is designed specifically for angling at a reasonable price.
Features:
Head lamp Cree T6 ultra bright white led & 2 red led
T6 led power: 600 lumens
Two red led at back side
Front switch and back switch:
Adjustable beam focus by telescopic head
Adjustable head (180 degree)
Water resistant
Two working power options:

3 "AAA" batteries (excluded)
1pc of #18650 (2200MAH) rechargeable battery & AC/DC charge (included)

RRP £49.99
Akios Powa-Lite HT-5000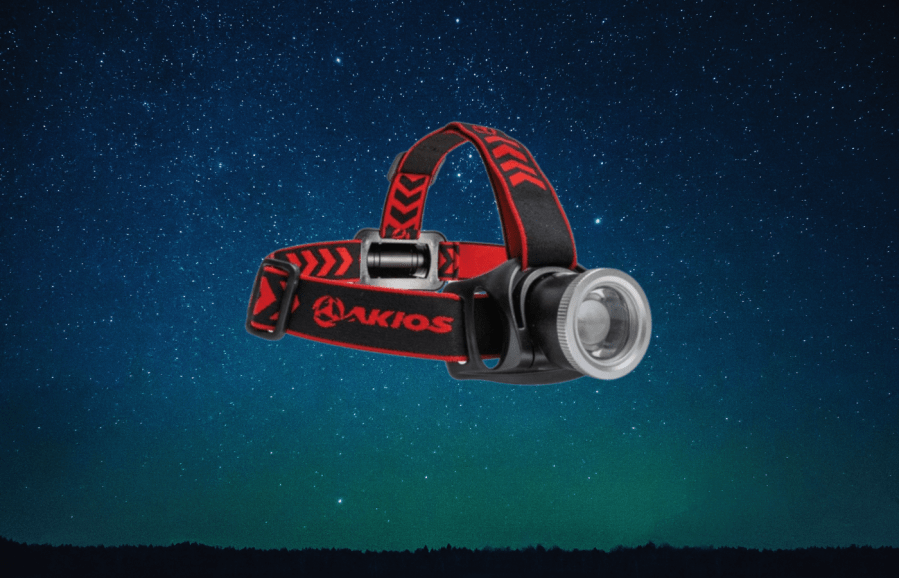 This is a rechargeable headlamp that features the new AKIOS Comfi fit SPORT headband. The HT-5000 is powered by the rechargeable 18650, 3.7V 2200 mAh Li-ion battery pack and the headlamp emits a maximum output of 554 lumens. The single switch controls three brightness levels of the spotlight, one floodlight and SOS.
Directly rechargeable by the easy-to-use USB magnetic charging cable and is IP64 rated rain/splash proof, with a 60-degree adjustable angle and extremely lightweight, the HT-5000 headlamp is the perfect fit for all anglers.
FEATURES:
USB magnetic charging cable
8 hours running time
Zoomable function for flood beam or spot beam
90 degrees adjustable angles 
Li-ion battery is fully re-changeable
Charging Indicator 
AKIOS branded, fully adjustable, elasticated dual headband for a comfortable, secure fit 
Charge time: 2-2.5 hours
RRP £59.99
Petzl Actik Core 450 Lumen Black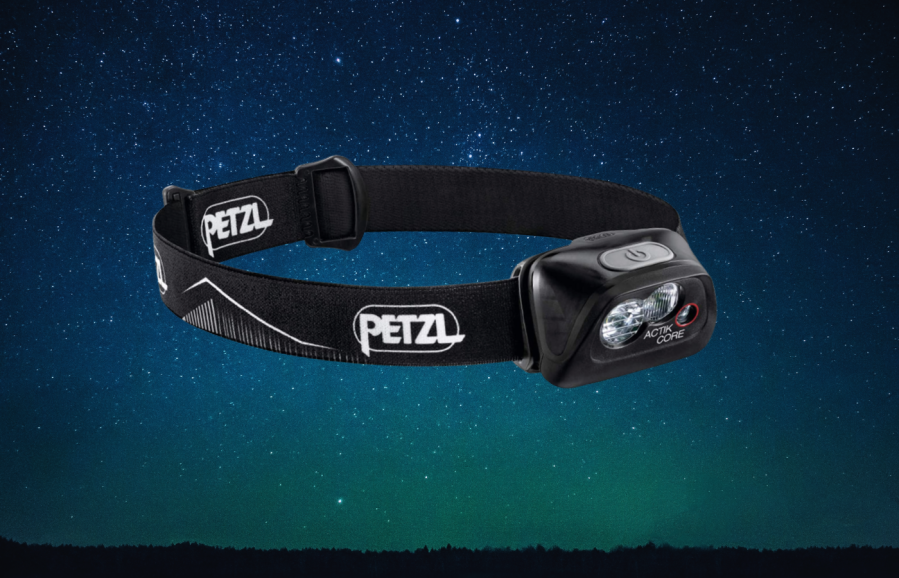 With 450 lumens of power and a multi-beam design, the rechargeable ACTIK CORE headlamp is suitable for all outdoor activity. Because of the HYBRID CONCEPT design, ACTIK CORE comes with the CORE rechargeable battery and is also compatible with three AAA/LR03 batteries (not supplied). The lamp may be mounted on any type of helmet or a bicycle using mounting attachments. This one is designed for general outdoor use rather than specific angling needs so may have variable waterproofing.
FEATURES:
Brightness: 450 lumens (ANSI/PLATO FL 1)
Weight: 75g
Beam pattern: flood or mixed
Energy: 1250 mAh CORE rechargeable battery (included)
Charging time: 3 hours
Battery compatibility: alkaline, lithium or Ni-MH rechargeable
Weather-resistant but not completely watertight
RRP £69.99
Cyansky Triple Output Headlamp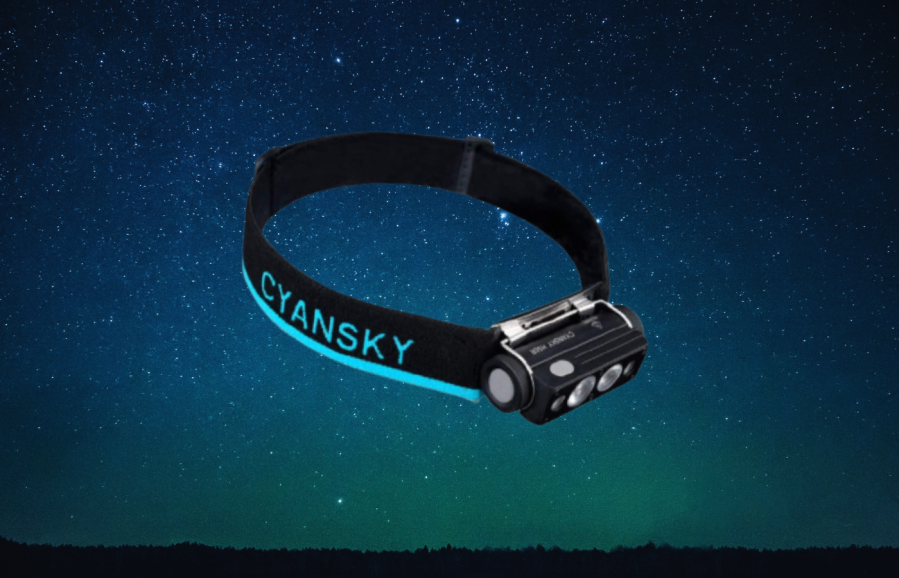 The Cyansky is a tough, robust headtorch with a metal body. It will survive an impact when dropped from a 2m height. One key feature is it is waterproof up to IPX8, which means it can be submerged for a short period of time in up to two metres of water and still function.
FEATURES:
Total output 1400 lumens
Three lights which work in conjunction with each other for a wide range of uses
Includes a spotlight, a wide and close floodlight, as well as a strobe function
Red light mode
Rechargeable battery which can be charged via USB C
SSP: £73.99
NASH Moonshine Mega Lite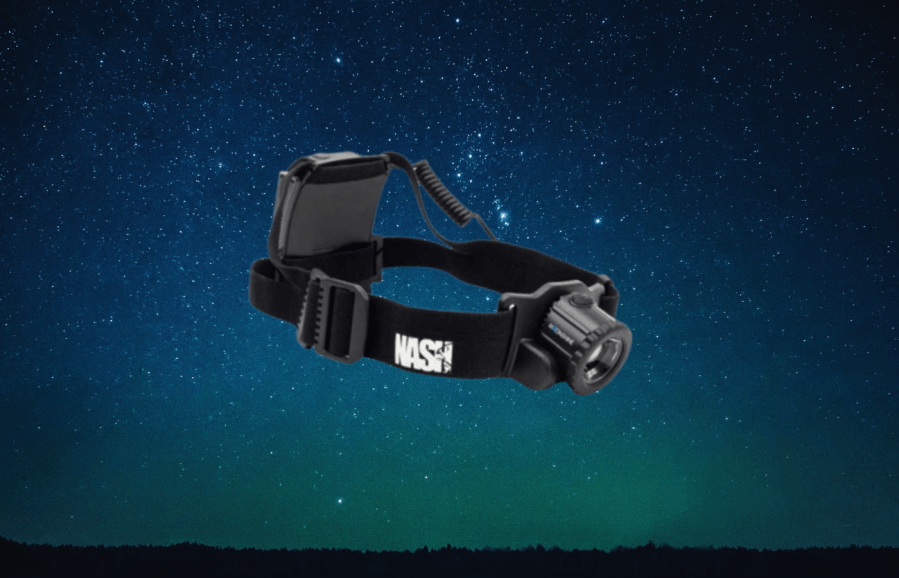 The Moonshine Mega Lite is the result of a lengthy development to design the ultimate high-power lamp for anglers from Nash tackle. It was mainly developed for carp anglers. The incredibly powerful rechargeable cells can also be swapped with a battery adaptor to allow use of 3 x AA 1.5V batteries, guaranteeing you are never without your most valuable location tool. Despite its power in use the Mega Lite remains compact to wear, and thanks to the ergonomic and curved rear battery pack is comfortable – unlike the battery pack headlamps of yesteryear that were more suitable for coal mining!
FEATURES:
760 lumens
42-220 metre adjustable lighting range
Water resistant 
Impact resistant to 1 metre
3000mAh lithium polymer battery pack
3 white LED brightness settings 28-760 lumens
Micro USB charge/recharge
3-position ratchet angle adjust lens
Includes AA battery adaptor
5-81 hours run time   n Supplied with charging leads
RRP £99.99
MyFenix HP25R V2.0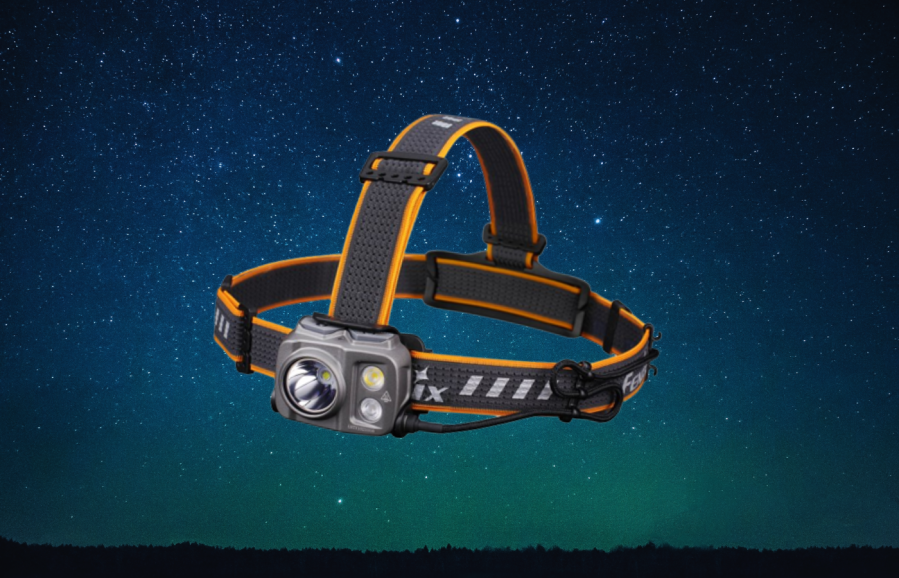 The HP25R V2.0 has a very long throw thanks to the deep curved reflector, giving you a tighter beam but is also able to reach out with less power used. It has a big 5000mAh battery and also has flood and red lights too. You can use the flood light to get you down to the mark. The tight spot is perfect for checking on tips on low level and then turning it up when reeling in. The red light is also good for preserving night vision and baiting up.
FEATURES:
Luminus SST40 white, Cree XP-G3 S4 NW & Everlight 2835 n Red LEDs
1600 max lumen output
USB-C Charger Cable
4 x Helmet Hook
3 x Cable Clip
Spare O-Ring
Uses 1 x Fenix ARB-L21-5000 Li Ion battery (included)
5 -year Warranty
RRP £134.95
LedLenser H15 Rechargable Headlamp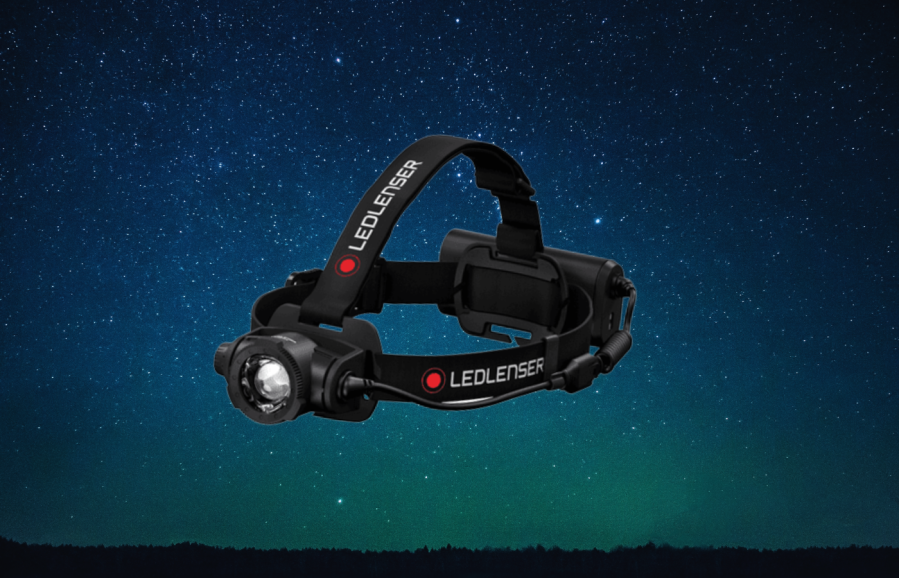 A popular and robust brand of headlamp designed for all sorts of uses. The H15r focuses the light beam up to 250 meters and has a seamless beam focusing for flood (near) or spot (distance).  It also has directable light – angle the beam up or down (within 120°) and a dimming feature to provide just the right level of illumination. In additional, the flicker-free light prevents a strobe effect.
FEATURES:
Seal-Tight Technology – Watertight against immersion in water to 1m 
Cooling Technology – prevents overheating
Overhead headband for extra stability  n Anti-microbial head-strap material 
Low battery warning and status indicator 
Charging indicator
Transport Lock mode – prevents accidental battery drain whilst in transit

Magnetic Charge System – watertight, magnetic contact charging  n Fast charging 5.5 hours to full charge
RRP £141.99