Amroth is located between Wiseman's Bridge and Marros in south-west Wales. If you visit over high water you will find a short, steep shingle and boulder beach backed by a concrete flood protection wall. However, if you wait for the tide to start to ebb a sandy beach will soon be revealed just 50 yards from the road, and at low tide you will be faced with approximately two miles of open sand. The fishing over high tide can be very good but most locals consider the most productive period as being approximately two hours either side of low water. You can fish here on all sizes of
tides, though mid-range tides tend to be
most productive.
Amroth is not a true 'storm beach': that is, a west facing beach open to the full might of an Atlantic swell. Amroth faces south to south-east and with a backdrop of high cliffs benefits from protection from strong westerlies, making it a great option when other beaches are unfishable.
What species can you catch at Amroth
During the autumn and winter months and continuing through into early spring, catches at Amroth comprise mostly of flounders, dabs, whiting, dogfish, rockling and very occasionally, a codling. If conditions remain mild bass are frequently caught throughout the winter. More bass along with plenty of flounders are caught during the spring, plus dogfish and an occasional small turbot. Throughout the summer months gurnards, mackerel, dabs, dogfish and golden grey mullet can all be caught at Amroth, plus good bass, especially when there is a good surf running.
What baits to use when fishing at Amroth
The best baits here for general fishing are undoubtedly maddies, and especially so for flounders. Known locally as mudworm, many anglers tip their worm baits with a thin strip of mackerel which certainly improves the chances of whiting and dabs. Either mackerel or frozen sandeels are the best bait for dogfish and turbot. If you want bass then razorfish or any other available shellfish, or freshly dug lugworm, are both deadly, again especially when a surf is running.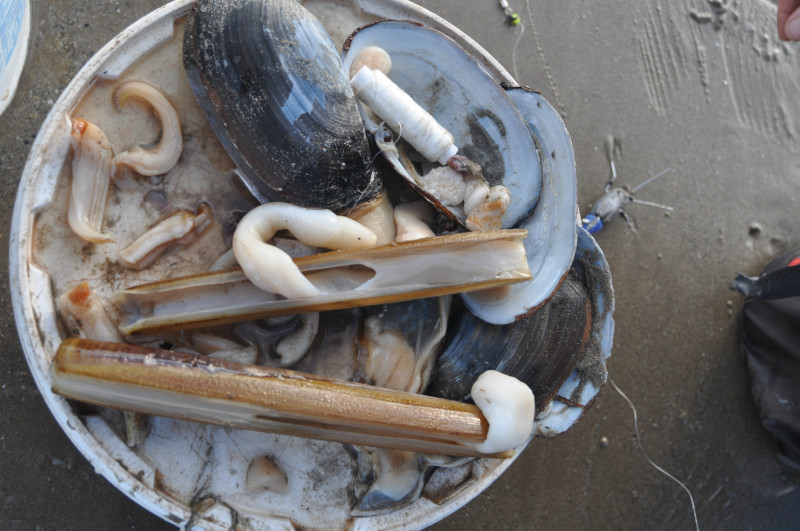 Rigs to use when fishing Amroth
A two-up-one-down paternoster rig is ideal for general surf fishing, with long hook lengths ensuring the bait can move freely on the bottom in an attractive manner. When fishing specifically for flatties I like to use small hooks, such as the excellent Sakuma 550 Phantom in sizes 6-1. When targeting bass I use a single hook paternoster rig incorporating Sakuma 545 Manta Extras in size 1/0-3/0, the exact size hook chosen to suit size and type of bait I am fishing with.
Many anglers use coloured beads and increasingly even coloured leads on their rigs, as flatfish and many other species are certainly attracted by colour. A great trick when fishing for flatfish here and at other surf beaches when conditions are not too rough is to use either a flattened lead or a circular studded watch lead, which will slowly drag about the bottom and help locate fish.
With the exception of a large patch of stones directly in front of the village, which are visible from half tide down to low water, Amroth is mostly a sandy beach. A few other smaller areas of stones are located here and there across its length, and many species can be caught fishing around these stones, especially rockling, though tackle losses can be heavy. The right-hand side of the beach is slightly deeper, and this is the recognised hot spot for dogfish and whiting. A few hundred yards to the left of the village a stream runs across the sands, and this is a popular area for flounder.
Ideal conditions for bass are immediately following a good onshore blow when the fish move into the surf to mop up the abundance of food, that will have been ripped out of the sand by the scouring action of the waves. Night fishing can be especially productive for bass. The real beauty with fishing a sandy beach such as Amroth for bass and flounder is that long range casting is not necessary. Indeed, it can be a distinct disadvantage. A cast between 50-80 yards is adequate on most occasions, though fish are regularly caught at much closer range. 
DIRECTIONS
To get to Amroth follow the A40 west from Carmarthen to St Clears, then take the A477 towards Tenby and Pembroke Dock. Amroth is clearly signposted a few miles before Saundersfoot, just after the village of Llanteg. There is a reasonable amount of parking on the edge of the beach and a free car park that is clearly sign posted. n
NEAREST TACKLE SHOPS:
Anglers Corner Milford Haven – Tel: 01646 698899
Anglers Corner Llanelli – Tel: 01554 773981