Local angler, Wesley Shrubsole, explains how to target year-round thornbacks from these two venues on the south Kent coast
Dymchurch
This venue is well known to local anglers for a good variety of summer and winter species. It is a shallow venue with a flat sand bottom and the tide retreats a long way. The venue fishes over low water for rays and bass. Generally, the bass are small but good sport. Winter sees thornback rays, whiting, the occasional codling, pouting and dogfish replace them. Mullet can also be caught in summer and can be seen cruising on the surface. 
High water will see a depth of around 10m at casting range but only for around two hours as the water recedes very quickly. Long casts are an advantage here, but there is little in the way of snags apart from small wooden groynes. It's a good idea to recce the venue at low water and in daylight. 
Bait
Bait collection is possible here on all but the smallest tides. Black lugworm, razorfish and crab are all available and can be gathered when in season. The fresh local lugworms take a lot of beating. The groynes are where it is possible to collect peeling spider crabs during the summer. The shallow water around the legs of the groyne are where the crabs will be hiding. Be careful when collecting as it also can hold old tin cans and glass, so always use a stout pair of gloves.
Need to know
Parking is limited but there is a layby that will hold about four cars just short of the tower. To find Tower 23 (a Napoleonic defence tower) take the road from Hythe past the firing range and past a large caravan site. The tower is on the seaward side on a sharp bend. Just before the bend on the landward side is the layby. A set of steps will take you to the tower and there is plenty of room for fishing.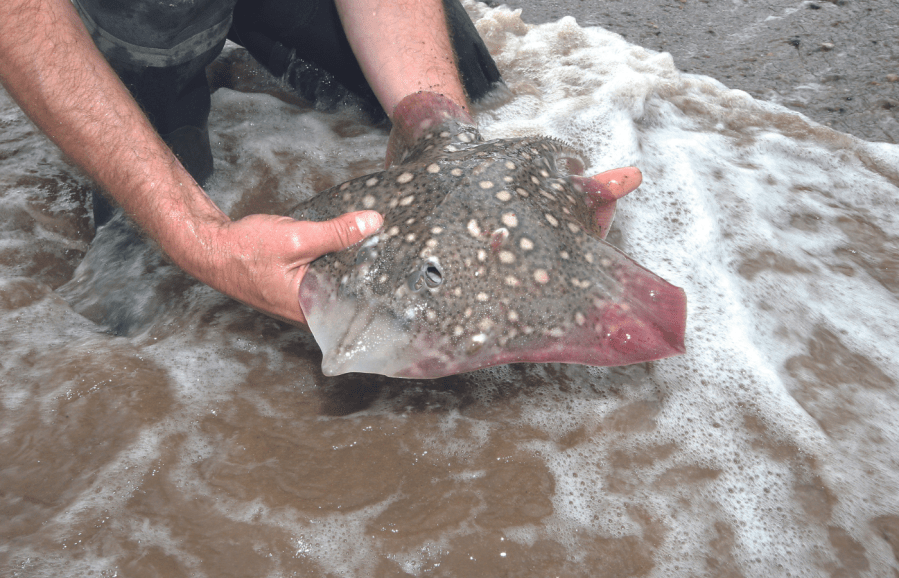 The Ranges
For the last few years here in Kent the winter fishing has been tough. For more than four years the arrival of the cod has just not happened. Rather than call it a day, shore anglers have been targeting thornback rays that now seem to stay with us here all year.
It is possible to catch quite a few at a session if you pick your venue and bait wisely. One such venue is the Ministry of Defence firing ranges at Hythe. This venue is located between the Western Parade and Dymchurch. It offers slightly deeper water and less mud than Dymchurch. The high-water line is shingle but you are casting onto nice firm ground with very few snags.
Bait
The best bait here would seem to be sections of Bluey fished on a Pennell rig. Hook sizes are a personal choice but 1/0 would do the trick. If Bluey is hard to get hold of then herring, mackerel or whiting will get you bites but can be a little slower. Be prepared to catch dogfish and large whiting on fish baits, but there is always the chance of a large bass which have been caught here well into double figures. 
Try fishing two hours after high water. Once you find the rays the fishing can be steady with one after another. Sections rather than fillets of bait seem to keep the whiting at bay and give the rays a chance to find the bait.
This spot is definitely worth a go. Take just the tackle you need and chances are you will have the two miles of the ranges all to yourself to explore. Good luck!
Need to know
Parking can be an issue but is available both ends of the range, although be prepared for a fair walk. The firing times are on large boards at each end and will tell you when fishing is possible. The army does quite a lot of night firing here so check in advance.
Tackle & Bait
Den's Tackle |  www.denstackle.co.uk | Tel: 01303 267053
Best Buddies | www.bestbuddieshythe.co.uk | Tel: 01303 487144