Sker Rocks is a substantial slab of rock sandwiched between Morfa Beach and Fall Bay to the west of Porthcawl. If you look at the plethora of deep rock pools, cracks, crevices and deeper gullies at Sker, along with the access it provides to deeper water offshore, you'll very quickly realise just why this is such a popular and productive shore venue. So much so that it is recognised as being one of the most productive shore marks along the South Wales coastline. The only reason more anglers do not fish here is because accessing the rocks involves a long walk from the nearest car park.
What species can you catch at Sker Rock
In season pretty much all of the popular species that are found in South Wales can be caught at Sker including bass, smoothhounds, dogfish, mackerel, garfish, pollack, mullet and many others throughout the warmer months, along with cod and whiting during the autumn and winter. Sker is an especially productive venue for rays, notably small-eyed rays. This is hardly surprising as the Kenfig Patches and Hugo Bank, both exceptional boat marks for rays, are located just offshore. In 1991 the one-time British record small-eyed-ray was caught here, an impressive fish that weighed 15b 8oz.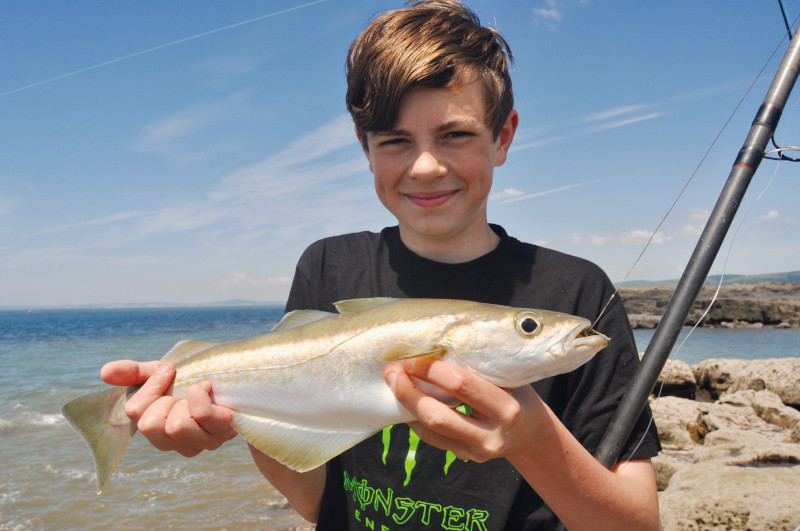 What bait to use at Sker Rock
Choice of bait when fishing at Sker rocks should be dictated by your target species. Frozen sandeels and various cuts of squid and fish work best for the rays, conger and dogfish, with peeler crab being number one for smoothhounds and bass. Razorfish and either ragworm or lugworm can also be used here with good effect for other species. Small strips of mackerel are very effective for autumn whiting while good quality fresh, black lug tipped with squid is best for cod.
Sker rocks is a notable venue for bass, especially specimen bass. Float fishing live sandeels or locally netted prawns along the deeper rock edges or within the gullies is a deadly technique. Ledgering a mackerel head and guts, live pout, squid or large chunk of peeler crab at close range is the way to target the larger bass. Sker is also a great venue for lure fishing.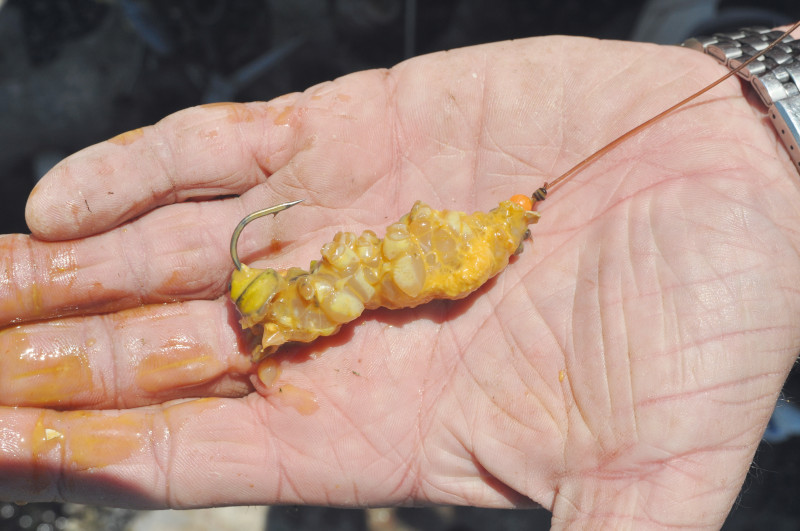 When to fish
Sker is a low water venue, fishable for about two- and-a-half to three hours either side of low water, depending on the size of the tide. Most anglers prefer neap to mid-range tides, as the run of tide on springs is too much to hold bottom. 
Fishing here during daylight can be very successful, but the fishing can be even more productive after dark, especially for rays, whiting and codling.
What tackle to use at Sker Rock
Either a fixed or pulley Pennell rig is ideal when catching large fish over relatively rough ground. The only really rough areas are within the first twenty or so feet from the edge of the rocks, beyond that its mostly clean ground. Sker is an open and exposed venue to any wind and swell from the west, and consequently should be avoided when such conditions prevail.
More information
Reaching the mark involves a long, though not especially arduous, walk along a public footpath taking you through the sand dunes and across a golf course. The easiest way to locate the most convenient car park is to exit the M4 at Junction 37 and take the A4229 towards Porthcawl. Turn right at South Cornelly just after the roundabout near a petrol station, then follow a narrow lane for about a mile to the golf club. Turn right at the T-junction then drive for about half a mile, and you will find the car park on your left-hand side.
Nearby tackle shops