This fixed spool packs many of the features you've come to expect in top of the range reels
DAIWA CROSSCAST SURF 35 SCW 5000C QD FIXED-SPOOL REEL
RRP: £99.99
Tackle items invariably change with the times, especially rods and reels, and with modern technology continuously moving forward at pace, then they become more efficient and dependable.
One particular item that's definitely caused a stir in shore angling circles in recent times is the fixed-spool reel. Once frowned upon as a reel for novices, this simple piece of tackle has certainly gained a resurgence among anglers and ultimately claimed its status as a firm favourite.
One company that appears to be keeping up with anglers' demands is Daiwa. This major players never seems to rest and is constantly on the ball when it comes to quality, price and performance. It's accepted that some of its high-end kit can be out of some angler's budget expectations, but this is where Daiwa do excel, and by that, I mean they can incorporate some revolutionary aspects of an item, yet still keep the price to an affordable amount. And one of those items is the Crosscast Surf reel.
Great features
Straight out of the box, this model bears all the hallmarks expected of a classy reel. Looks alone aren't its only attribute. Not only has Daiwa developed this model to cope with the everyday shore fishing but also it has managed to slip in the same quality that most of its flagship reels boast too.
Consider aspects such as Airrotor, Digigear, Slow Cross Wrap (SCW) and QD (Quick Drag). Yes, believe it or not, this reel has them all. Combine that with strength, a 4.9:1 crank, a maximum drag of 15kg, and a decent spool capacity of 300 yards of 0.35mm mono, then you begin to understand that this reel is by no means mediocre. In fact, I reckon Daiwa could easily be accused of under-pricing this reel. At a recommenced retail price of £99.99, in return you get a reel that not only oozes quality and class, but a performance that is well ahead of many others in its field.
The downside is the fact that there is no spare spool included and it could be considered on the heavy side at 625g. That said, the weight isn't an issue for me, especially if I'm hooked into decent fish like as a thornback ray or smoothhound. The fact it has a sturdy build means I can lean on it harder. Neither does the lack of a spare spool bother me; If I need one, I'll buy one.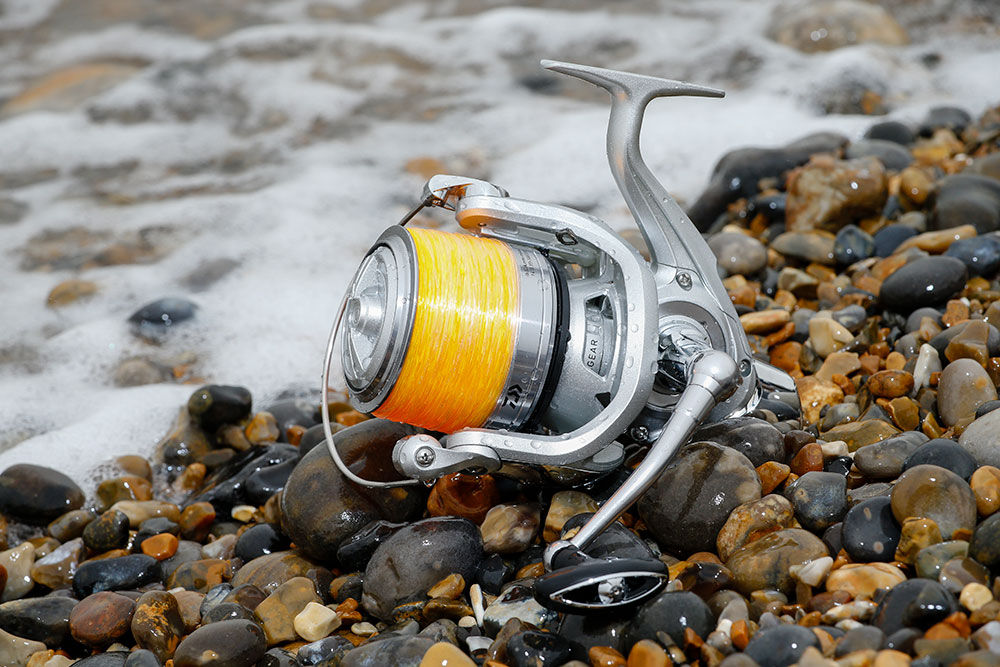 Casting
Casting-wise, it performs with flying colours. The mainline flies off the spool smoothly and efficiently and this is all down to the Slow Cross Wrap. With its dependable and slow spool oscillation, you are assured of a perfect line-lay on each retrieve. If you also add on the fact that 103cm of mainline fills the spool with each turn of the handle, you can be sure your rig will rise high in the water quickly, away from snags in rough ground.
With such quality at less than a hundred quid, it seems Daiwa has set a new standard for the other manufacturers to consider.
SPECIFICATIONS
DAIWA CROSSCAST SURF 35 SCW 5000C QD
WEIGHT:    625g
MAX DRAG:        15kg
BEARINGS: Three
CAPACITY: 300yd/0.35mm
RETRIEVE:  103cm
CRANK:      4.9:1
Key features: Airrotor, Digigear, Slow Cross Wrap, Quick Drag, aluminium handle, manual bale-arm, Twist Buster II line roller, and infinite anti-reverse.
For more information or to locate your nearest Daiwa stockist, visit: www.daiwasports.co.uk
---
For more reel reviews, head to our Tackle Section