Monmouth beach is a popular tourist attraction at Lyme Regis, this shingle beach gives access to some great rough ground fishing
Situated on Dorset's western fringe, the shelving shingle of Monmouth Beach at Lyme Regis provides rough ground fishing with huge potential.
From the high-water mark, it gives way to sand and then some real rough stuff from the low water mark onwards. There is a series of rocky scars stretching directly out into Chippel Bay. As the tide floods various fish species move along the edge of the rocky shelves where it drops into the gulley.
SEASONAL SPECIES
From mid-April onwards, Monmouth Beach is certainly worth visiting. Initially it will be dogfish, pout and rockling but the first ballan wrasse, bull huss and small-eyed rays will start to figure during May.
A wide variety of species can then be expected throughout the summer and autumn. Double-figure bass and conger eels touching 40lb have been recorded, along with bull huss and dogfish.
Mackerel and garfish move close inshore during August and September. Once the winter starts to bite the action is limited to small species, such as pout and rockling.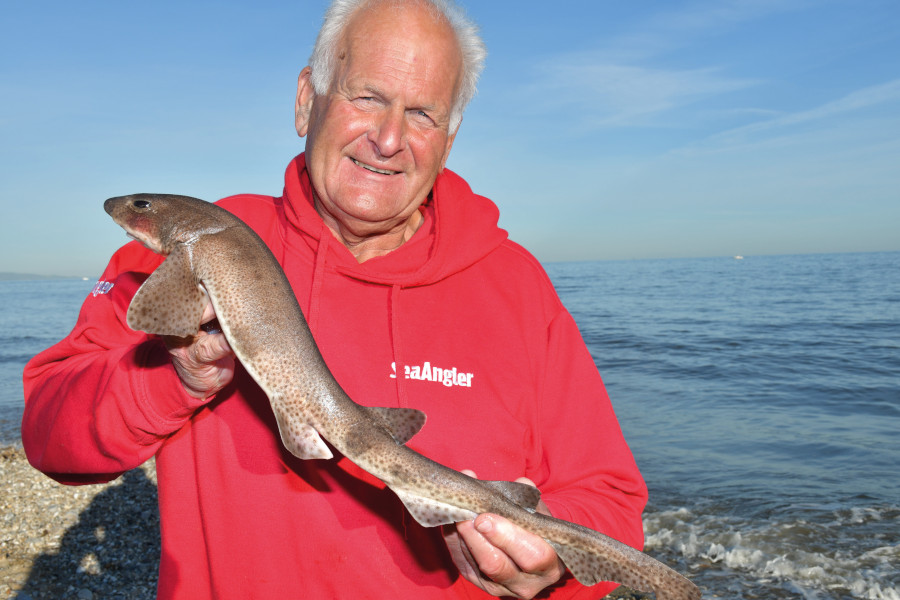 TACTICS
The venue produces some reasonable action from April right through to late December. Being a popular tourist destination in summer means late evening sessions are recommended throughout the main holiday period.
The real trick in unlocking the venue is to check it out at low water to view the rocky scars and gullies. Fish in one of the gullies running between the scars where the fish will be searching for food.
Because of the rough and tumble terrain tackle needs to be chosen accordingly. This is not a venue for the modern low diameter lines, but instead a traditional line, like 20lb Daiwa Sensor, along with a shockleader.
Pulley rigs rule supreme along this stretch of rugged shoreline because they provide a far greater chance of retrieving your tackle especially, if you have hooked a half decent fish. Hook sizes depend on bait and target species, but can range from size 1 to 4/0. A uptide hook pattern is good.
Mackerel and a few garfish are caught in late summer during early morning or evening sessions. Evenings throughout the autumn can be particularly productive for hefty nocturnal specimens.
GETTING THERE
Part of Dorset's Jurassic Coast, Monmouth Beach is off the A3052 just outside Lyme Regis, and stretches from the harbour wall (The Cobb) for about a mile to Pinhey Beach. There is a pay car park about 200m from the beach. The car park is a similar distance from the tackle shop.
TACKLE SHOP
The Tackle Box, 20 Marine Parade, Lyme Regis, DT7 3JF, Tel: 01297 443373