One of the most popular and productive marks within the sprawling Loughor estuary.
Words & Photography by Dave Lewis

---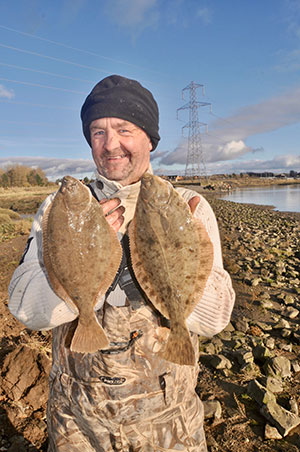 Green Banks is located at Bynea on the Llanelli side of the Loughor Estuary, just down river from the railway bridge. It consists of a series of grassy banks that start near the road and railway line, before continuing for about a mile towards the mouth of the estuary near Burry Port.
Over high tide the area provides comfortable and safe fishing from the grassy banks. One of the major advantages with this venue is that distance casting is unnecessary, indeed it can be a handicap. Many if not most fish are caught by anglers lobbing their rigs no more than 30-40 yards.
SEASONAL SPECIES
It is from September through to early February that most anglers concentrate their efforts fishing this area, as this is the time when the main run of flounders move inshore to feed. The average size of most flounders caught here ranges from about 12oz to 1lb 4oz, though each season plenty of 2lb-plus fish are landed, along with a very occasional one of 3lb or 4lb.
During spring, summer and early autumn, anglers catch mullet, silver eels and bass along with flounders and even an occasional sole. The Loughor estuary is noted for producing specimen bass, but the area to the east of a line drawn from Whitford Point to Burry Port Marina, which includes Green Banks, is a designated bass nursery area, so regardless of time of year, all bass must be returned.
TACTICS
Fishing here is best during neap to mid-range tides, which equates to tides up to about 10.5 metres Swansea scale. The run of tide is too strong on larger tides. The optimum time of tide to fish is from about three hours before to two hours after high water. Avoid fishing following heavy rain, as too much dirty fresh water flowing down into the estuary quickly spoils the fishing.
Many local anglers use flat-sided leads at this venue, deliberately allowing the run of tide to slowly drag their baited rigs across the bottom, though you will need to use a grip lead when the tide is pushing through quickly.
Paternoster rigs incorporating two or three long, flowing hooklengths work well, especially when some form of attraction such as beads, sequins or small spoons are incorporated into the hookengths. Size 2 Aberdeen hooks are perfect for presenting the large bunches of harbour ragworms or chunks of fresh peeler crab, which are the very best baits for flounders and most other species.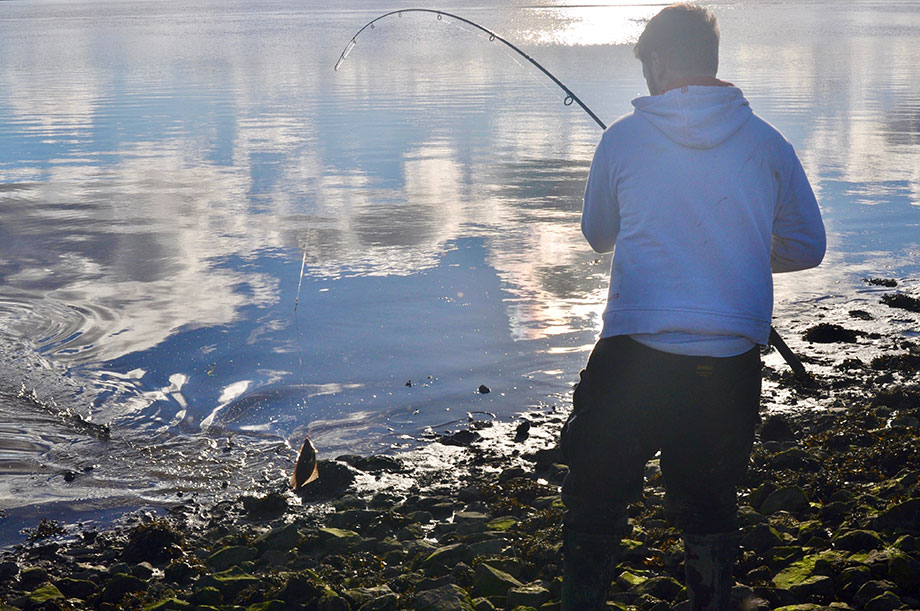 CRABS
During the spring and summer crabs will very quickly strip even the largest bunches of maddies back to the bare hook, and when this is the case peeler crab is by far the better option. Try using coloured floating beads in an attempt at keeping your baits away from the ravenous crabs.
Bites from flounders are invariably hard, rattling affairs, and many anglers make the big mistake of striking bites too soon. Leave bites to develop for a minute or two or even longer. Most hungry flounder will not leave a juicy bunch of worms or crab once they have located it, and with competition for food from so many fish obviously high, double shots of fish are far from rare.
---
NEED TO KNOW
Getting there
To get to Loughor, exit the M4 at Junc 47 and follow the signs through Gorseinon to Loughor. There are plenty of parking places around the river bridge, and just upstream near the Loughor Boating Club. Most anglers fishing Green Banks park near the blue foot bridge several hundred yards after the Loughor Bridge. Cross the bridge over the railway line, and the path takes you to Green Banks.
Tackle shops
Anglers Corner, 80 Station Rd, Llanelli, SA15 1AN, tel: 01554 773981.
Country Stores, 3a Church St, Gowerton, SA4 3EA, tel: 01792 875050.
Mainwarings, 44 Vivian Rd, Sketty, Swansea, SA2 0UH, tel: 01792 202245.
---