Expect comfortable fishing either side of high water at this mark near Weston-super-Mare
Words by James Madsen

---
Situated in the heart of North Somerset, Kingston seawall is a mark on the Bristol Channel, running from the outskirts of Clevedon up to Wick St Lawrence.
Comfortable fishing can be found from the wall, along with a series of grass banks and boulders that act as additional sea defences. This is a high water venue, best fished on spring tides, a couple hours either side of high water.
You will see a series of mud gullies running out directly from the grass banks and the wall. After that you will be casting onto some reasonably flat mud and clay. The mudflats in this area of the Bristol Channel are full of life and hold a good range of different species of fish. Masses of mudworms and shrimps can attract good numbers of fish.
SEASONAL SPECIES
Late September sees the first run of codling hitting the shores of the Bristol Channel. The autumn can produce some of the best fishing of the year, with both the winter and summer species still available. If the whiting arrive in good numbers in either the autumn or spring, you can also enjoy some good sport catching conger eels.
It's not unusual to see some of the bigger Dover sole and bass caught in the autumn, along with thornback rays, whiting, conger eels and flounders. Any prolonged period of frost curtails the fishing because the colder weather has a negative impact on the natural food source, especially the shrimps. When the weather warms again in spring, there can be another run of codling and occasional thornback rays on the mud. The bass fishing usually kicks starts at Easter while you can target the Dover soles from around May.
TACTICS
Kingston seawall is fairly tackle friendly and you can get away with a good range of gear, especially when casting short. A lighter continental set-up will is good at close range and can be a lot of fun. However, there is some reasonable tidal flow when casting further out and different weather conditions will also dictate your tackle choices. Be aware of seaweed and debris on the bigger spring tides. A slightly heavier beachcasting set-up may be more suitable when fishing in weed and tide.
Grip wired leads are also recommended for holding the seabed when casting further out. Simple pulley rigs are ideal when fishing further out in the tide for cod and rays. Multiple-hook rigs are best when fishing closer for bass and flatfish. Flapping rigs, along with smaller hooks and worm baits, fished close in often catch the soles.
YOUR CHOICES
A size 1 Cox & Rawle Aberdeen Perfect is a good hook choice when fishing worm baits here. It allows you to catch most of the target species and is strong enough to land a bonus fish.
Lugworms will be your best bait for codling in the autumn. King rag catches the cod too and it's a firm favourite with the thornback rays and Dover soles. Bass favour worm baits, but the larger specimens like a bit of fish. Cocktail baits work well at times, particularly worms and squid. You can catch all sorts of fish on peeler crab in the spring. Again, try cocktail baits. Worms and peeler crab work well, particularly for the cod.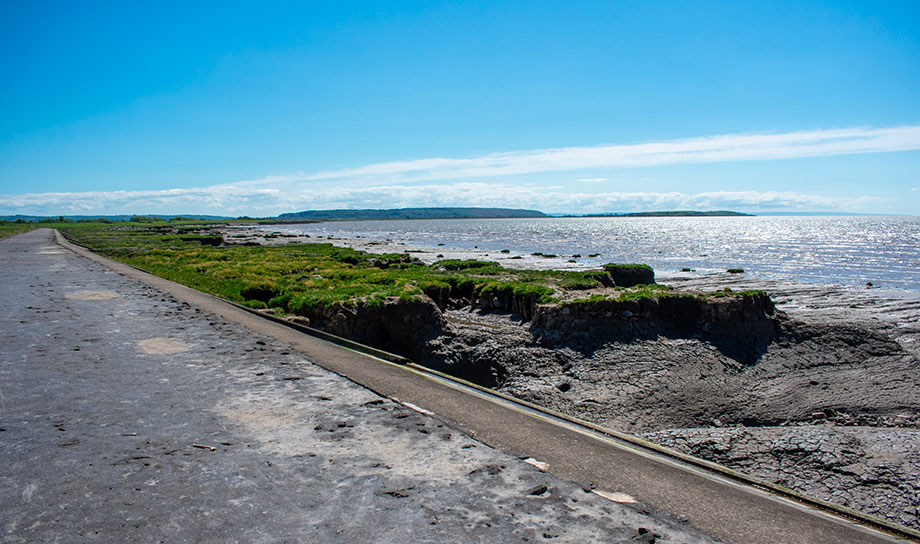 GREAT FOR BEGINNERS
Once at the wall, you can enjoy three to four hours of easy fishing. It's a great mark for beginners because good-sized fish can be caught at all casting distances. There are very few snags. It can be muddy so wellies are recommended, especially when walking out on the mud for the first and last casts of the session. Be careful on your first cast when the water is still very shallow. Lead weights can often get buried deep in the mud on the first cast. Go for a more gentle first cast, or wait for a sufficient amount of water to build up in front of you before casting out at any distance.
Be aware, it's a popular destination for walkers, so watch out for their dogs. Take your litter back home.
---
NEED TO KNOW
Getting there
Exit the M5 at junction 20 (Clevedon), turn left at the roundabout and follow Central Way. Head straight over the next roundabout and join Southern Way. Turn left on to Strode Road and keep straight until you join Lower Strode Road. Follow this until you reach a sharp left-hand bend where you'll see a gate and footpath leading to the wall. Parking is at a premium and there is a reasonable hike involved from where you park.
Tackle shops
Reel Fun, Portishead Quays Marina, Newfoundland Way, Bristol, BS20 7DF, tel: 01275 848652.
---