This stretch of Kent's north coast has plenty to offer shore anglers, but most target the bass, rays and smoothhounds
Words & Photography by Wesley Shrubsole

---
Those shore anglers who want to catch thornback rays or smoothhounds, with the chance of a bonus bass, should visit this area of Kent's north coast.
At Reculver, two areas very close to the towers can produce good rays and hounds. Around a mile away towards Herne Bay is the promenade outside the Kings Hall, a Victorian building that hosts concerts and other events. The fishing here is also over broken ground and the water is shallow so a big cast will come in handy.
SHORE ANGLERS
Anglers with limited mobility may prefer the small pier called Neptune's Arm at the end of the promenade at Herne Bay because there is nearby parking. There is limited space though, particularly if it gets busy when local anglers are doing well here. This pier offers some access to slightly deeper water.
SEASONAL SPECIES
With much to offer the shore angler, thanks to a very good variety of species, the best fishing is from spring to November. Being a shallow beach, the fishing can decline in the colder months, but as soon as the shore crabs start to moult the fish show up to enjoy the feast.
From the spring, there are bass, rays and some good size smoothhounds within range and some specimens weigh well into double figures. Whiting are the main winter species.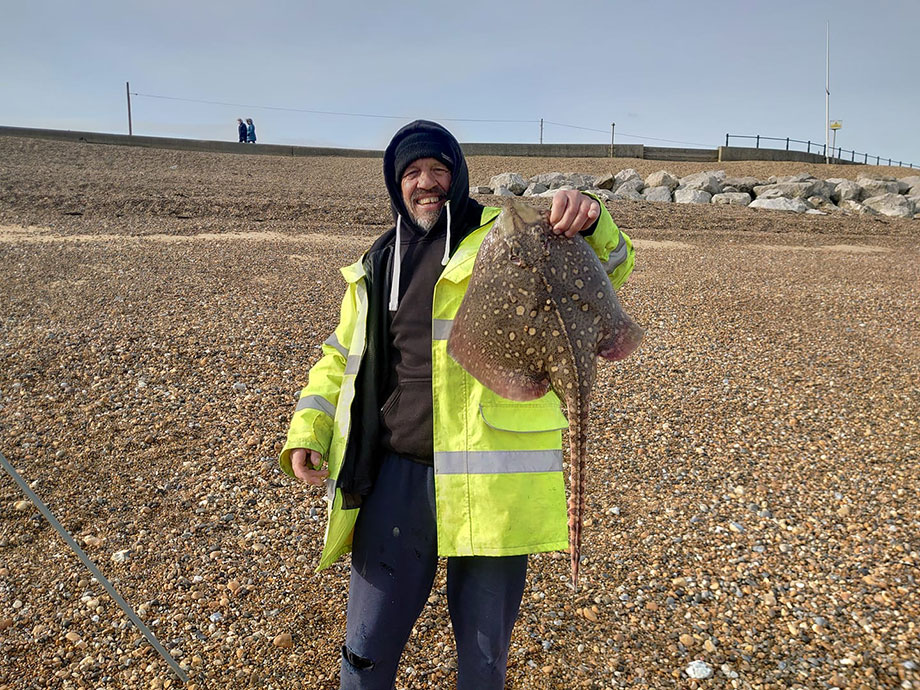 TACTICS
For the rays, a fish bait such as Bluey or herring, will do the job. A good choice is a Pennell rig loaded with Bluey or a squid and lugworm wrap. The bass and hounds prefer crabs, and, for hounds, a hardback is just as effective.
The shoreline at Reculver is broken rock with sandy patches where it is possible on long tides to collect lugworms, and, when in season, peeler crabs, and a few ragworms. To the left towards Herne Bay is the better bet for finding crabs because there are more rocks. Always take a look at low water to spot any potential fish-holding areas. Broken ground near the small pier is a good spot for collecting crabs and a few ragworms.
TIPS
Remember, the whole area can get busy with tourists during the summer so fishing early and late is the best option. Weed can be a problem in certain wind conditions and can spoil a session.
---
NEED TO KNOW
Getting there
From the M2, follow the the A299 towards Seasalter and Grays, going into Reculver Lane (a narrow road so take care) into Reculver country park. Next to the towers is a pay and display car park.
Tackle shops
Ron Edwards Tackle, 50-52 High St, Herne Bay, CT6 5LH, tel: 01227 372517.
---