This mark on the western edge of Dorset offers a wide variety of species with the chance to try different tactics
Words and photography by Chris Clark
---
Nestling along Dorset's western fringe, the popular fishing destination of Seatown is located midway between West Bay and Lyme Regis.
A small stream flows out to the right of the adjacent car park and the favoured fishing area is approximately 300-400 metres to the left under the cliff. This is a shelving shingle beach, where the further you walk to the left the rougher the seabed becomes.
Very often the venue springs into life for bigger species 24 hours after a south-westerly blow when the water is coloured, but be warned the beach can be dangerous if there is a big swell running.
SEASONAL SPECIES
Being one of Dorset's most westerly venues, it often comes alive several weeks prior to the rest of the county's beaches with a few small-eyed rays often reported from late February onwards especially for the bigger casters. Sandeels along with bluey/squid wraps work well for the early rays, dogfish and some reasonable size pouting can also be expected.
Smoothhounds often put in an appearance from late April onwards falling to ragworms, crabs or squid baits, and again most fish will be taken at maximum range. A wide variety of species figure during the summer when early morning or late evening sessions are recommended because the beach can become crowded with holidaymakers.
MACKEREL
Shoals of mackerel will often move inshore especially if the high water coincides with dusk. Some really good bass can also be taken by anglers freelining a large fresh mackerel bait just a few yards from the shoreline during a calm summer evening. When targeting the bass at close range disturbance needs to be kept to a minimum because the fish can be spooked easily.
During August and September some decent wrasse can be caught in the rougher ground to the left, along with small bull huss and conger eels. In the autumn and early winter, a wide variety of species can be recorded including hefty congers, bass, wrasse, dogfish, pout and the occasional really good huss.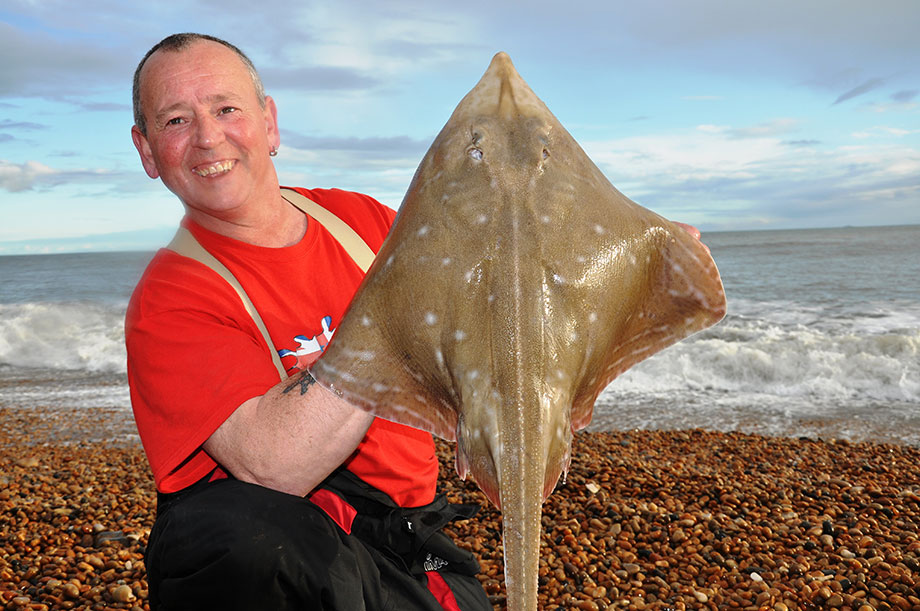 TACTICS
With the exception of bass, which are normally taken at close range under the cover of darkness, for most other species a good cast of 80 yards or more is recommended. The venue lends itself to both lure and float fishing during the summer, particularly for scad, garfish and mackerel.
For larger species, I generally use a pulley rig along with a Pennell rig made with size 4/0 hooks, but for general fishing I switch to a two-hook flapping rig with 18-inch hooklengths made with 20lb line and armed with size 2/0 hooks.
CONDITIONS
Sea conditions will determine the weight needed, but generally five or six ounce grippers are recommended. I always take a good supply of ragworms, sandeels and peeler crabs when visiting Seatown, but most baits will produce with squid and bluey favoured by many.
Generally a flood tide is favoured with the action often peaking two hours either side of high water. Fishing is often weather related during the autumn and early winter. Stormy periods are best avoided, so fish when the sea starts to settle after a good blow.
---
NEED TO KNOW
Getting there
Seatown is approached by branching off the main A35 coast road at Chideock on to Sea Hill Lane, which leads directly to a car park almost on the beach. There is some free roadside parking during the winter but throughout the main season the car park is the only viable option.
Tackle shops
Angling Centre West Bay, 10A West Bay, Bridport, DT6 4EL, tel: 01308 421800.
The Tackle Box, 20 Marine Parade, Lyme Regis, DT7 3JF, tel: 01297 443373.
---